Have you ever tried strawberry puree? I haven't until a couple weeks ago, and have been missing out! It's so easy to make and so tasty to add to so many things. Today I'll be using the strawberry puree in a festive and pink Valentine's Day cocktail (can make a mocktail version, too). Let's get started!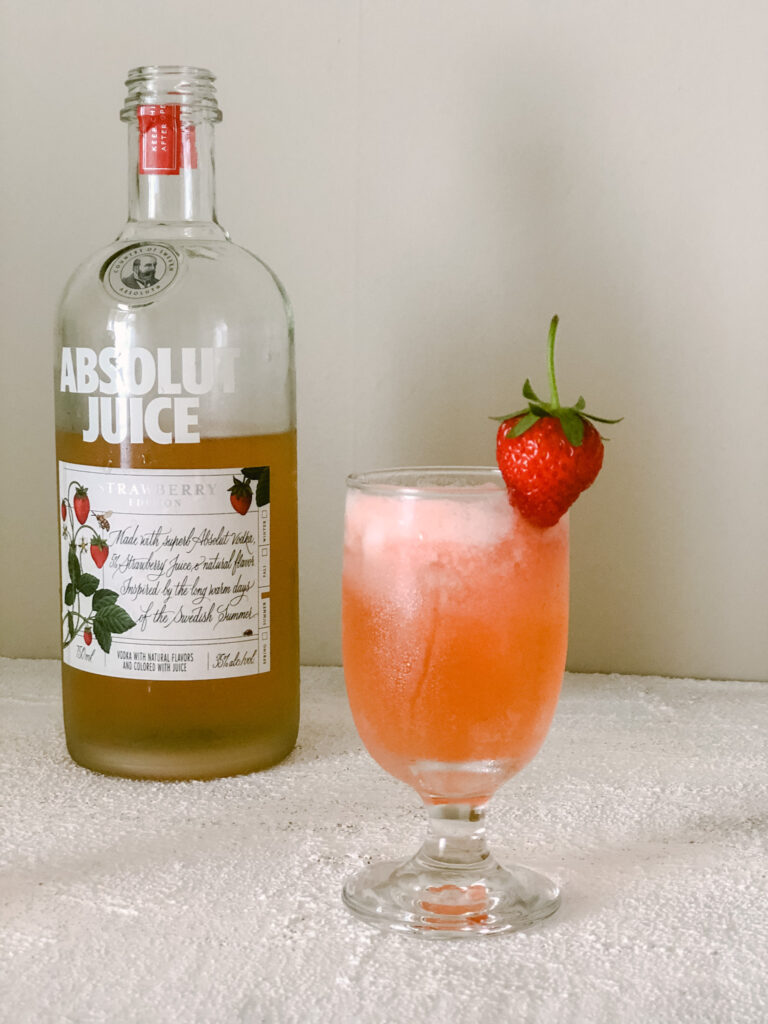 UPDATE: now that it's the end of May / the beginning of strawberry season, I am re-making this recipe. It's still just as delicious as before. I did try a faster way to make the strawberry puree. Updates are below.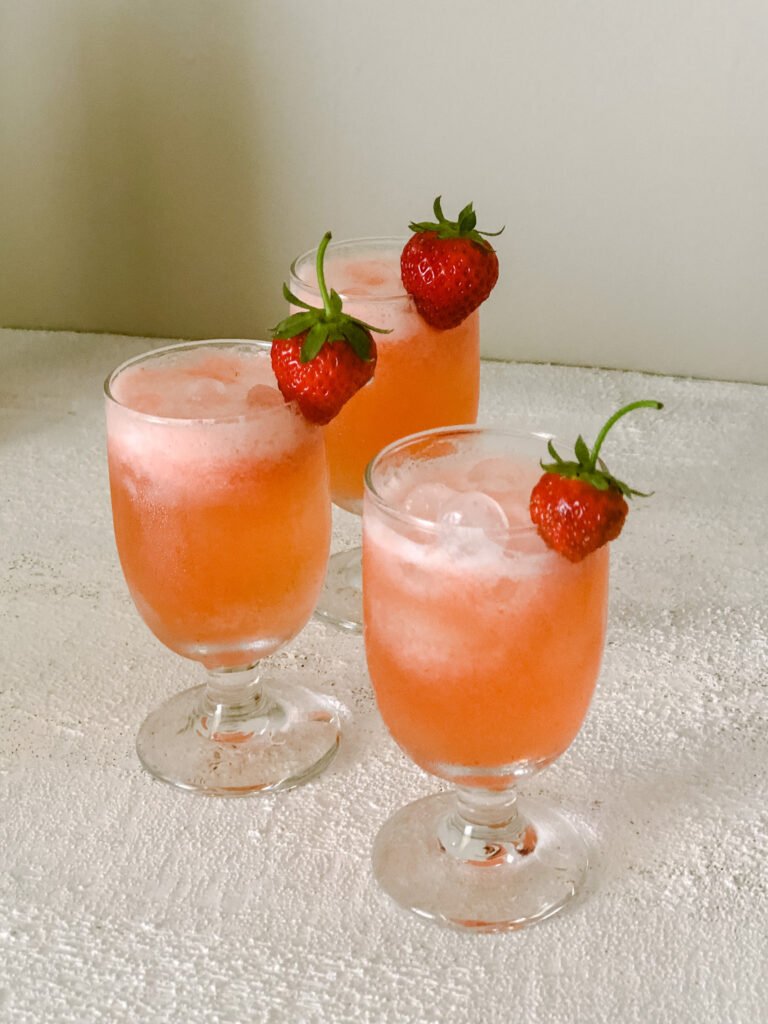 Fresh strawberries are the best and much more naturally sweet, so you can decrease the amount of sweetener used for the drink.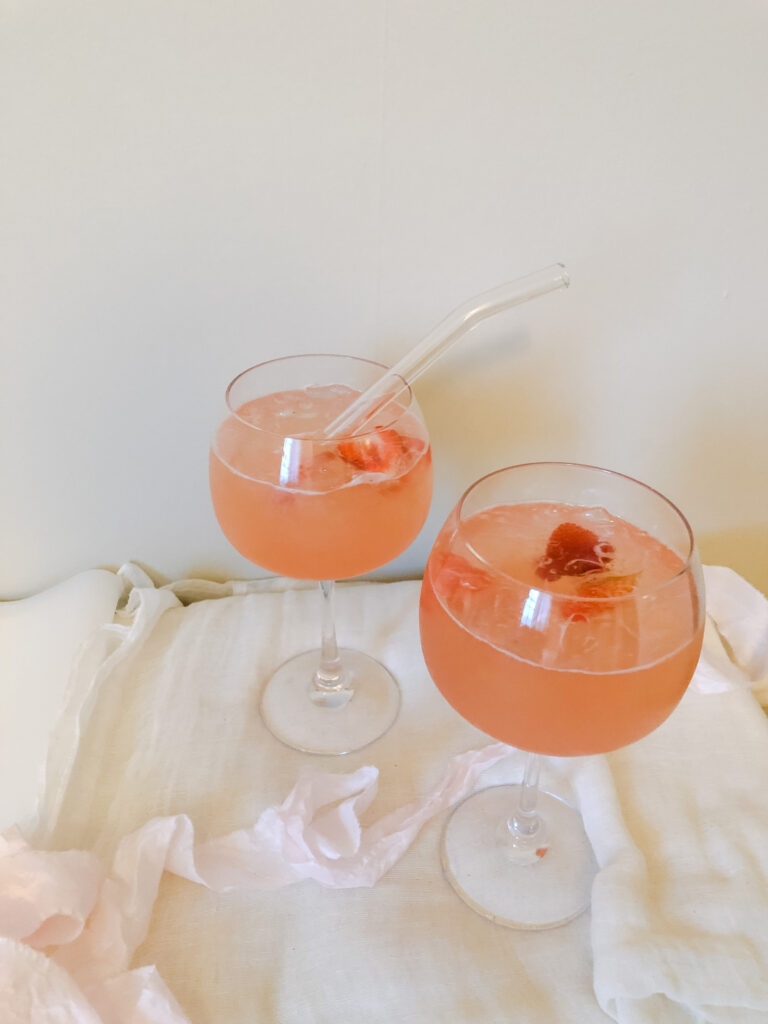 what you need:
5 strawberries plus 2 for garnish
1 tablespoon sugar
2 tablespoons water
1 teaspoon lemon juice (I just squeezed a little in)
1 cup any type of bubbly white soda or sparkling water (I used Sprite)
2 shots of Strawberry Juice Vodka (to taste and depending how large your serving glass is)
this makes 2 larger or 3 smaller drinks
The exact type of vodka I used is pictured below. Sorry for the weird photo quality, it's a filter I used from IG reels. If you'd like to see the reel on how I made this, you can head over to IG to watch that!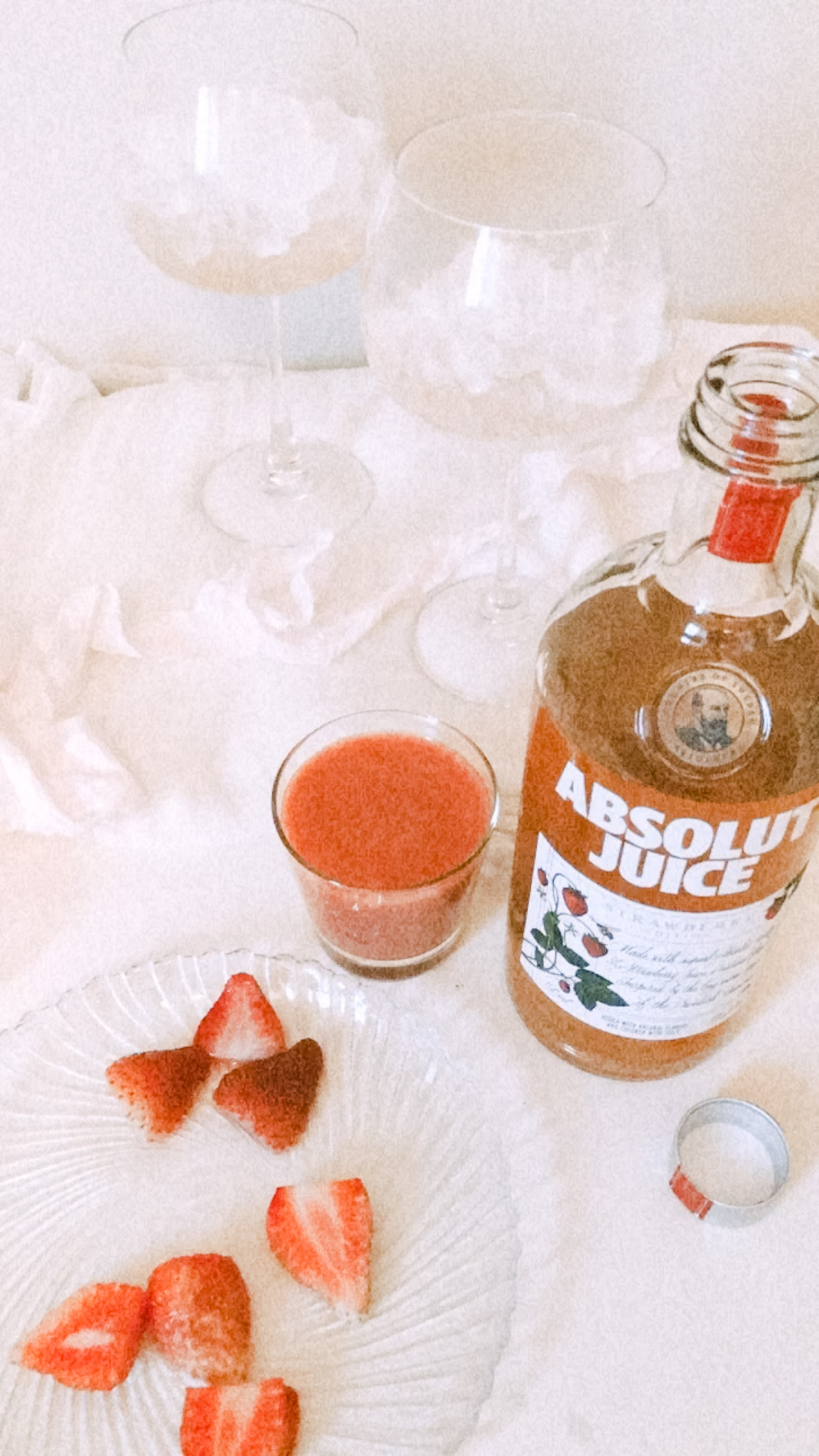 update to the puree recipe
I used the microwave to warm the strawberries, sugar, and water. It worked! I was in a time crunch and didn't want to dirty one of my pots. I just put all three in a microwave safe cup and warmed it for 1 minute. Really all you are looking for is the sugar to dissolve and the strawberries to be softened.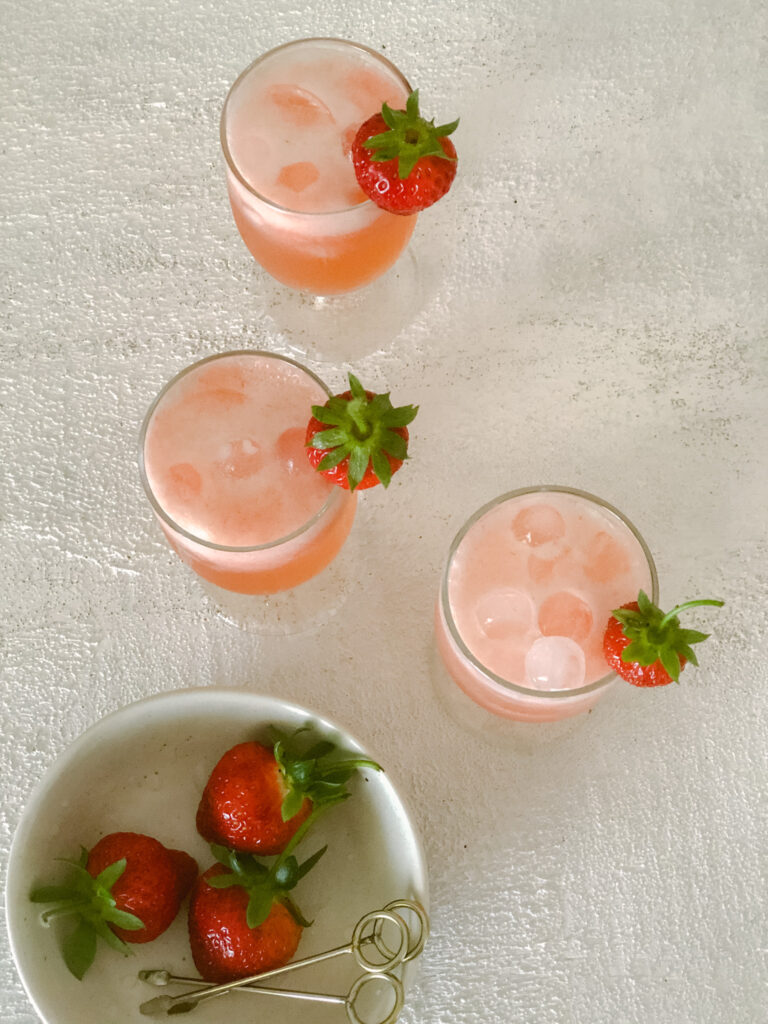 make the strawberry puree first
Grab your strawberries, wash them, remove green tops, cut in half and place in a small stove top pot with sugar and water. Bring mixture to a boil, stirring to make sure sugar has dissolved. This doesn't take long 3-5 minutes. Strawberries will still be whole- just warmed up and softened slightly. After mixture is done boiling remove from heat until slightly cooled. Once cooled transfer to a blender, squeeze in a little lemon juice, and blend on high until a liquid, puree like consistency. Pour liquid into fine mesh strainer to remove any seed bits. Place in fridge to cool until you are ready to mix your drink. This will make around 1/2 cup which I used it all in 2 drinks.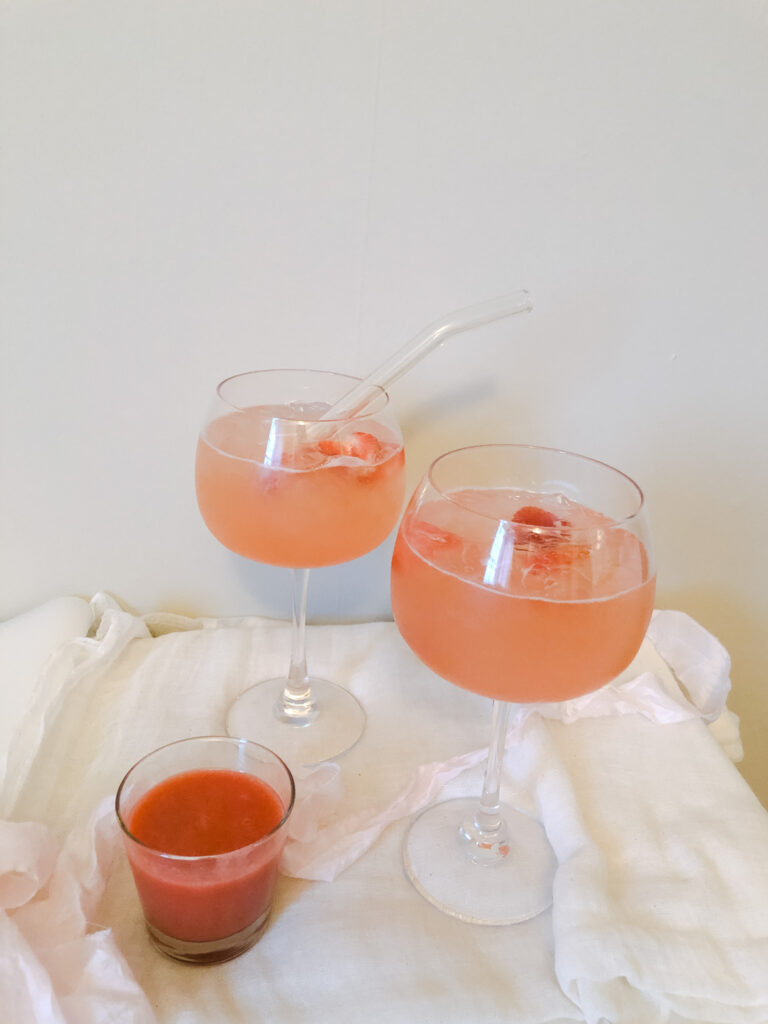 mix your drink
I loved using these large wine glasses for this cocktail, but use whatever you like. Fill your glass half way with ice, add your vodka, stir in your strawberry puree, top off with soda and cut up strawberries. At first I only added 1 tablespoon of the puree, but then decided to use it all up so poured more into the drink. It's really just about your taste preference here. I also loved the deeper pink shade the drink turned when I added more puree.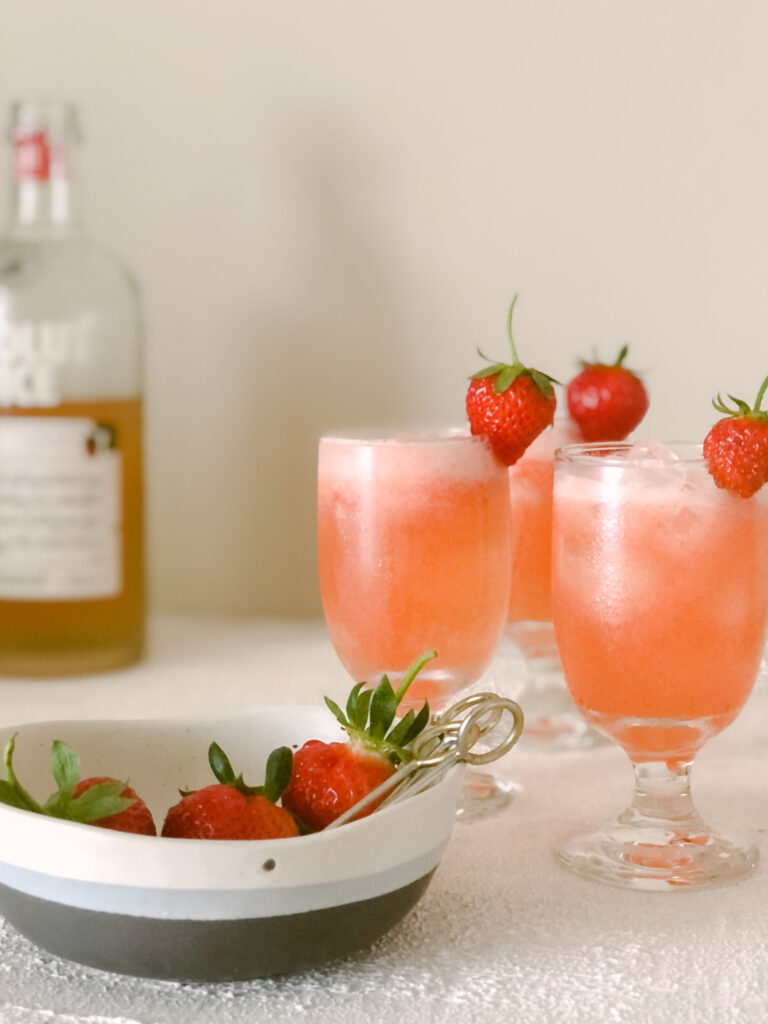 Your cup size matters. The first time I made this I used large wine glasses, but this time I used much smaller stemware. You will need to either mix the strawberry puree and vodka together then pour into cups and top with soda or do equal parts of all three if pouring right into the cup.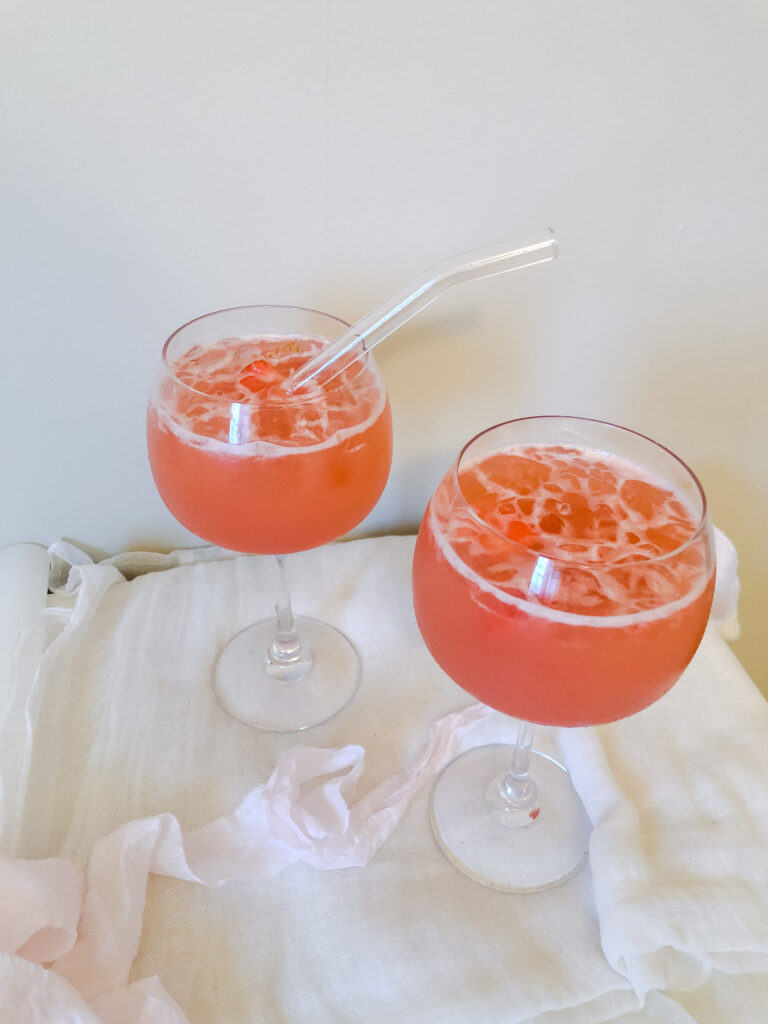 notes
make it a pretty mocktail by leaving out the vodka – it will still have a yummy, bubbly strawberry flavor
very refreshing, light drink for any occasion
enjoy! Email me with questions or if you make this: [email protected]