Hey there, bride and groom to be! Here's all the info on our faux wedding flower rentals!
Make sure to contact us today using THIS LINK to submit your initial order. Quantities are limited, so be sure to get your order in as soon as you can! We are located in Saint Louis, MO and serve the surrounding areas.
We do suggest reading through this entire page as we've included so much helpful information, but if you'd like the more condensed version (see here).
PS- our centerpieces can be rented for any type of event! Bridal shower, dinner party, baby shower… we want our flowers to be present on all your special days.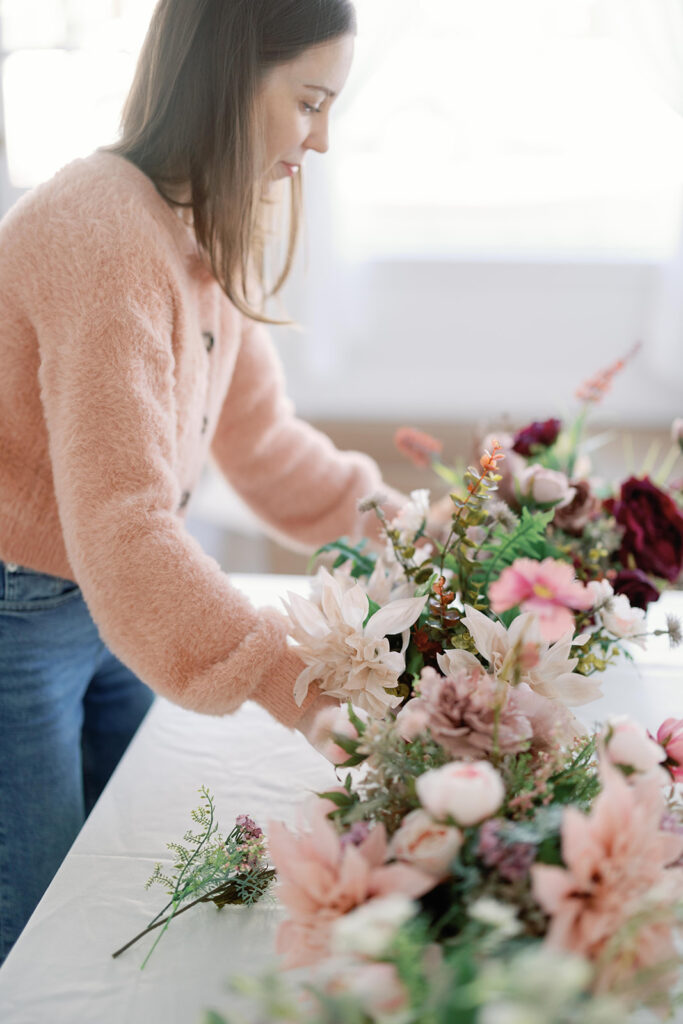 Our signature garden, natural feel wedding flowers now coming to you in faux flowers… to rent!
story.
After owning a retail flower shop for eight years, and making faux flower arrangements all the time, I thought why not offer this design style in wedding flowers?!
Why offer these flowers as rentals?! A couple reasons with our top reasons being:
less waste, less stress, less cost
beautiful garden like faux designs available to more people
These faux flower rentals are for you if:
you are a bride who doesn't put fresh flowers at the top of your wedding list, but still needs beautiful flowers.
you are a bride who is/has a responsible wedding party & an indoor wedding (remember these are rentals so you will be charged for any damages).
you are a bride who wants beautiful garden, natural feel flower arrangements without the worry of dealing with the back and forth with a wedding florist (yes, I am a wedding florist so know all about the amount of time and work that goes into planning wedding flowers. I still do full service fresh flower weddings, but have realized that isn't a need for all) This process is less worrisome – with only a few easy steps to the ordering process. 
you want to save some money (our faux flower rentals cost around 70% less than our fresh flowers) – that isn't because faux flowers cost less than fresh flowers, it's because we can re-use (rent) the faux flowers vs fresh that only last for the one wedding.
Ordering Process:
select the collection that best fits your wedding (or you can totally mix and match, too)
select how many of each items you'll need
select your wedding date (we require 30 days before your wedding) *why we require 30 days: even though these are rentals, we still customize each item by adding fresh ribbon / fluffing up the bouquets (if you need a rush order please email us and we will do our best to get you some flowers!)
select any rental add on's (flame-less candles)
select your delivery, set up, and strike (we offer a few options – more on that below)
Once we receive your order form, we will work up your customized flower proposal with all the items you want to order, the costs, and the contract. You must sign the contract and make all payments in full – we do not offer refunds of any kind.
All faux flowers must be returned to O + G in the same condition as sent (no stains, missing flowers, smells, or damages that will result in replacement of flowers – our terms / conditions state it is up to us to determine any damages and your rental deposit will be charged).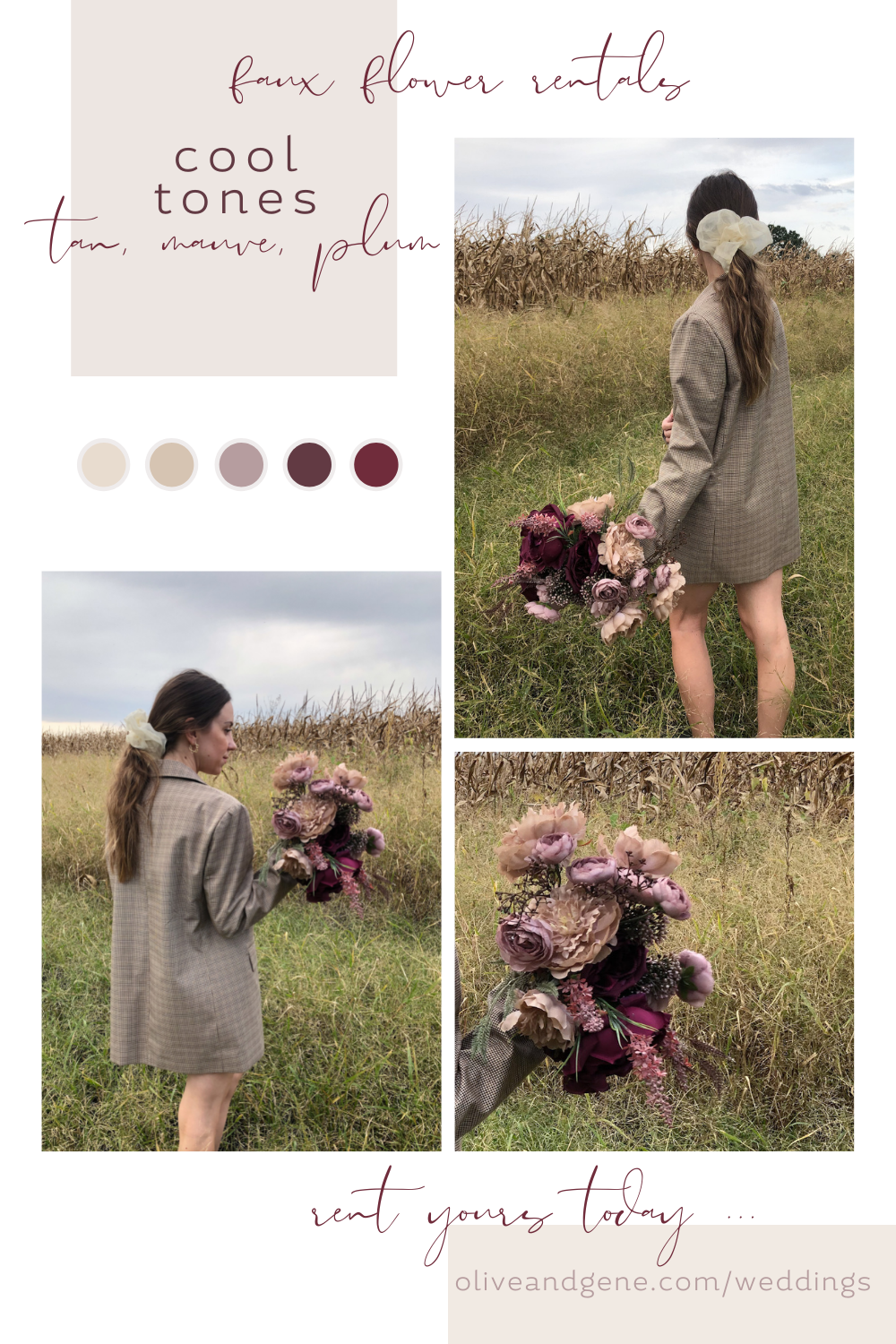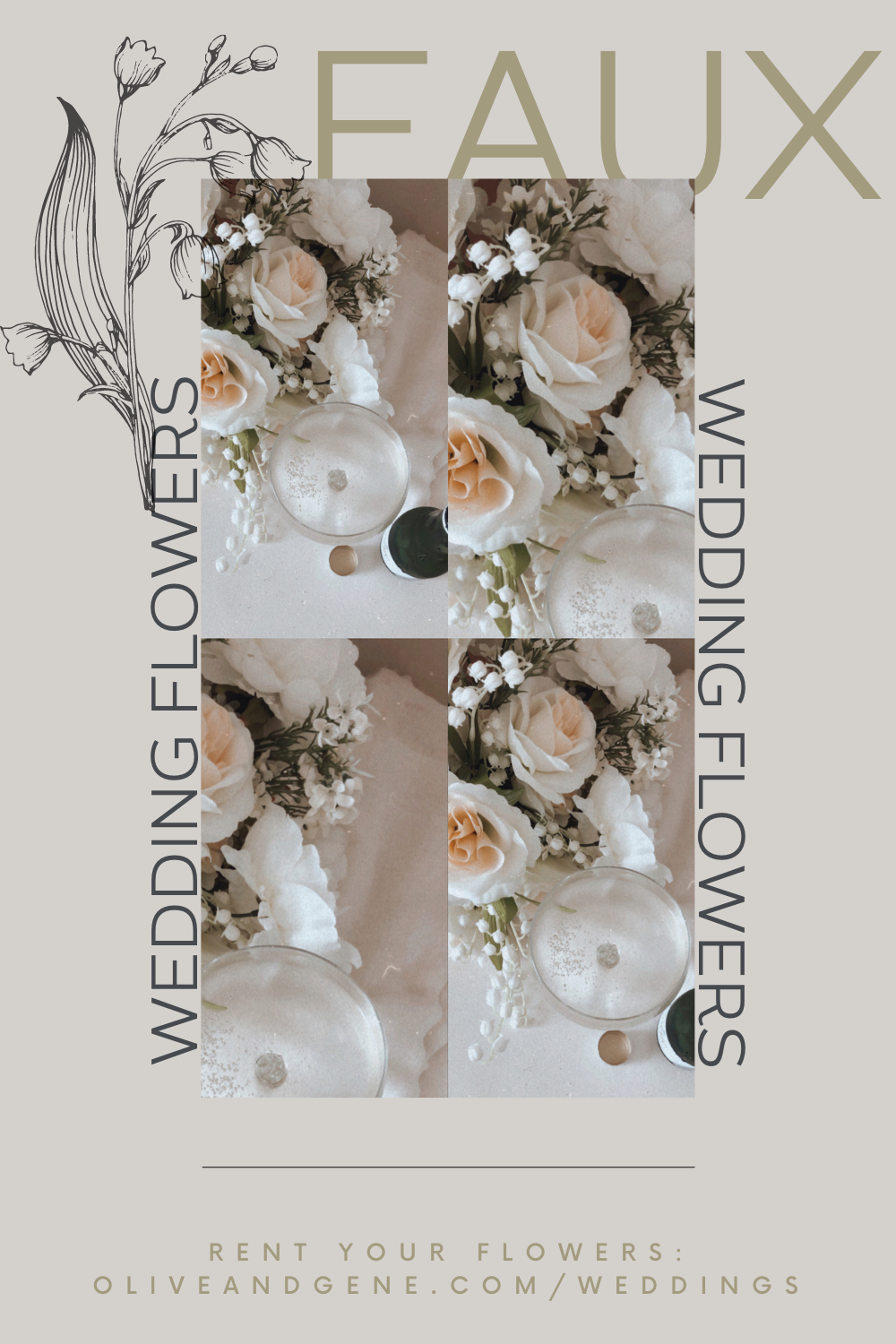 Let's see the collections!!
We are so excited to share our faux wedding flower collections with you!
DOROTHEA, all the most soft, romantic shades of pink with a hint of lavender/mauve
BETTY, classic, yet beautiful all white tones
CYNTHIA, stunning deep plum with softer shades of mauve + tan for balance
RANDI, greenery and textures at every glance
ASH, mauve, tan with the slightest hint of rust
All images below are photos of our flower centerpiece size, look, and feel. Bouquets will consist of same flower colors. Bouquet photos at end of page. As well as any new addition – please read through the whole page 🙂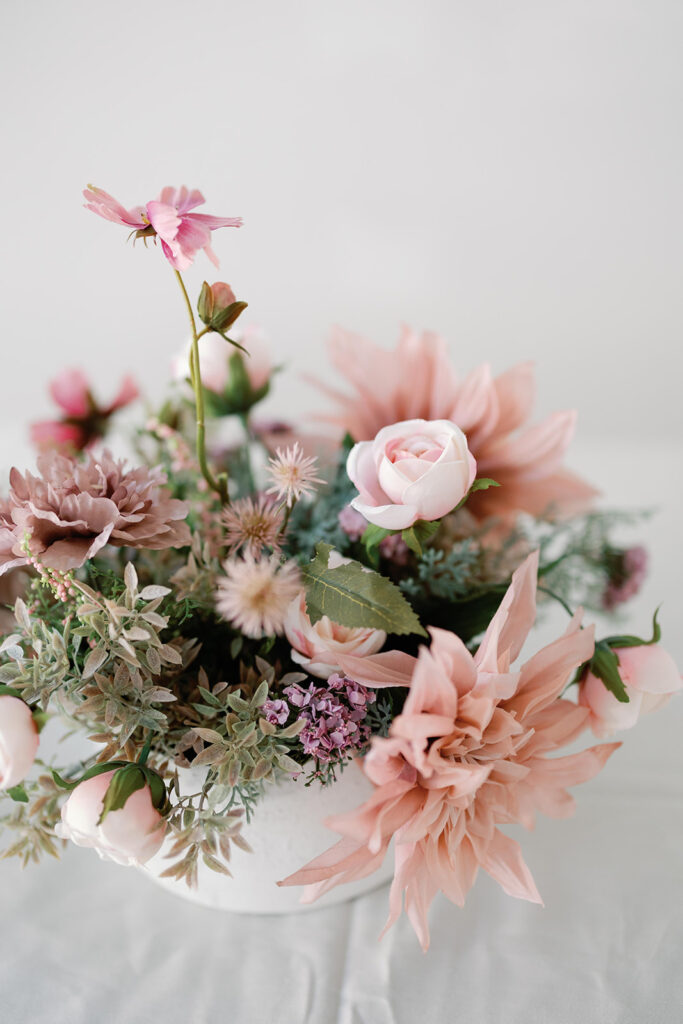 DOROTHEA – shades of pink with a hint of lavender/mauve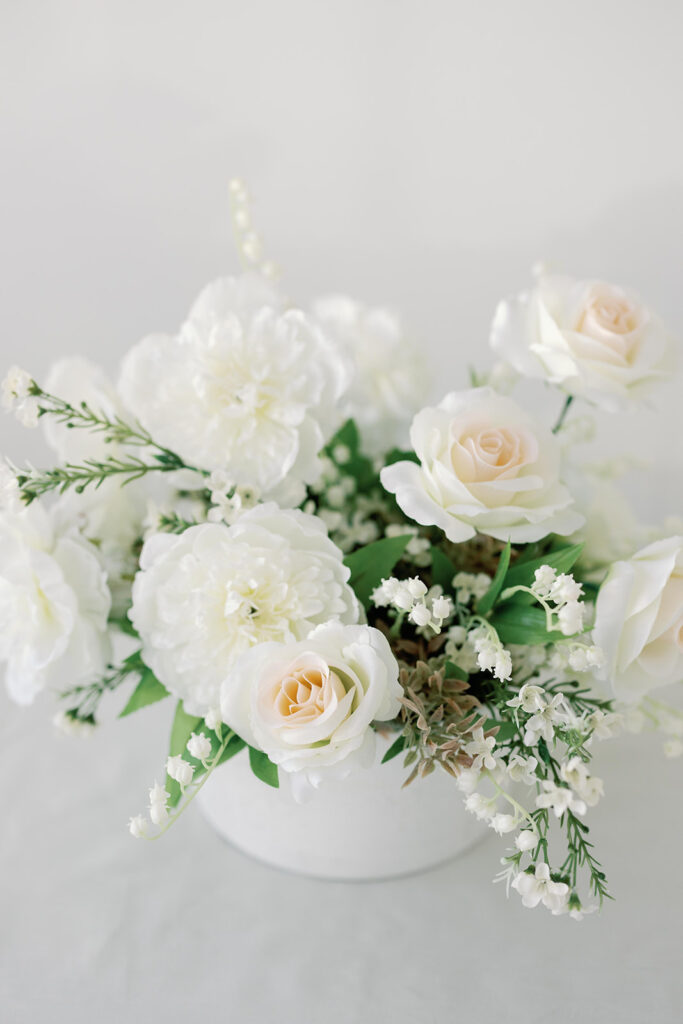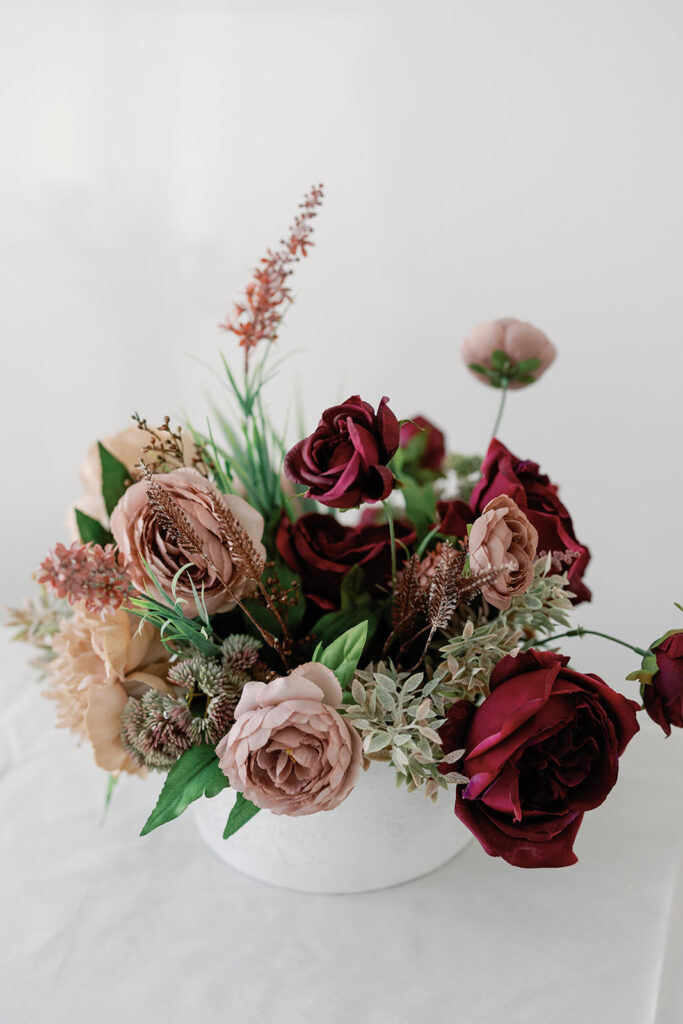 CYNTHIA – deep plum with softer shades of mauve + tan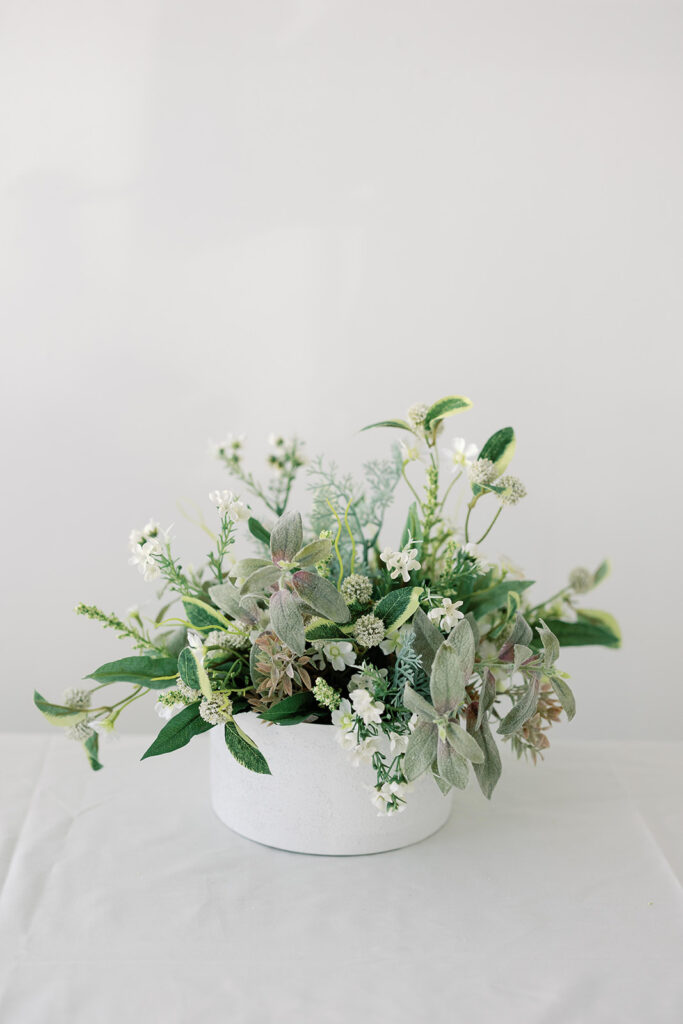 RANDI – greenery + textures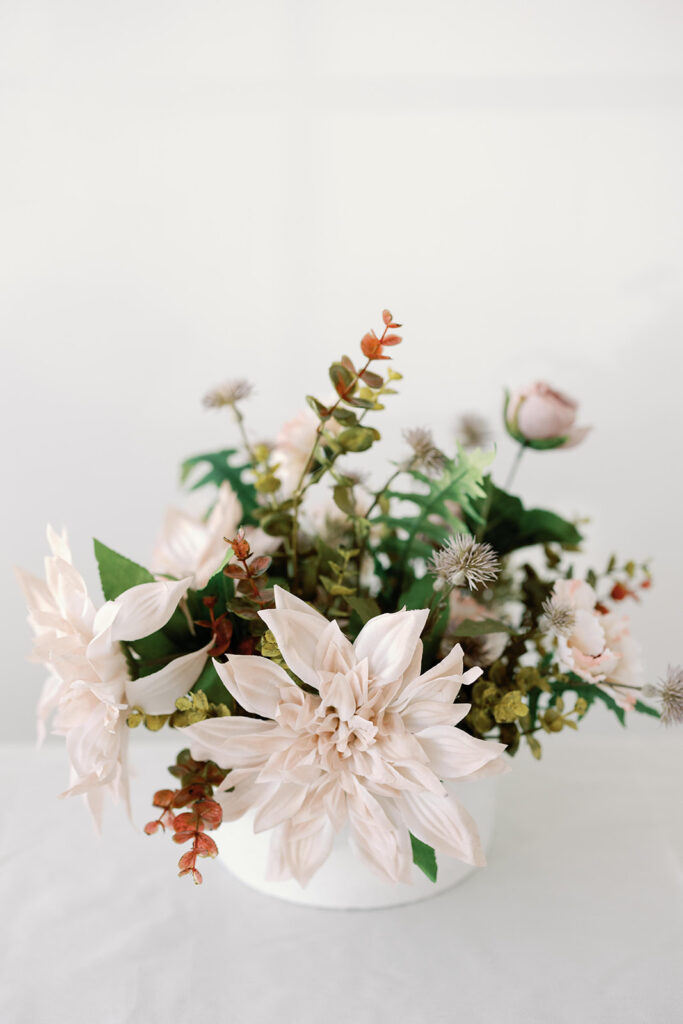 ASH – mauve, tan, slightest hint of rust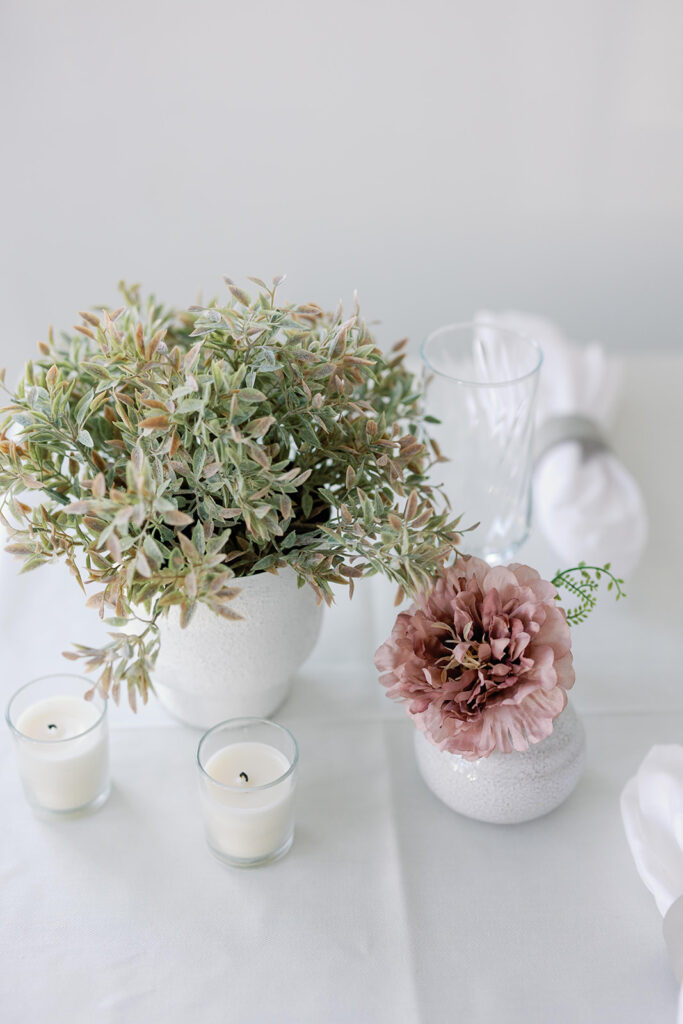 greenery / 'plant' smaller centerpiece and smallest 3 inch bud vase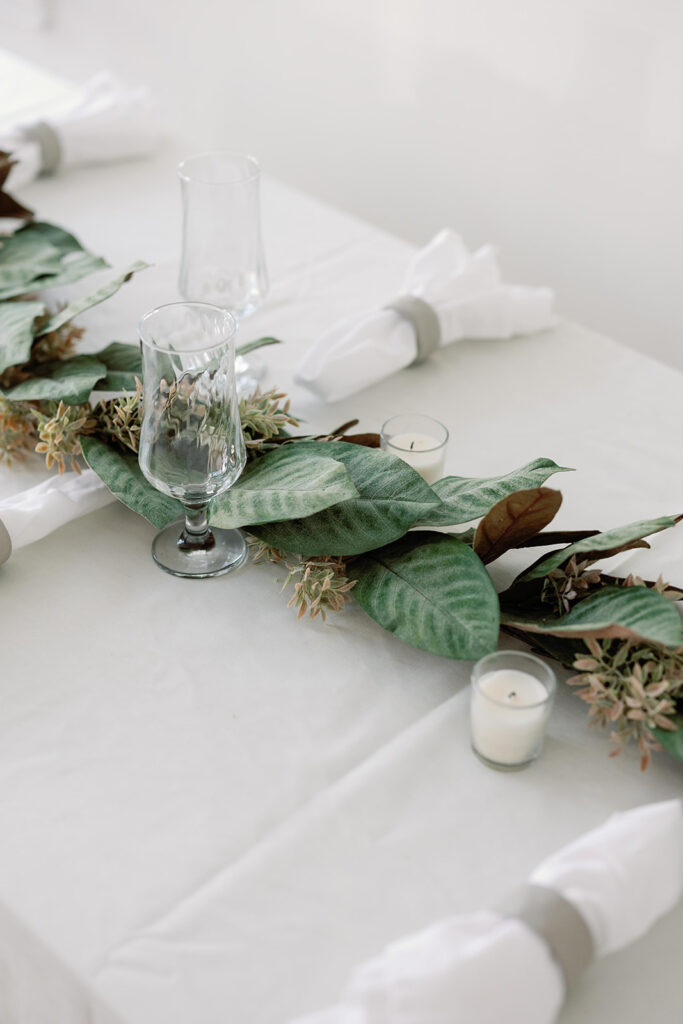 greenery garland, 6 ft piece
NEW: head table 'bubble' centerpiece (shown in "BETTY" collection, 2 pieces)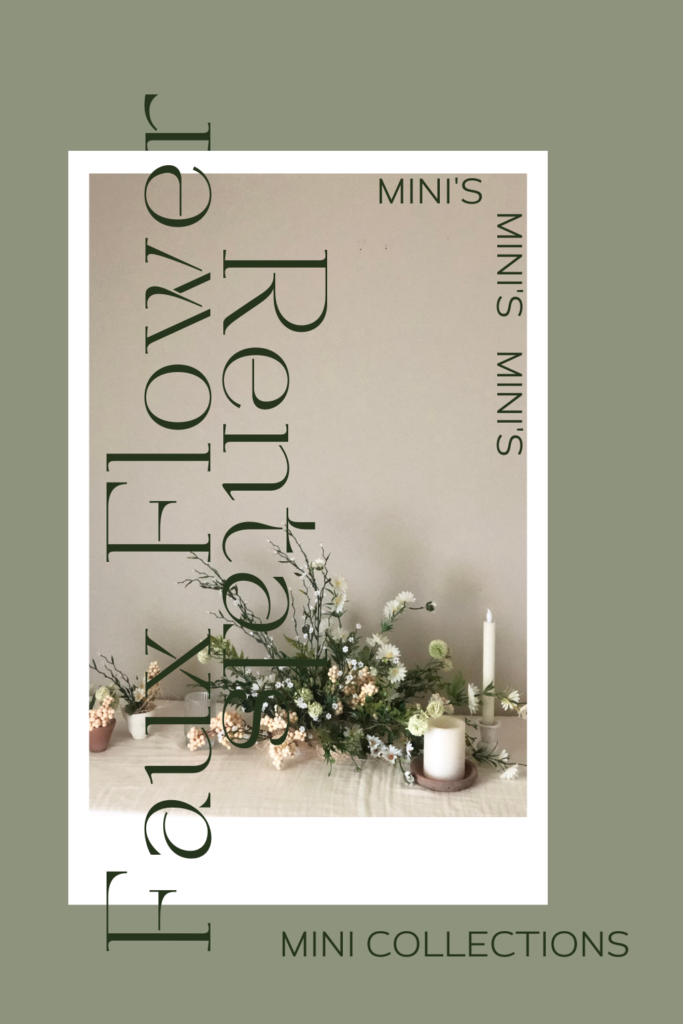 NEW: mini collections featuring autumn color stories and field of daisies (click above for more)
more photos / information / care / tips
NOTE: depending on the editing style of your photographer, color tones will vary. For example, the garland (above) is a professional photographer VS the garland (below) is an iphone photo. You can see slight variations in the colors. You should always take note of editing style when selecting your photographer.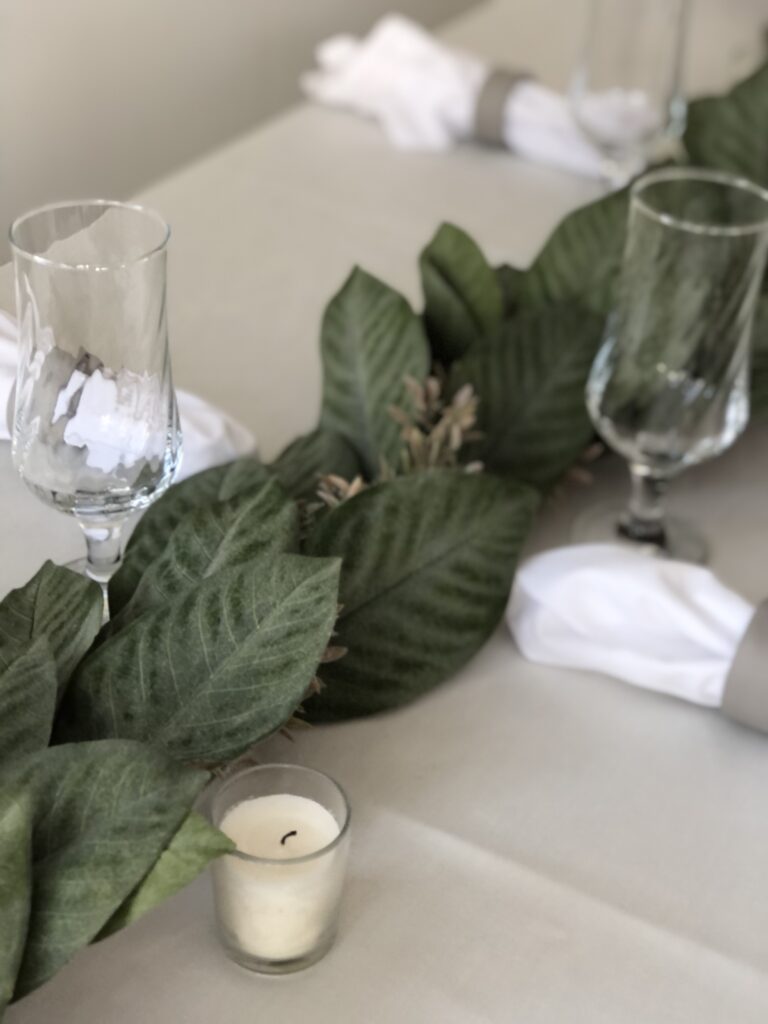 All faux flowers have slight movement. We designed the flowers just as we would with fresh flowers.
Photo here of our greenery garland rental. Each is 6 foot long.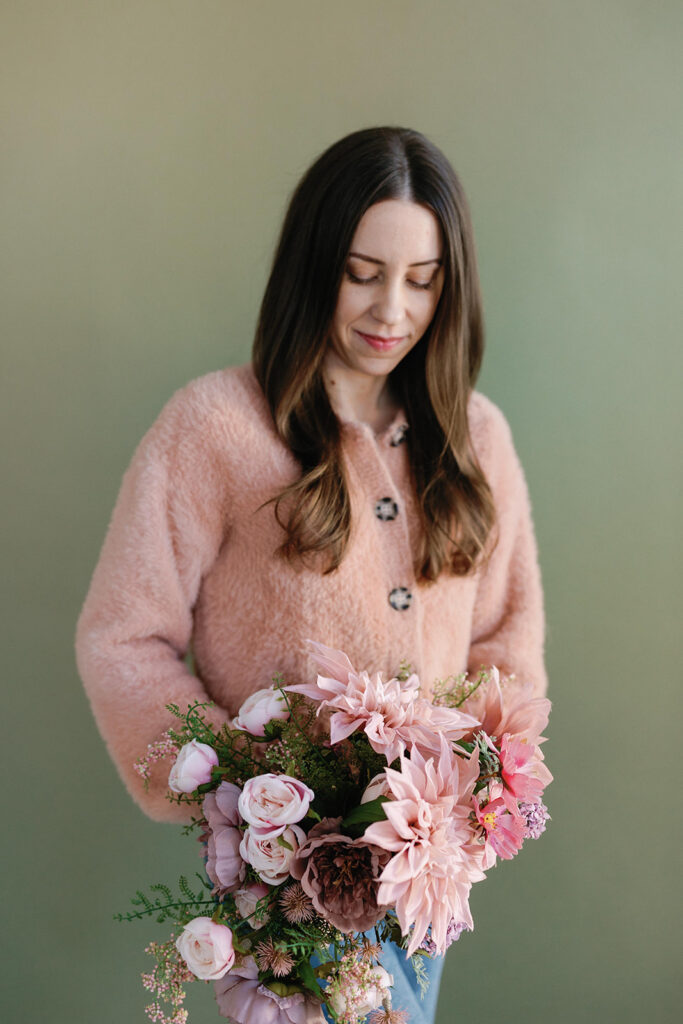 How you hold your bouquet is KEY!
Hold your bouquet correctly for it to look the most beautiful. Always flowers out, handle in towards your body. I always say, relax your arms and place the handle at your hip. Your arms should only have a slight bend and the bouquet handle should not be seen. (photo above – Dorothea Bridal Bouquet)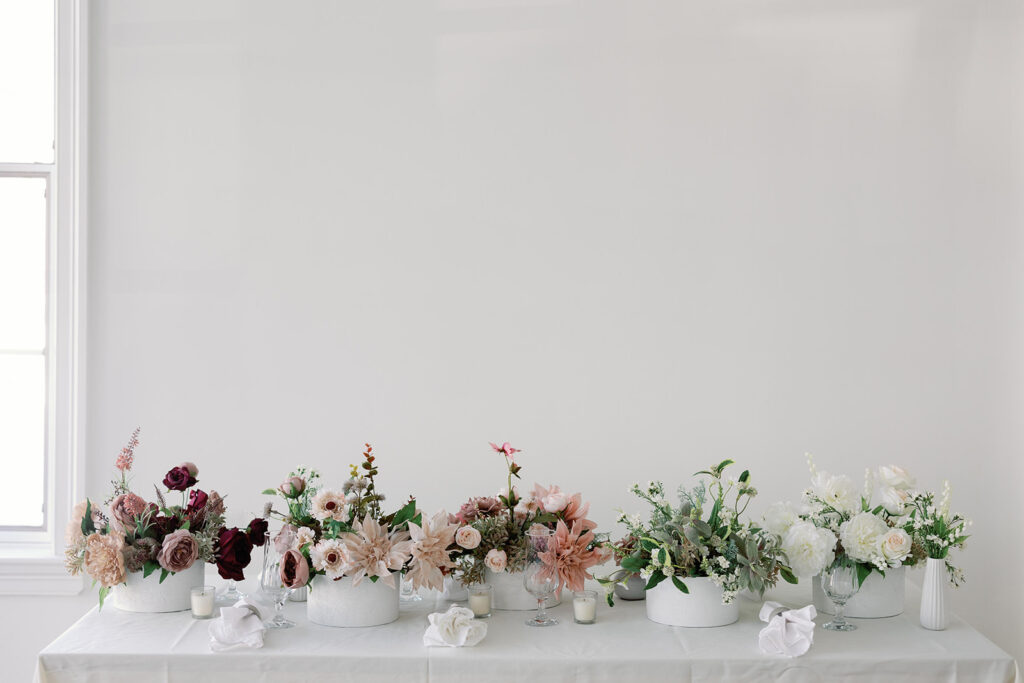 As with all our designs, we stay true to our design motto:
"you can have balance without symmetry which creates the most beautiful visual interest"
For more reception table top design ideas and tips, check out this blog post featuring the Dorothea collection. Photo above of our whole collection, so you can see how seamlessly the color tones flow together.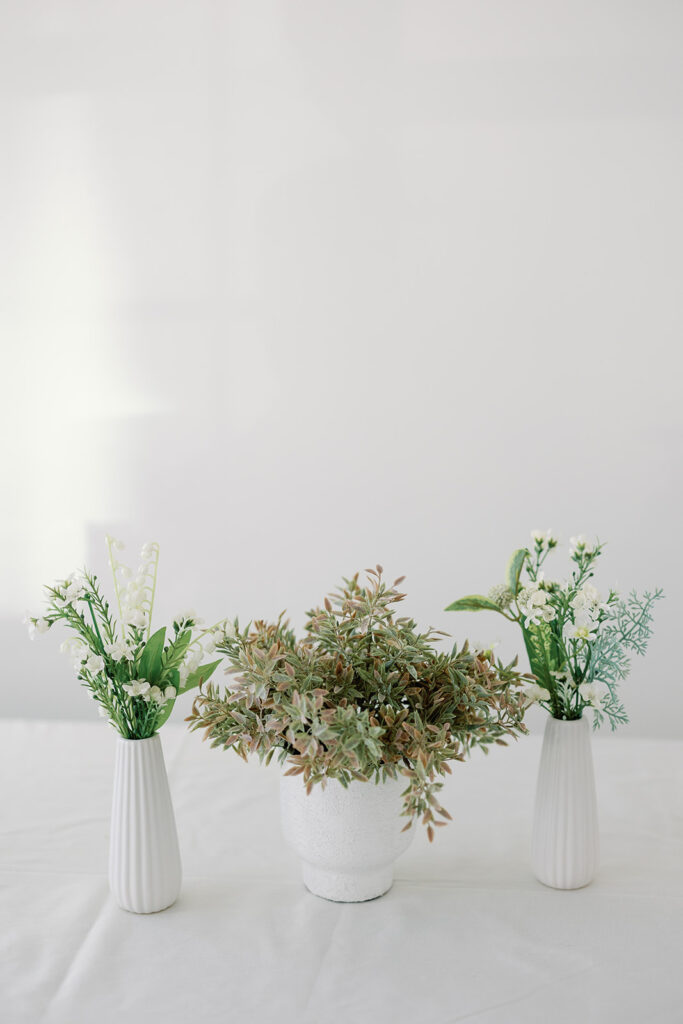 Delivery Options: stl local / surrounding areas we can deliver to your venue on your wedding day as well as collect after your wedding
Photo of our greenery 'plant' centerpiece and medium 5 inch bud vase.
LOCAL SAINT LOUIS AND SURROUNDING AREA CLIENTS: special delivery / set up / strike options are available just for you! We will deliver to your wedding venue on your wedding day, set up your rentals, and come back at the end of the night to collect OR to save some money we can still deliver to your venue on your wedding day, but not do the set up / end of night boxing up. This means you will need to have someone in charge of setting up your rented items and boxing them up when your wedding is over. We will then come back the following day or business day to collect the boxes with flowers. If going this route, please check with your venue to see if they allow us to come back the following day to collect (some venues don't allow this – everything has to be out on the wedding day). We highly suggest hiring a wedding coordinator to help not only with this set up / box back up, but for your whole wedding day.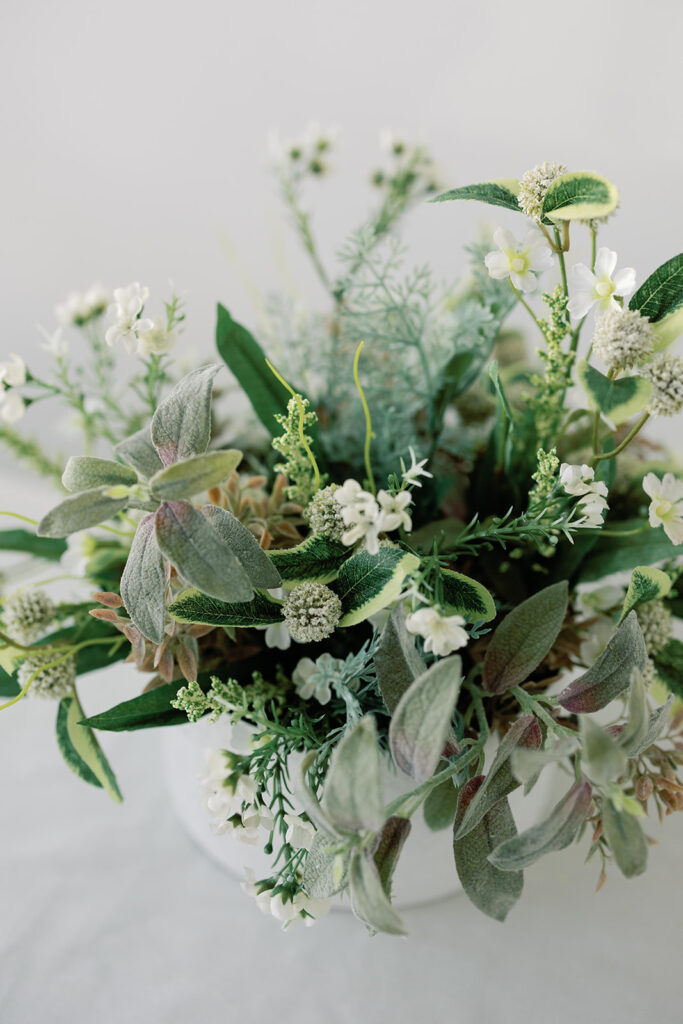 Looking to preview an item(s) before your wedding?
We offer 30 minute zoom video chats for $30 where we can show you the items you'd like to see on video as well as help answer any rental questions you have. This is a great option if you are not sure what needs to go where at your wedding or what exactly all to order. Another option is our "venue preview" where we will bring all the items you want to view to your venue so you can see how it all looks together in the space. This option is $75 for 30 minutes at the venue (within 30 driving miles of downtown Saint Louis). We are here for you to help get you all set! Also we have included many more detail videos on our IG under the saved circle titled "FAUX" + in our reels section – make sure to check that out if you want to see more!
collection offerings + pricing:
COLLECTION OFFERINGS:
All color palette collections:
1, bridal bouquet,
10, posy bouquets (for your bridesmaid, mom, grandma, etc.),
5, flower centerpieces,
10, greenery centerpieces,
6, long table greenery garlands,
20, 3 inch bud vases,
12, 5 inch bud vase,
8, 7 inch bud vase
1, ceremony arbor greenery (matches table greenery)
10, ceremony chair greenery pieces (matches arbor greenery)
4, 'bubble' shaped centerpiece (photo above shows 2 pieces)
PRICING:
Bridal bouquet: $55 – comes with a ribbon wrapped handle (add on longer ribbon if you'd like!)
Posy bouquet: $25 – comes with a ribbon wrapped handle (add on longer ribbon if you'd like!)
Flower Centerpiece: $45 – comes in a round white vase
Plant look alike / greenery smaller vase centerpiece: $15 – comes in a white vase
Bud vase: $8 – all buds will have 1 – 3 flower/greenery stems per + will match your colors (we offer 3 sizes, 7, 5, 3 inch – 7 and 3 inch are matching colors while the 5 inch is solid white)
Reception Table Garland: $35 – 6 foot greenery garland
Ceremony Hanging Garland (as for an arbor): $75 – 12 foot greenery garland comes with green wire to attach (matches reception table garland) *can add on pops of flowers in your flower colors for an extra fee
Ceremony Chair Greenery: $8 – a stem of greenery (3 larger leaves, matches greenery garland) and a piece of ivory satin ribbon to tie onto your chairs
Head Table / Long Table 'bubble' Centerpiece: $35 a piece
Custom Designed Piece: please inquire about custom flower designs – we are happy to help create a custom design for you
*Please note: we do not allow the use of any reception pieces outdoors as they are light weight and will blow over easily
ALL FOR INDOOR USE ONLY!
-gold rimmed frame for table numbers or any signage, paper goods
-white clip stand for table numbers or any signage, paper goods
-various flameless candle options (pillar, taper, tealight) with holders (ask about candle rentals and we will send you all our options) *please note we will not be there to turn on candles so please have someone in charge of doing this
FOR PURCHASE:
Boutonniere: $14 a piece – comes with 2 pins *(note: bouts tend to fall off / get lost easily with fault to no one, which is why we do not do a rental on them, if you are on the fence about bouts – we suggest passing on them)
Bridal Bouquet: $200 – if you would like to purchase / keep your bridal bouquet after your wedding as a keepsake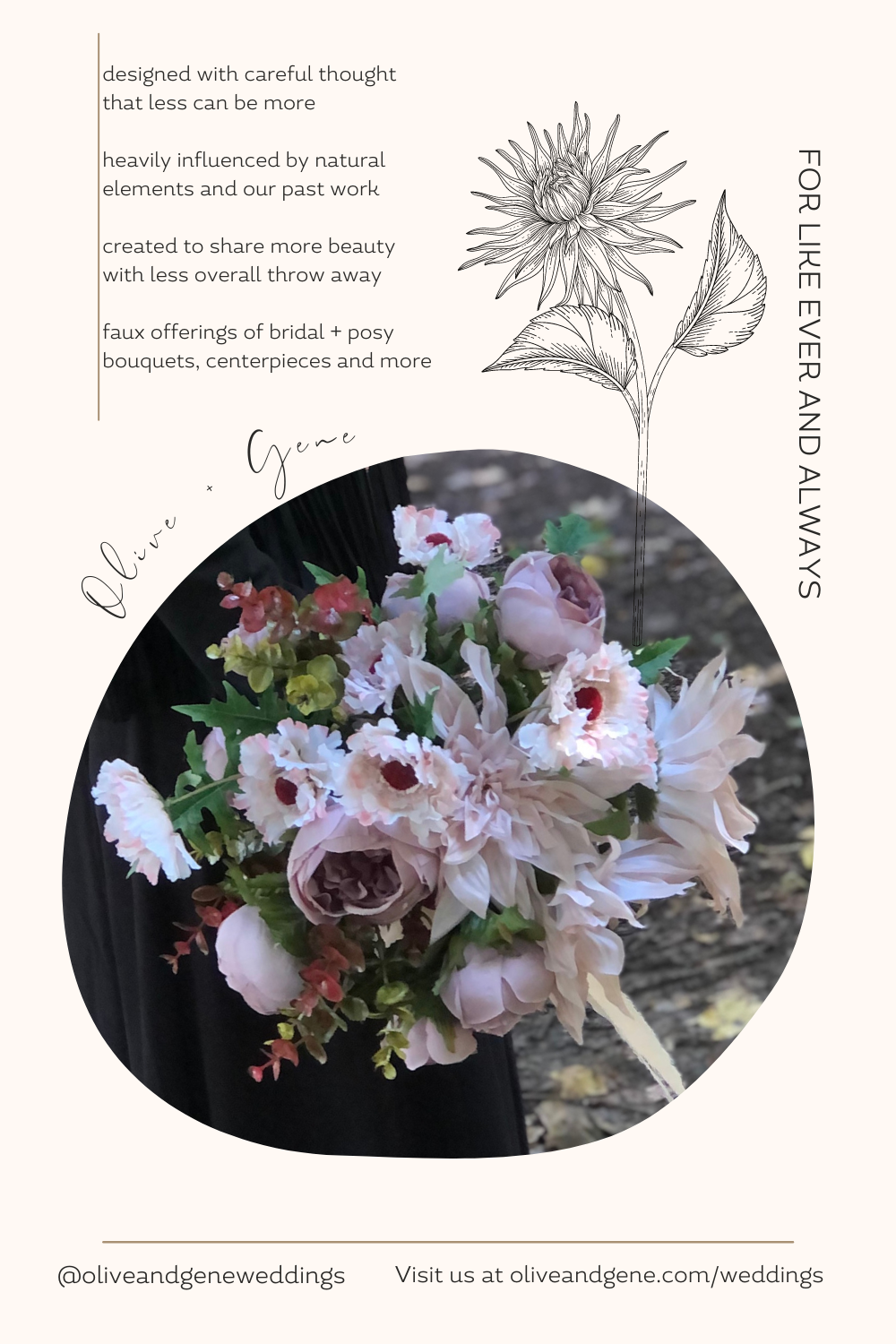 ADD ON'S:
Extra time: if you need to rent your flowers for longer than the allotted time of wedding day and day after please put that in the notes *if working with a coordinator where they will be collecting at the end of the night / getting the flowers back to us – we can extend the time a day if needed (please note if you order a lot of items, there will be a lot of boxes to pack up / put in a vehicle)
Delivery, set up, strike and rental touch up: starting at $155 (we do a rental touch up because even though these are faux flowers, we still go through each item to make sure they are looking their best) *this cost will vary on your order quantities but starts at $155 as a minimum
By using our rental offerings you will still be saving around 70% as compared to fresh flowers.
A couple things to consider:
our faux flowers are light weight, so please be aware of that (we do not allow any reception items or candles to be used outdoors)
along those lines, please do not use ceremony items outdoors if the weather is poor (rain, high winds, etc.) as to damage the product
damage fees will be applied if we have to replace any product as stated in the contract
order form
Please use THIS LINK to submit your initial order. This is an order form only. Once we receive your order, we will make your custom invoice which we will email to you (we use an online program called Honey Book). That is where you will sign our contract and make your payment. Please read our terms and conditions!
Thank you!! We value and appreciate you – for like ever and always!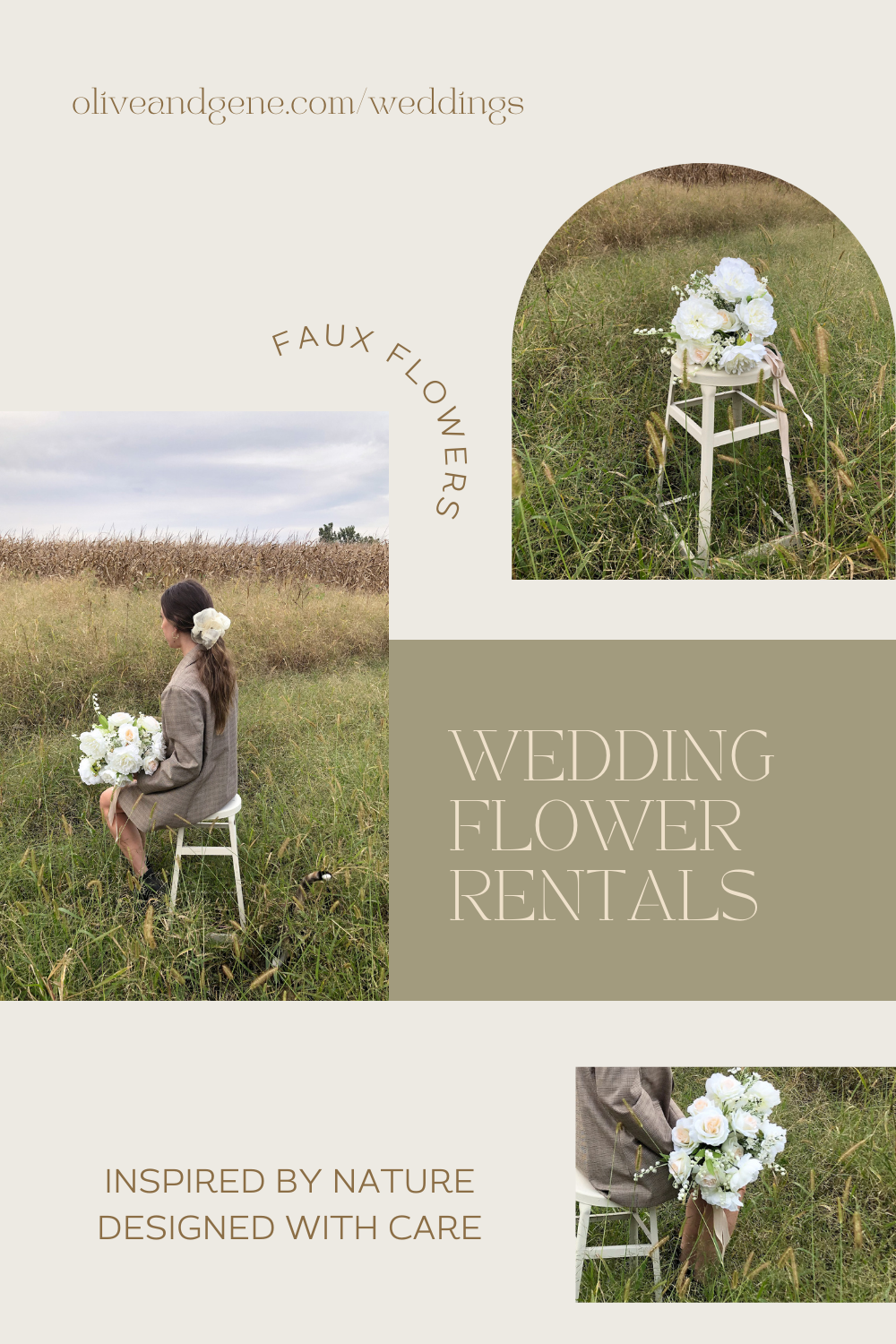 rent your wedding flowers today!!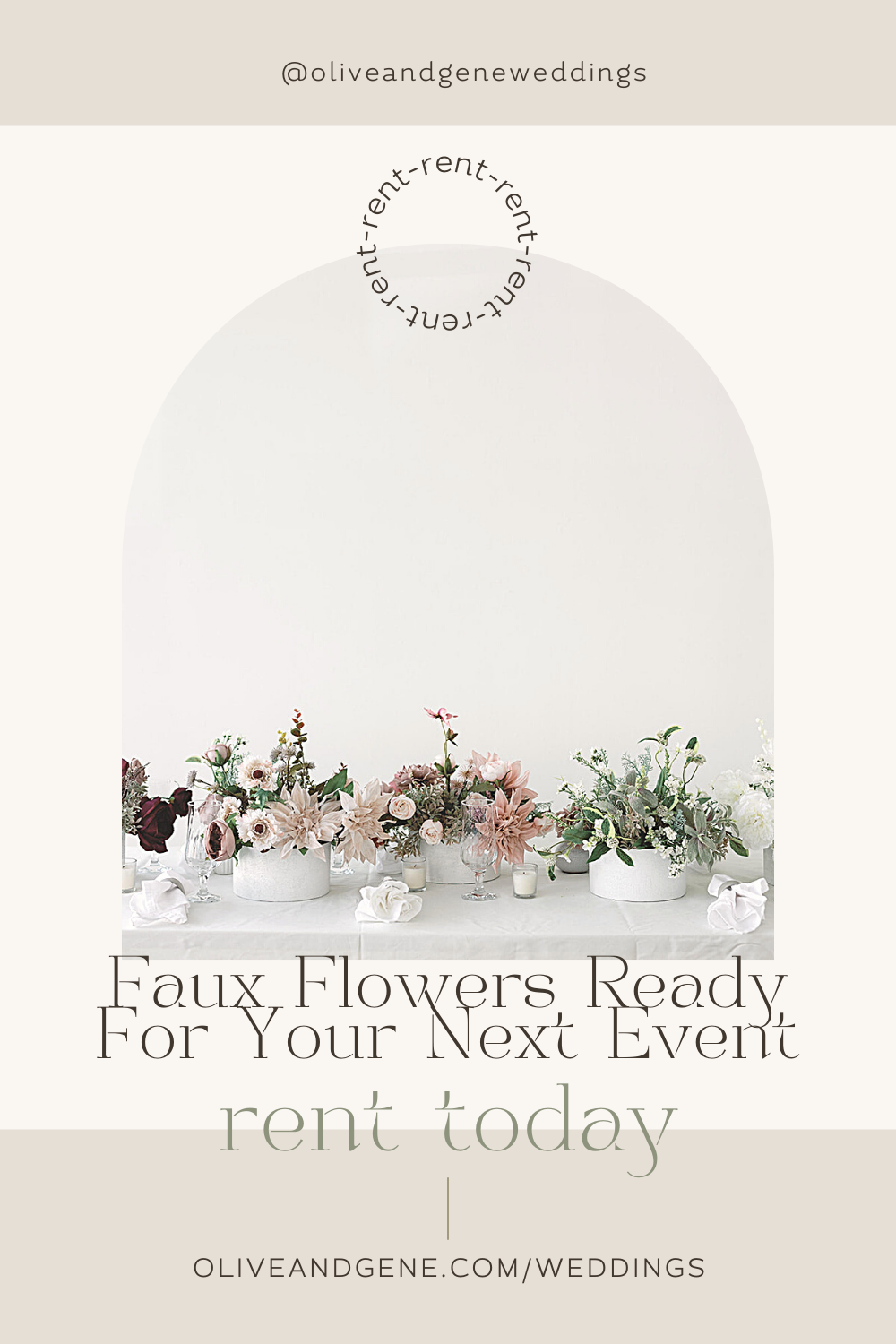 most photos: the young's photo / studio @theyoungsphoto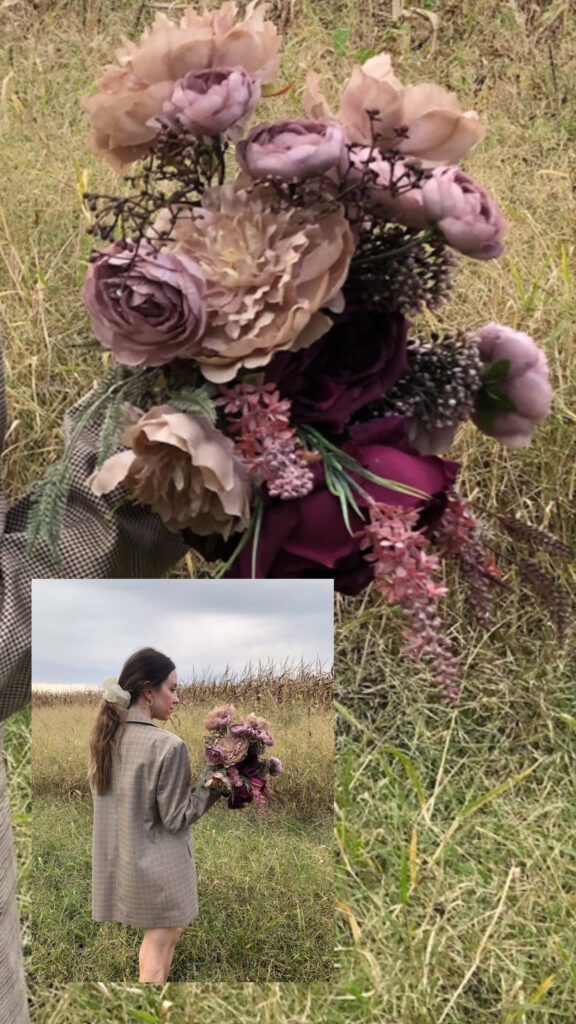 Cynthia Bridal Bouquet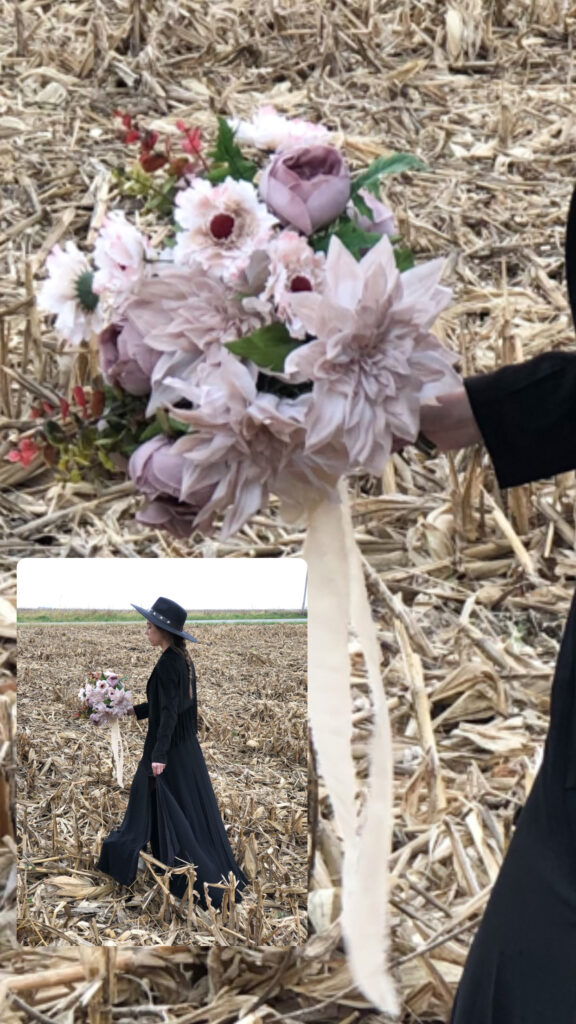 Ash Bridal Bouquet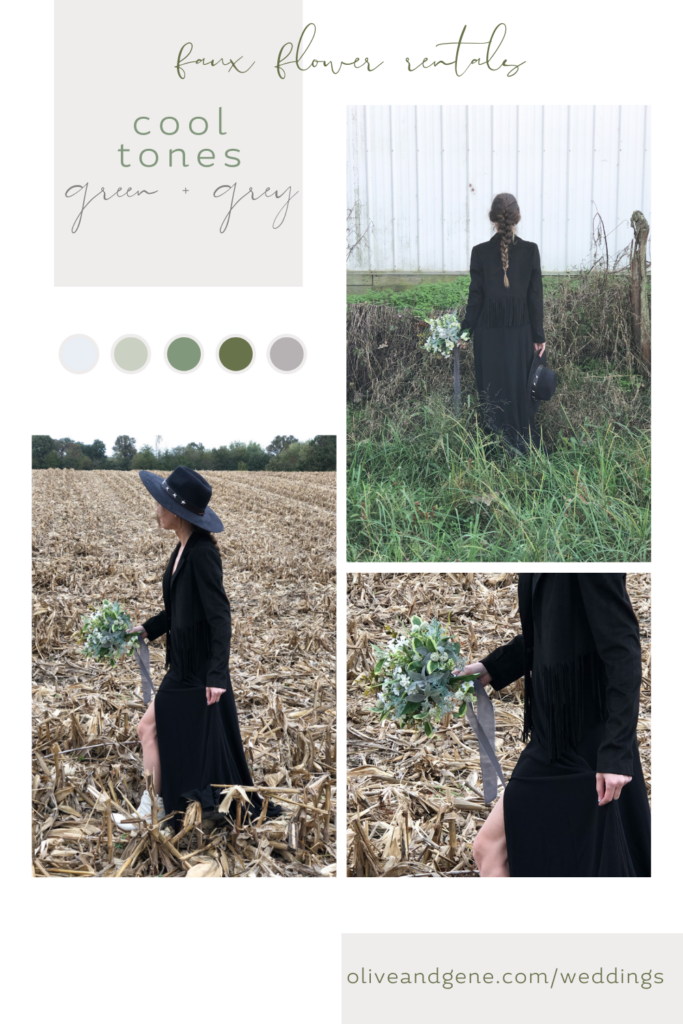 Randi Bridal Bouquet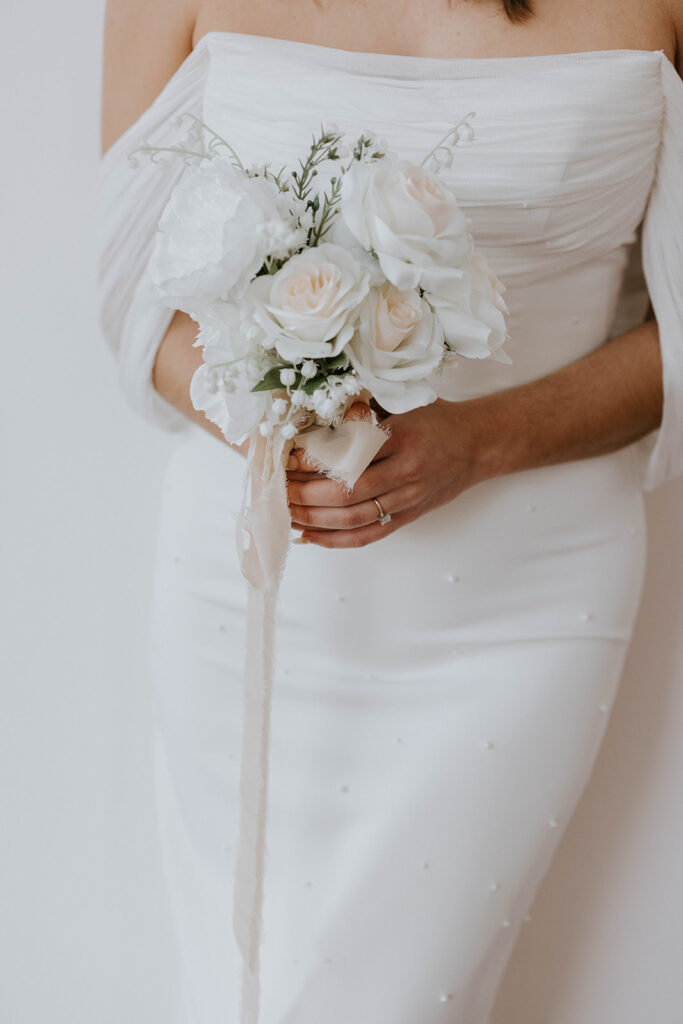 Betty Posy Bouquet