take a closer look at our flower design details in this breakdown
CEREMONY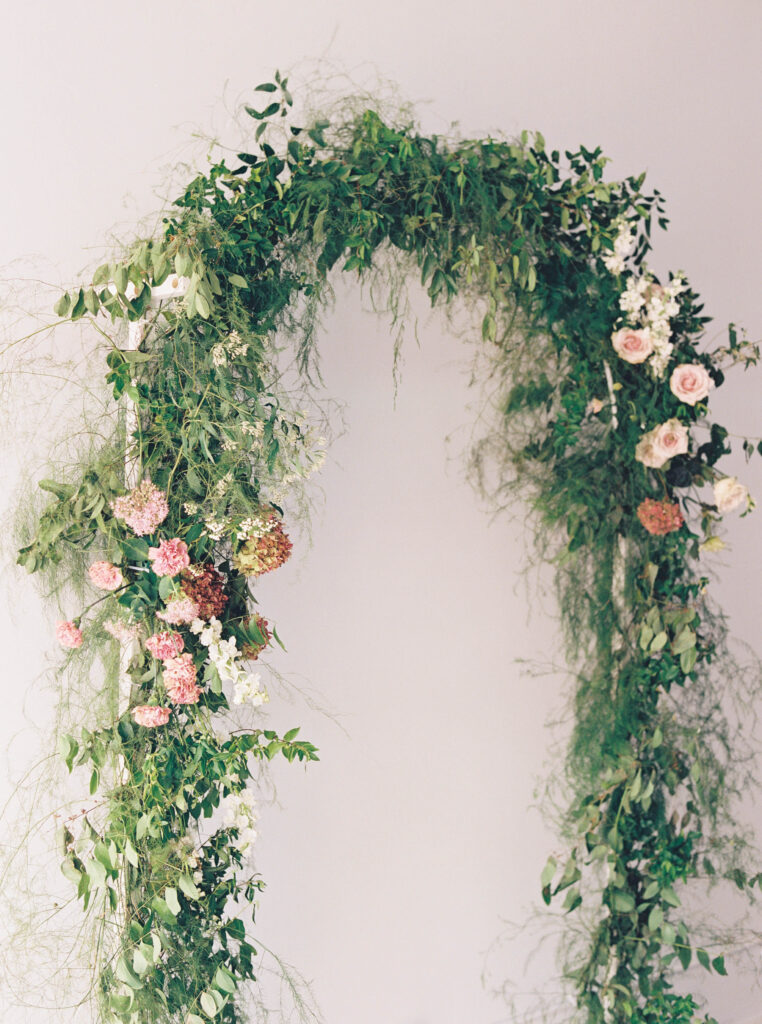 full greenery covering with 2 flower clusters (our rounded arch rental – indoor use only)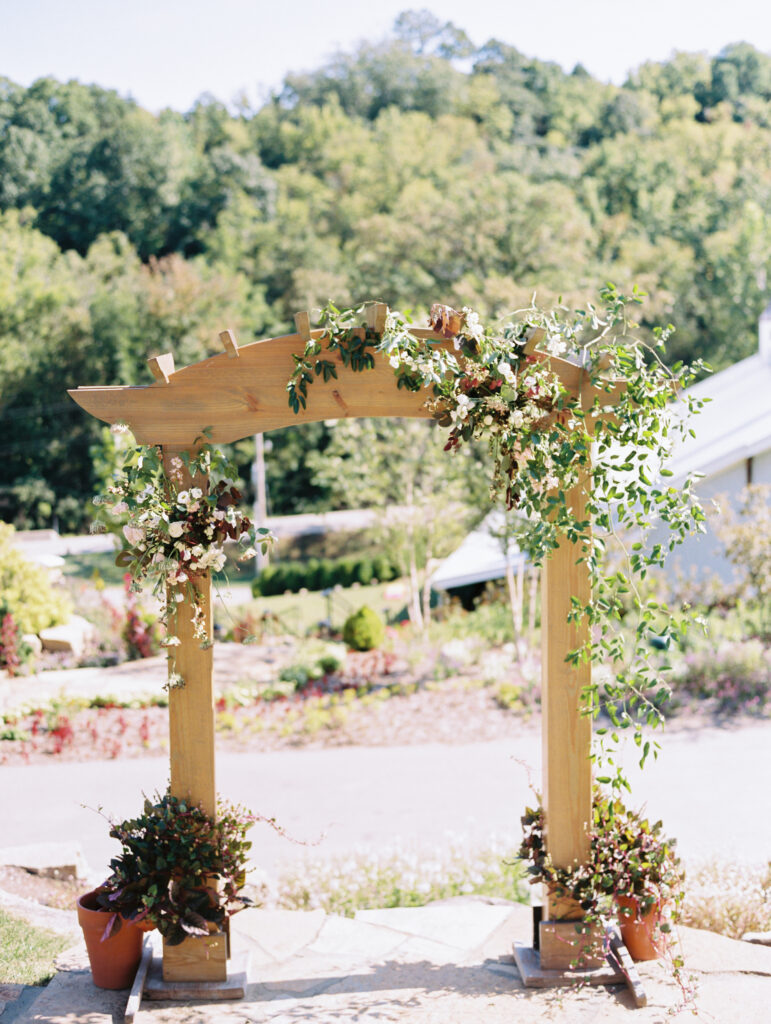 asymmetrical arbor, 50% flower / 50% greenery coverage (plants + arbor already at venue)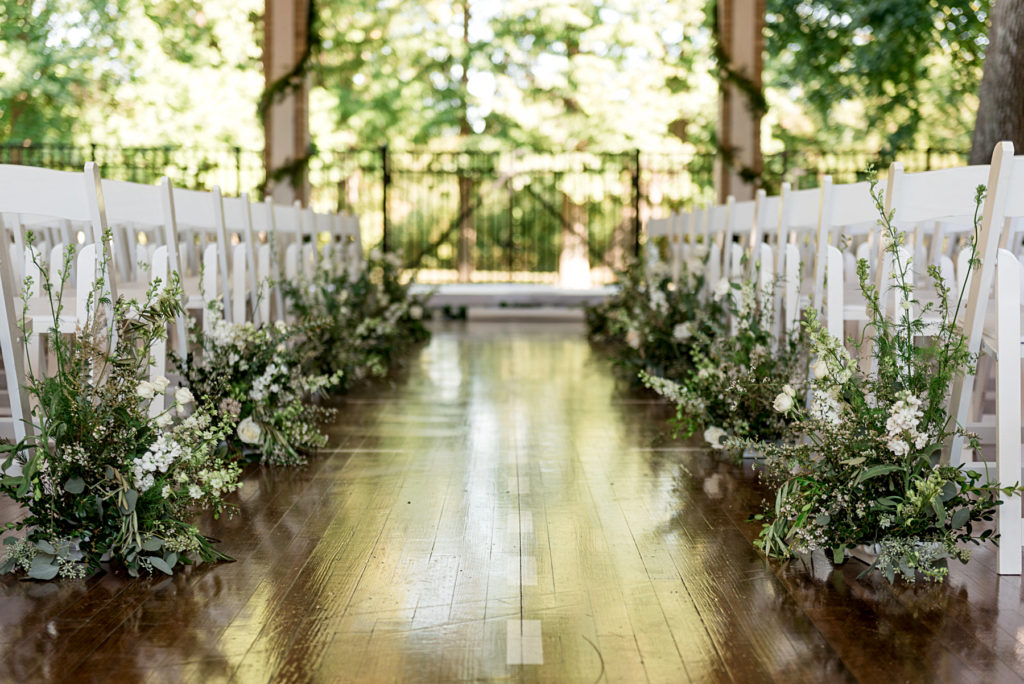 growing ground designs – as if they are naturally growing up from the ground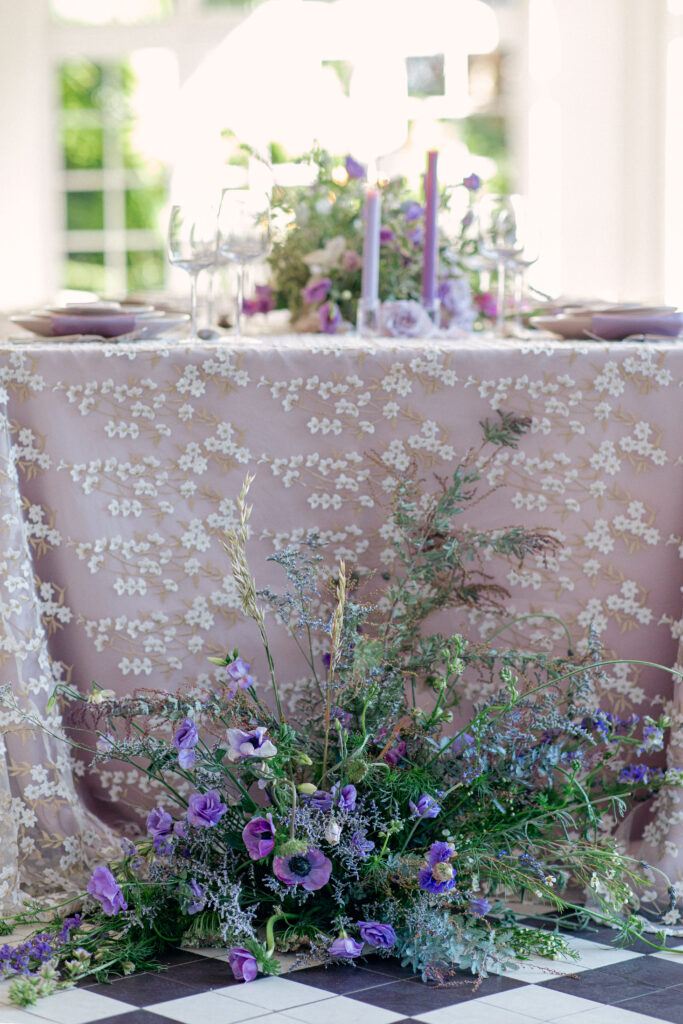 another growing ground example – can be moved into your reception space (most designs are around this size – medium)
*We do want to note these photos are all great examples, but please know slight variation will occur. Over the years, we've designed thousands of pieces and not 2 have been identical. That's the nature of our organic design style and probably why you are drawn to the flower arrangements 🙂
RECEPTION
head table / long table low + lush, 4 foot flower / greenery design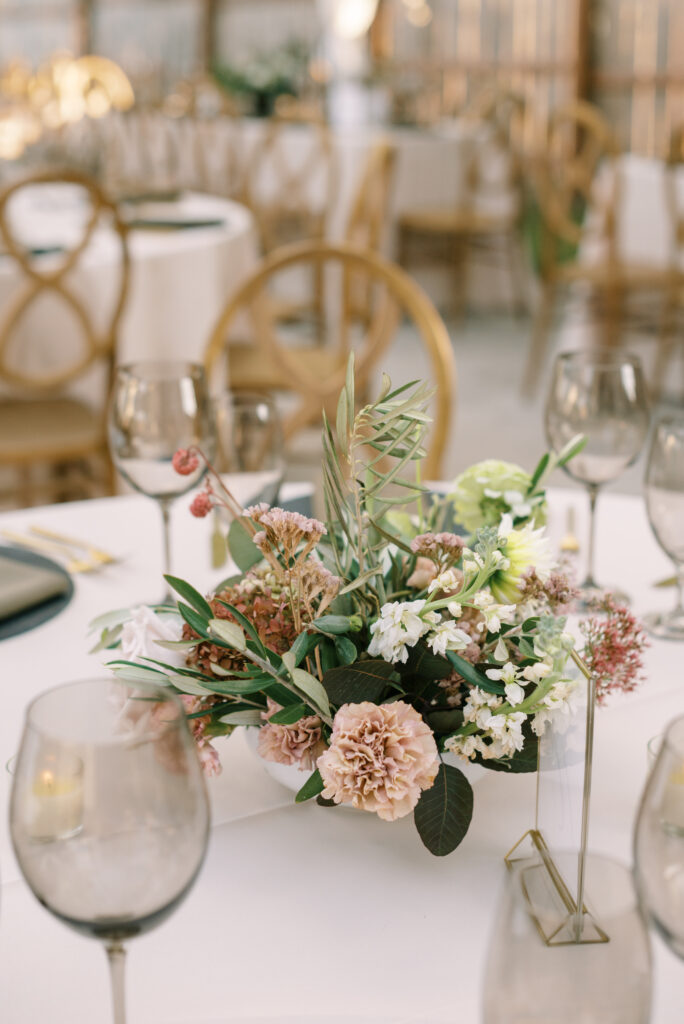 traditional size centerpiece (60% flowers / 40% textures + greenery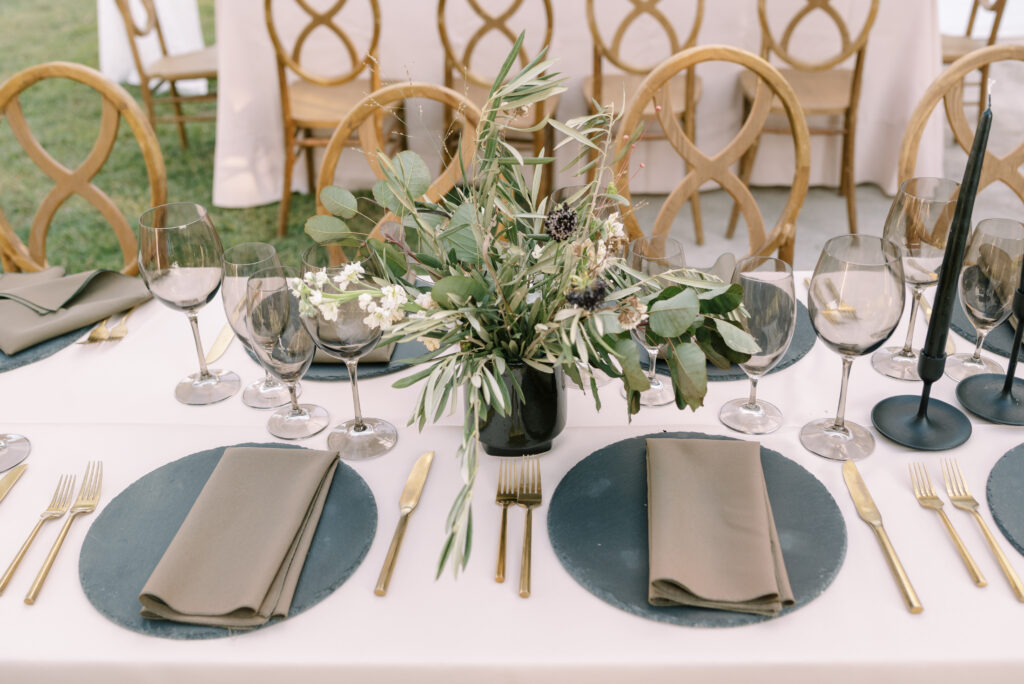 greenery heavy centerpiece design, 90% greenery / 10% other textures
Our notes on tall reception centerpieces: if your wedding reception has an outdoor element where it can get windy – do not use tall centerpieces. We only suggest tall centerpieces for an all indoor event.
CAKE FLOWERS: (note: if you want flowers directly on your cake, we suggest sugar flowers or buttercream as shown below / we can provide loose flower stems for your cake but we do not attach any flowers directly onto the cake) please see all the other beautiful options for cake table designs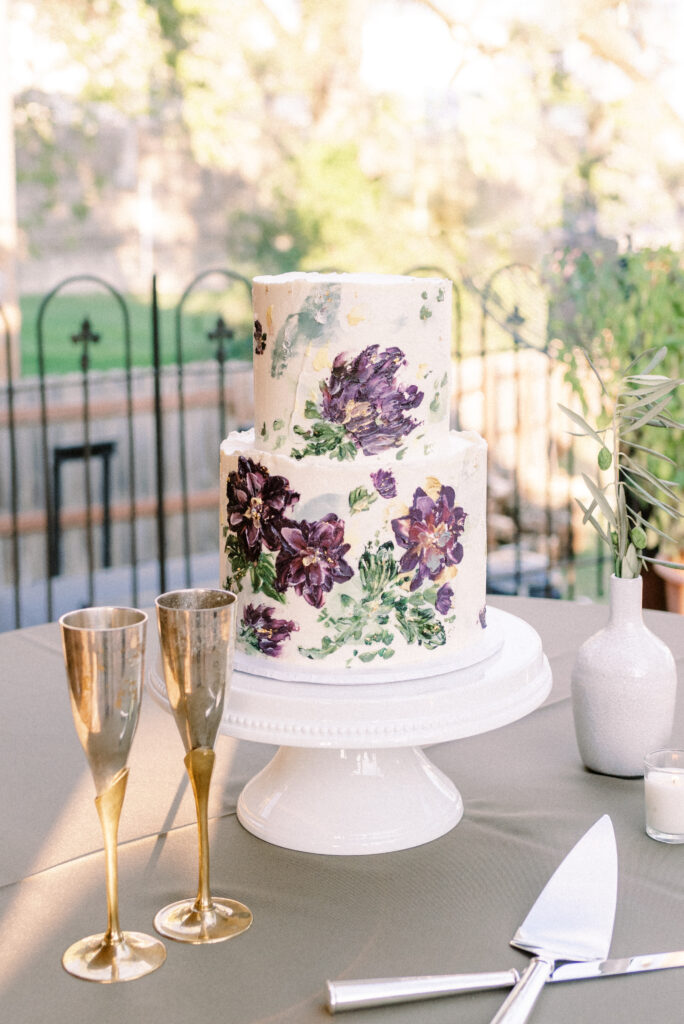 bud vases / votive candles (on right)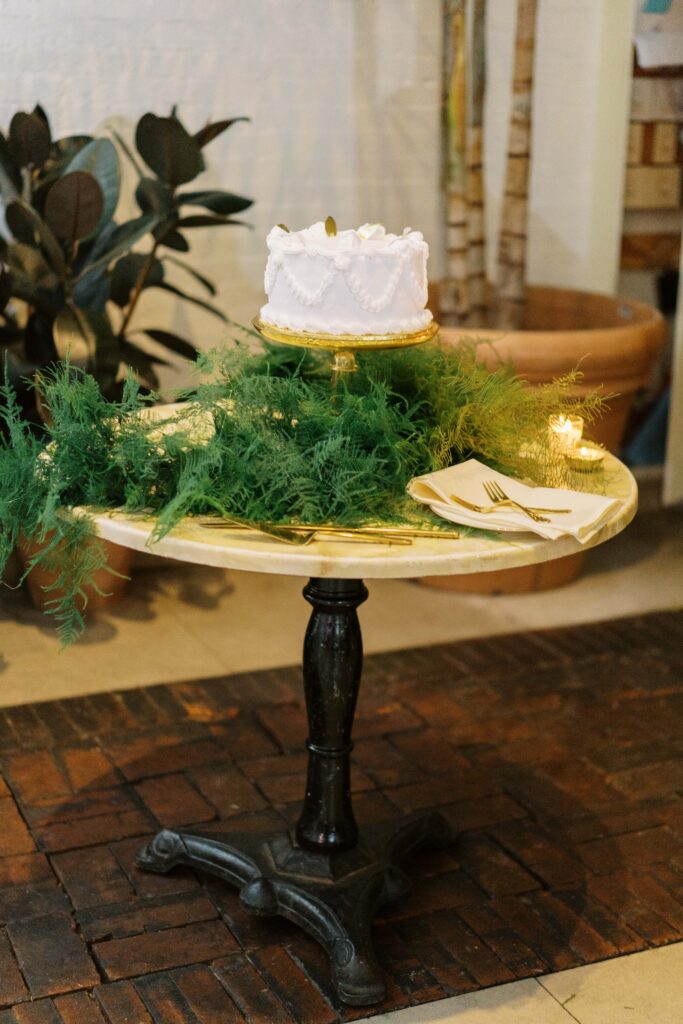 all greenery cake table design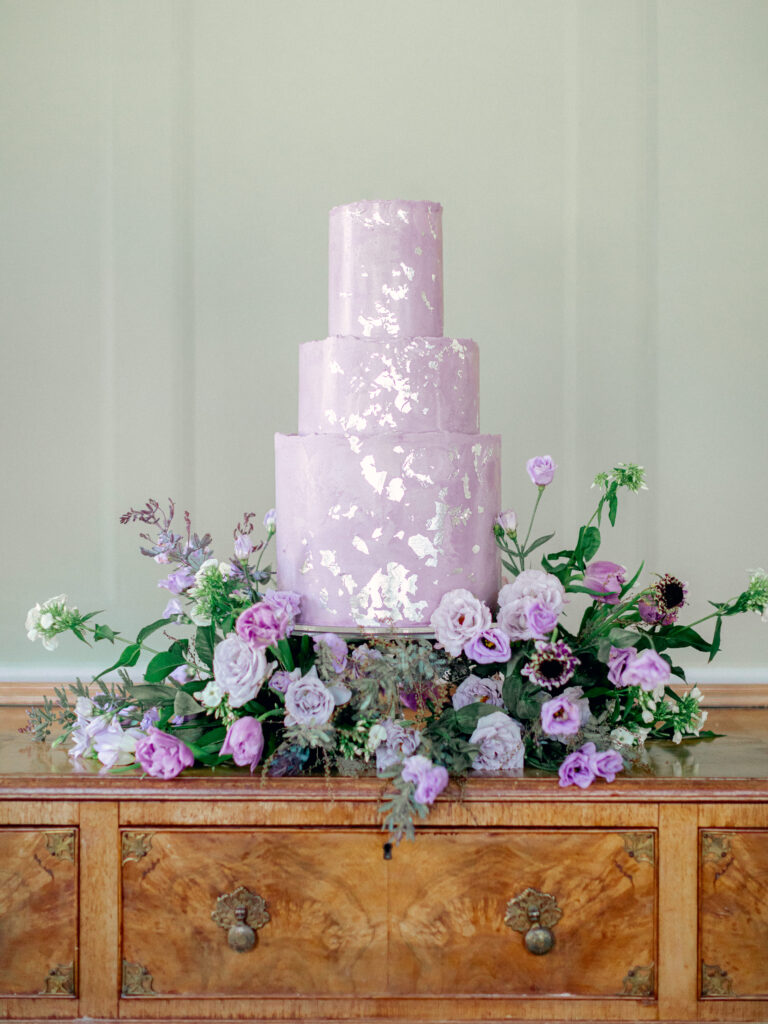 flower heavy cake table design
PERSONAL FLOWERS: our signature organic bouquet designs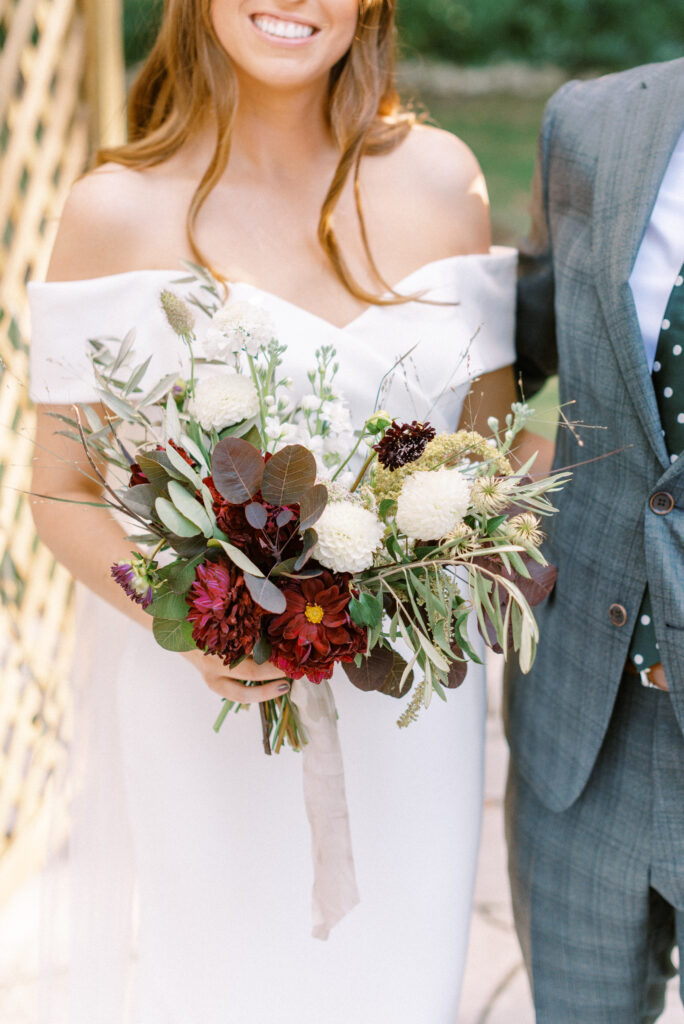 not too big, not too small – just the right size to hold comfortably and accent your stunning gown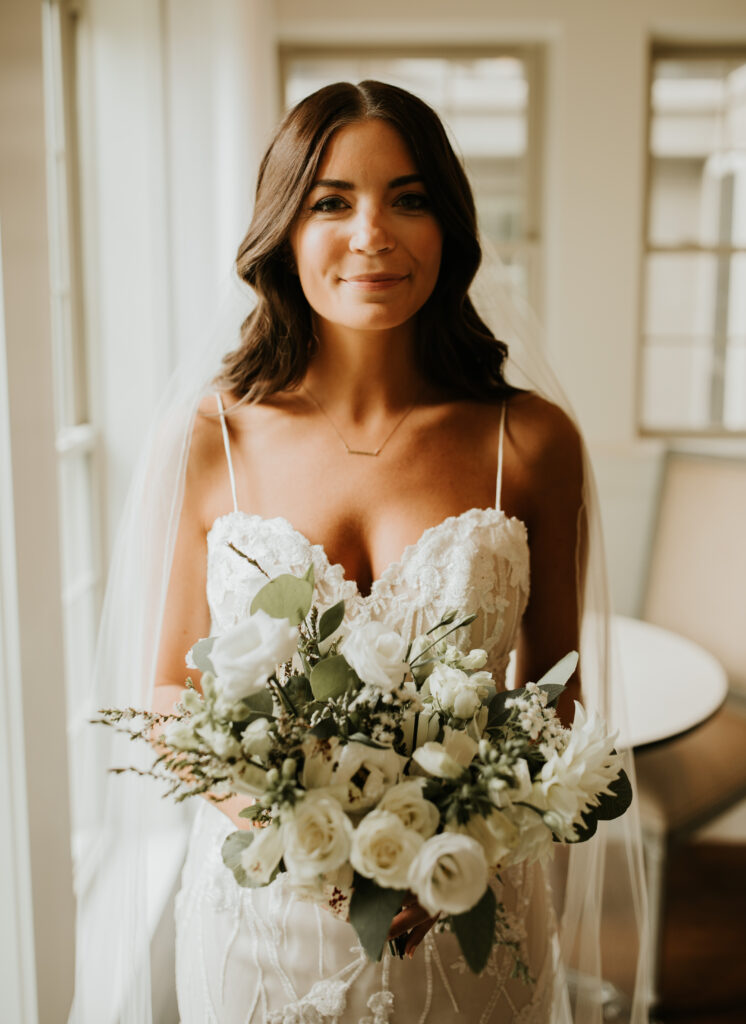 a more traditional / less texture bouquet
*We customize each and every bridal bouquet just for you! Whether you love texture as seen in the first bridal bouquet photo or not so much – we design what you like with our organic look + feel.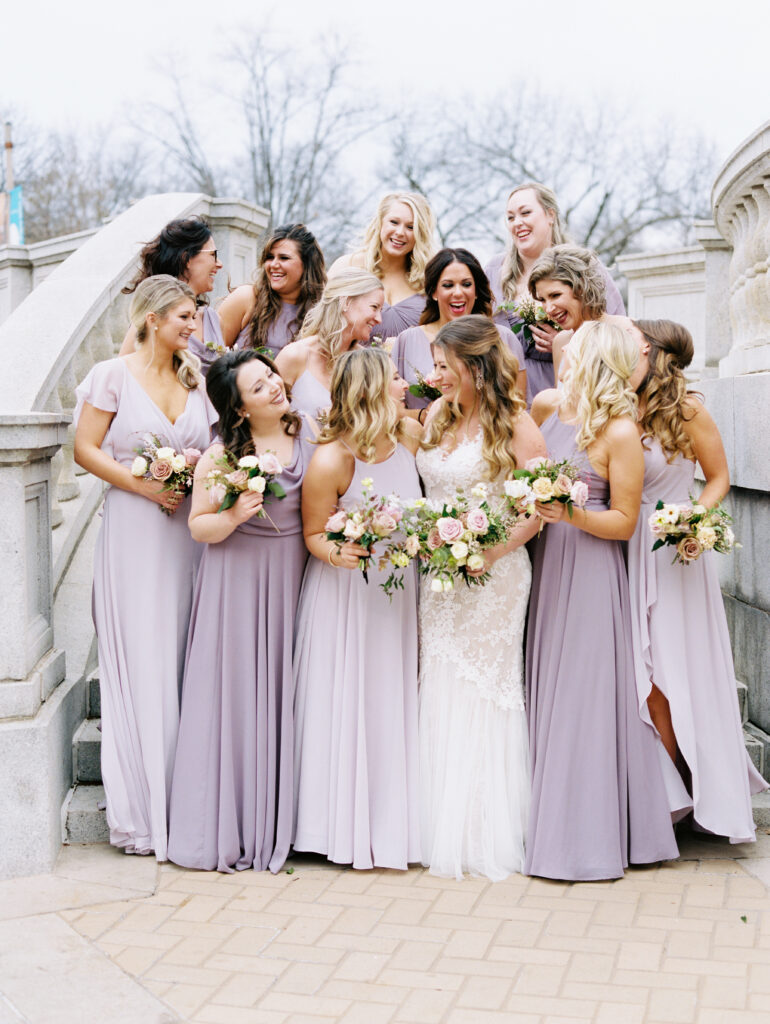 bridesmaid bouquets are the cutest designs typically similar to the bride but smaller in size
the posy bouquet – out with the corsage and in with the posy! perfect for all your special ladies (sorry, we do not design corsages with fresh flowers)
OTHER NOTES:
Our advise on re-using bouquets at your reception. Of course, you can – it's your wedding, do what you want! We do not recommend using them as a reception table centerpiece for many reasons. But, we do love using them on a welcome / gift table, at the bar, or any other little area that could use some pretty flowers.
We need to remember that flowers out of water will not hold up the best. It's always our top priority to have your wedding looking beautiful with fresh flowers…not sad, wilting flowers that could happen when bouquets are left out of water. Also, flowers are delicate. How they are cared for by the person holding them has a huge effect on how well they will hold up.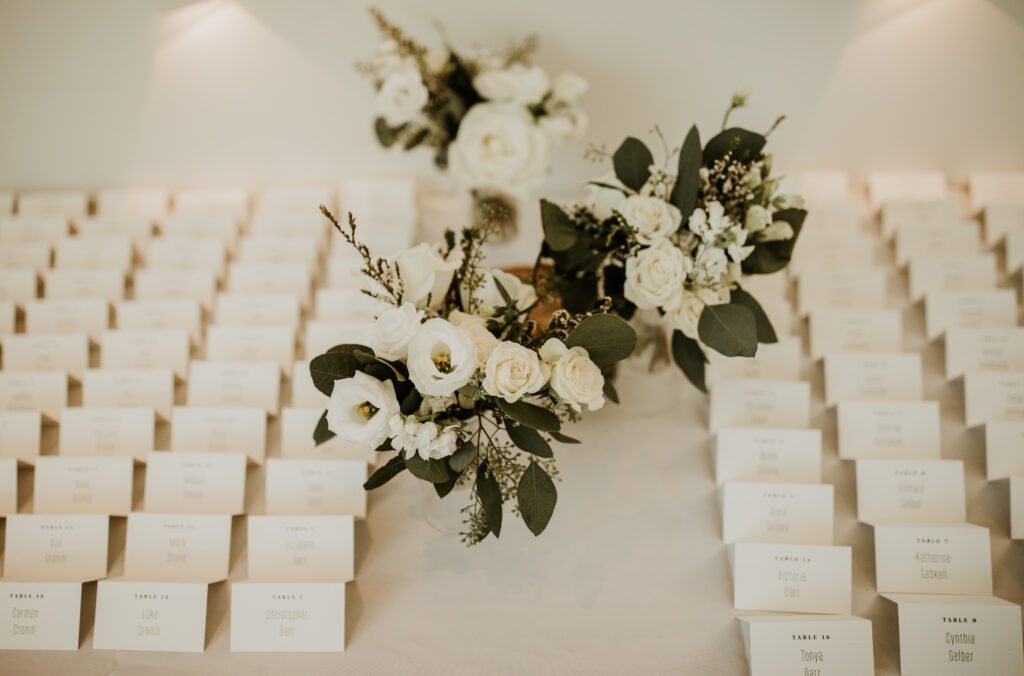 3 bridesmaid bouquets used on this escort card table
This same note goes for re-using ceremony flowers. If the flowers have been designed in a container that can be easily moved (such as a growing ground design), then yes move it into your reception. As for designs on an arbor or something similar – we would not suggest messing with that. Those designs have been specially made for that structure and re-working that to fit another space is not something we do or suggest.
Please see our typical day of timeline below, as it states we are usually not at your wedding to do any moving of re-used flowers. You will need to place someone in charge of moving ceremony flowers over as well as placing bouquets in vases. Or we can do this for you with an added set up fee. This is another reason, we like to say every flower design has it's purpose and once it's fulfilled that purpose it's job is complete 🙂
we hope this flower design breakdown is helpful. if you are more interested in a less detailed process please check out our faux flower rentals.
*as always we use in season flowers in your color palette for the most beautiful designs
RENTALS: for the most part, all our flowers will come in our rentals vases, containers, etc. If you do not want to use our rentals, we can provide 'take home' style vases which are a plastic material that are yours to keep at the end of the night. We do not design flower arrangements in other rentals that are not ours unless we approve the vase.
CANDLES: we are happy to provide candles as rentals if you need them. We offer flameless candles options as well as real candles with an added cleaning fee. If using real candles, please make sure your venue allows this and know we (Olive and Gene) will not be onsite to light any candles or turn on any flameless candles.
Along those lines, you are welcome to provide your own candles but please know that we do not set up anything that we do not provide. If you need help setting up any extra items that you are providing you will need to hire someone to do this (we highly recommend hiring a wedding coordinator to help with all day of wedding things).
OUR TYPICAL DAY OF TIMELINE:
arrive at ceremony location with personal flowers and ceremony decor (if you are getting ready at a different location / need your flowers at a different time, please let us know so we can add in that delivery location to your proposal)
drop off your personal flowers
set up your ceremony
go to your reception and set up there
once finished with reception set up, we leave (note: we are not on site to light candles, move anything from ceremony to reception, or put re-used bouquets in place – if you need us to do this, you need to let us know so we can add it to your proposal) *we highly recommend hiring a wedding coordinator or asking your venue coordinator what they do / do not help with
at the end of the night / following day, we come back to collect our rentals
Thank you and please reach out with any questions you might have – [email protected]