Table setting ideas, pastel flower arrangements, spring color palette tips and more to host an easy and effortless lush garden party. Spring is one of the most beautiful times of the year, so why not celebrate by throwing a festive get together. All my ideas and tips can be easily translated into any type of pastel spring garden party whether that's a bridal shower brunch, birthday party, baby shower lunch, or any type of brunch, lunch, or dinner!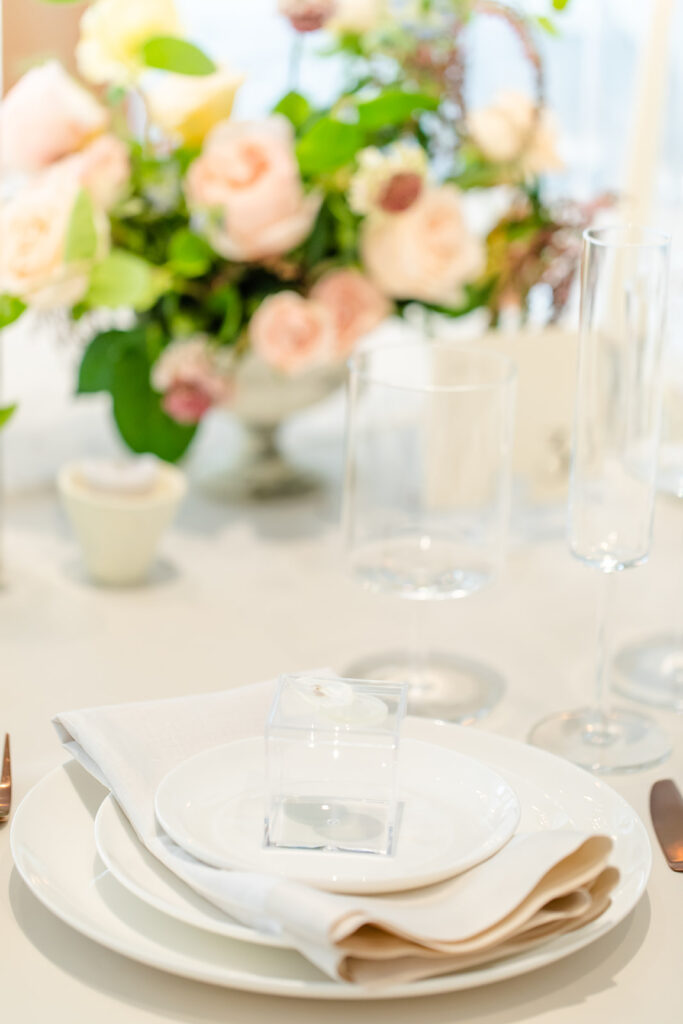 Entertaining ideas for your pastel spring garden party
As I think back to all the past parties I've put together, two things stick out in my mind. First is the initial beauty of the overall party, yes, I'm a sucker for a pretty table. Then second is the ending when the candles are burnt down and the table looks a little more messy than it started, but my heart is full of all the laughter and stories shared between friends. For me that's the best mixture, pretty and messy combined because let's face it; that's life. I hope you can enjoy the mix of both while you create your own pastel spring garden party.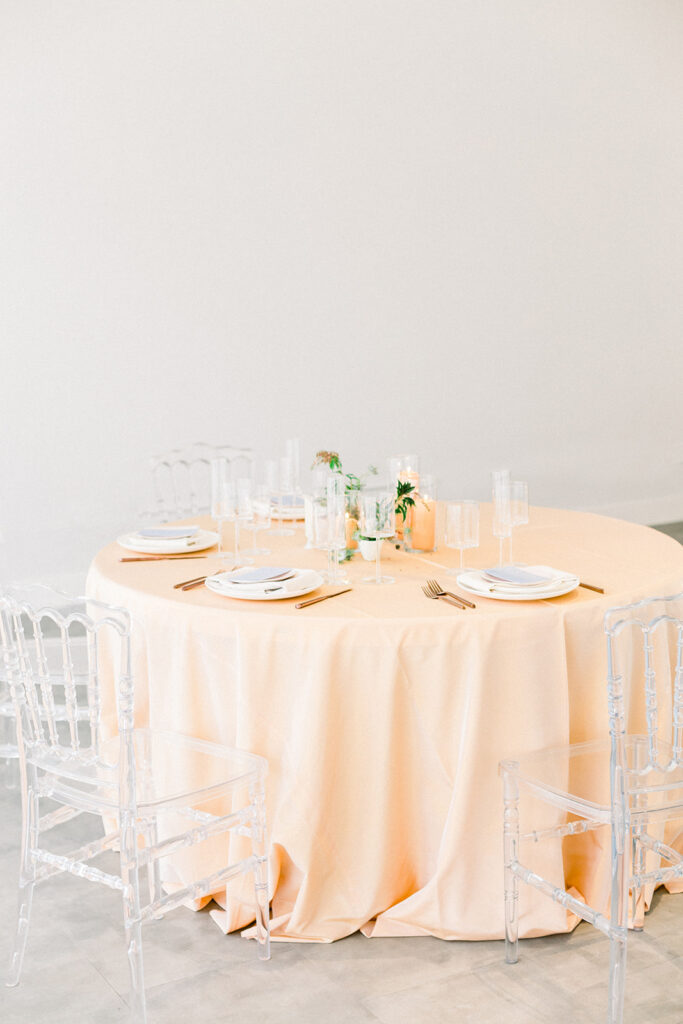 Always start with your guest list. You need to know how much and how many of everything you will need. From there you can start on the overall design of your party. I love using a mix a different items on the tables. For example, if you have 4 tables; two tables will have a larger focal flower centerpiece with taper candles and the other two tables will have a smaller flower detail with pillar candles.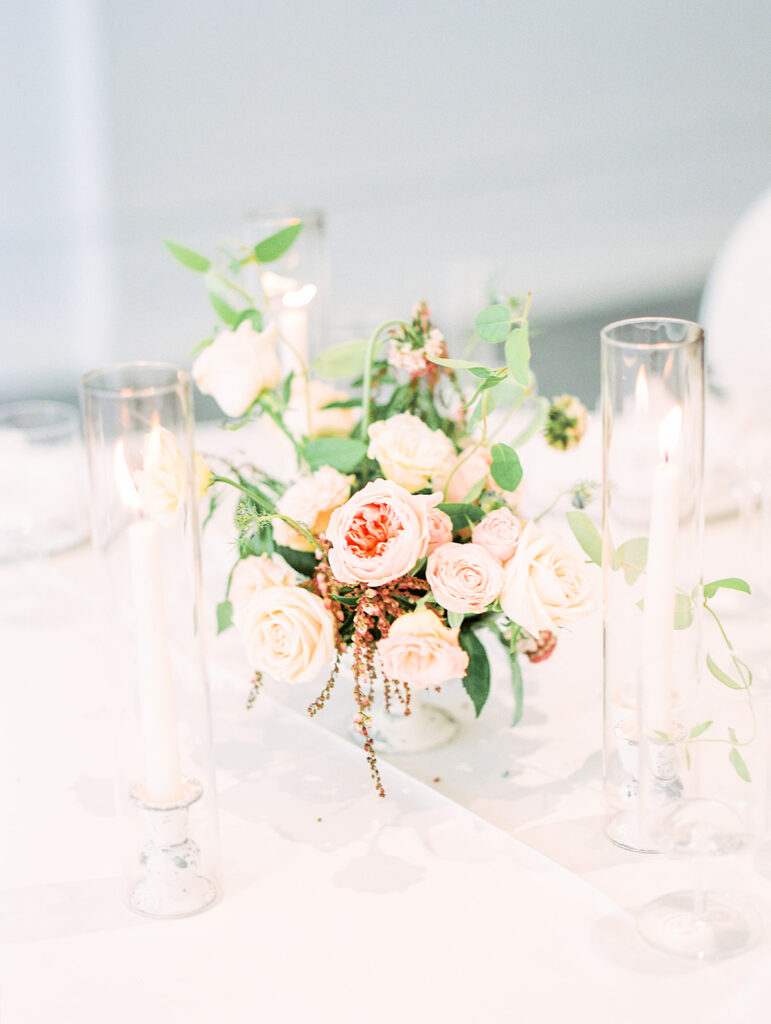 Once you know how many tables you will be having, you can decide what you want to put on those tables. As I mentioned above, I love mixing it up! Here's an example of my spring garden party shopping and/or check list.
round or long tables
linens for the tables
napkins for each place setting
plates, flatware, stemware for each place setting
escort card if doing assigned seating
table number if needed
candles and holders (taper and pillar candles)
flower centerpieces to DIY or order from your local florist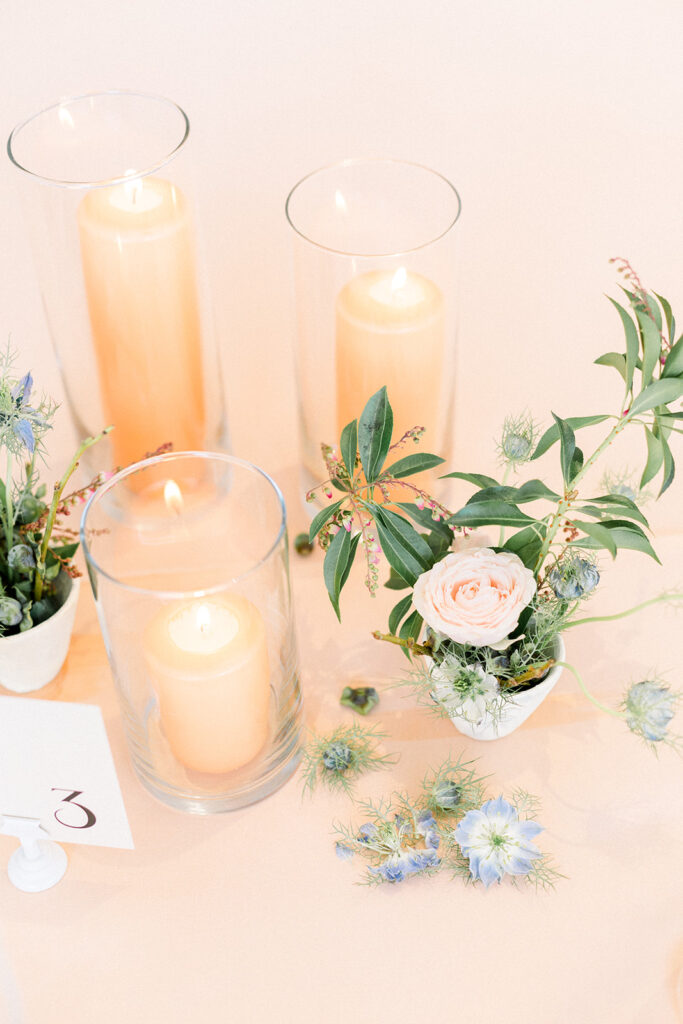 Table top setting tips for your pastel spring garden party
I love a party that is effortless and easy to make come together. For most of the table place settings, I will set the full table the day before (if not outside) that way it's all ready to go while we are cooking or mixing cocktails. Another tip I love is finding local businesses to work with to help make the day as easy as possible. Most wedding and event rental companies will carry all the items needed for your table top setting if you don't want to use you own personal pieces. Of course you can create everything by using what you already own, but I've found it takes a lot of stress off my plate by utilizing great local businesses.
wedding and events rental business for linens, chargers, plates, serving ware, flatware, glasses and stemware
flower shop for complete flower arrangement centerpieces or loose flower stems for you to design your own
bakery for yummy sweet treats that are easy to grab and go
local grocery store for pre-made dips, appetizers, sides, and cocktails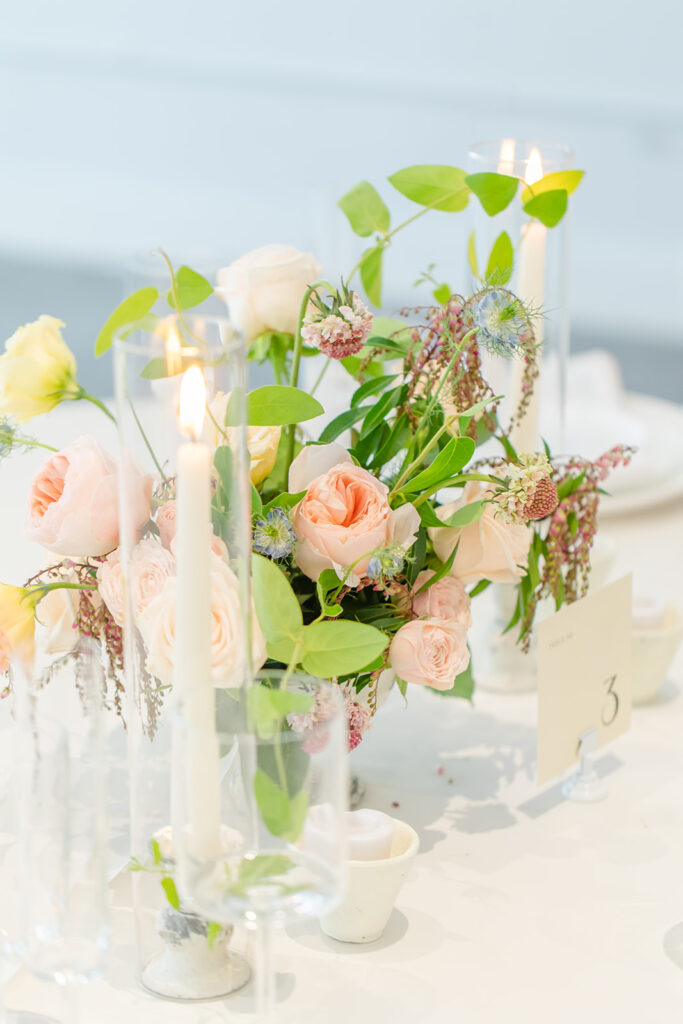 I like to pick a couple tasks that I enjoy to DIY, then outsource the rest. This is especially true if I am hosting alone. No one wants to be running around trying to finish up while guests are already arriving.
Pastel Spring Color Palette Ideas
Beautiful, soft pastel spring colors. I can not get enough. For this particular party, I chose to focus on peach, pink, and soft blue. The 3 pair beautifully together, but if you want to go the more neutral route add in more off white tones.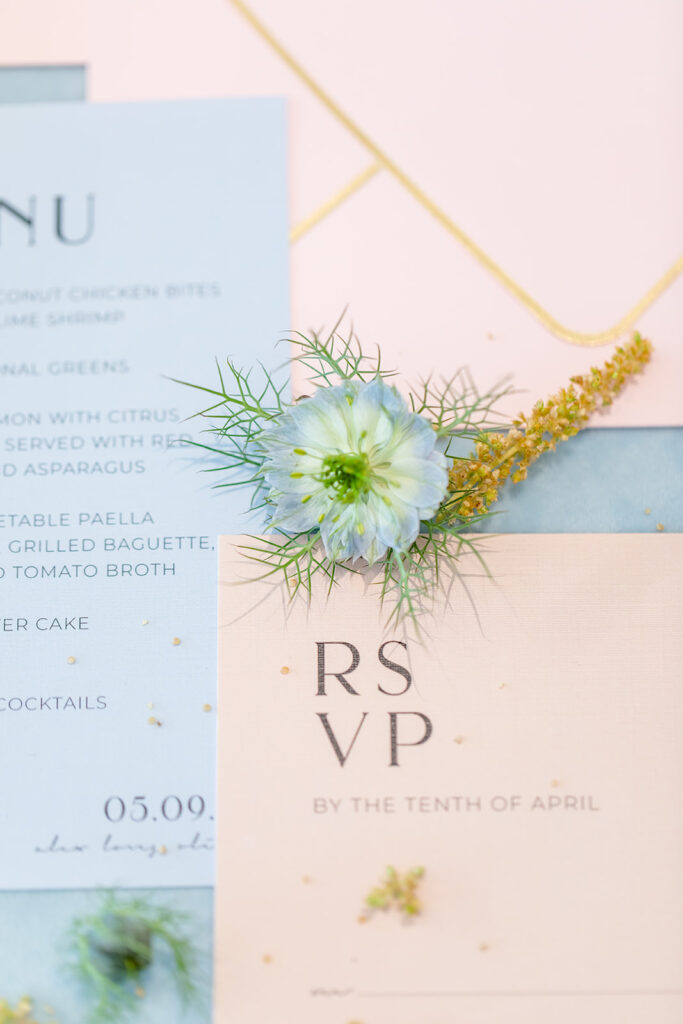 To make this color palette pop, I used a rose gold flatware. It's a little more soft than regular gold, but that would look nice as well. I kept the plates a neutral white color not to compete with the pastel shades. Also by using a variety of candle heights, shapes, and colors; we can still achieve a unified look while keeping in theme with a relaxed garden feel. Another way to bring in your pastel color palette is with paper goods. I try to not over think this or try to match color perfectly. If you are unsure then do a more neutral paper product color. I used the soft blue menu card because the only other thing that was similar in color were the flowers. I didn't try to match it with the peach candles because sometimes that can take a lot of time or create extra stress. Then for the table numbers, I kept it neutral white as to not over power the table design with too much blue. I have a love for pretty paper, but it's usually one of the first things I will not do if I'm feeling pressed for time or over my budget. I love it, but it's not necessary. Not all parties call for paper goods, but it's another way to tie a color palette together if needed.
Lush Spring Garden Flower Centerpiece
Spring time is ideal for all those beautiful fresh flowers. I love an organic, lush style flower design that mimics nature. Flowers arranged this way appear to be effortlessly placed in their vase, but as a florist let me tell you there is an art to this lush garden style of designing. I would suggest placing an order with your local florist if you are particular about achieving this look. You can also watch my at home garden style flower arrangement for tips to creating yourself. Or if you are ok with more of a wild flower look, you can easily DIY all your flower centerpieces especially the little, more simple ones.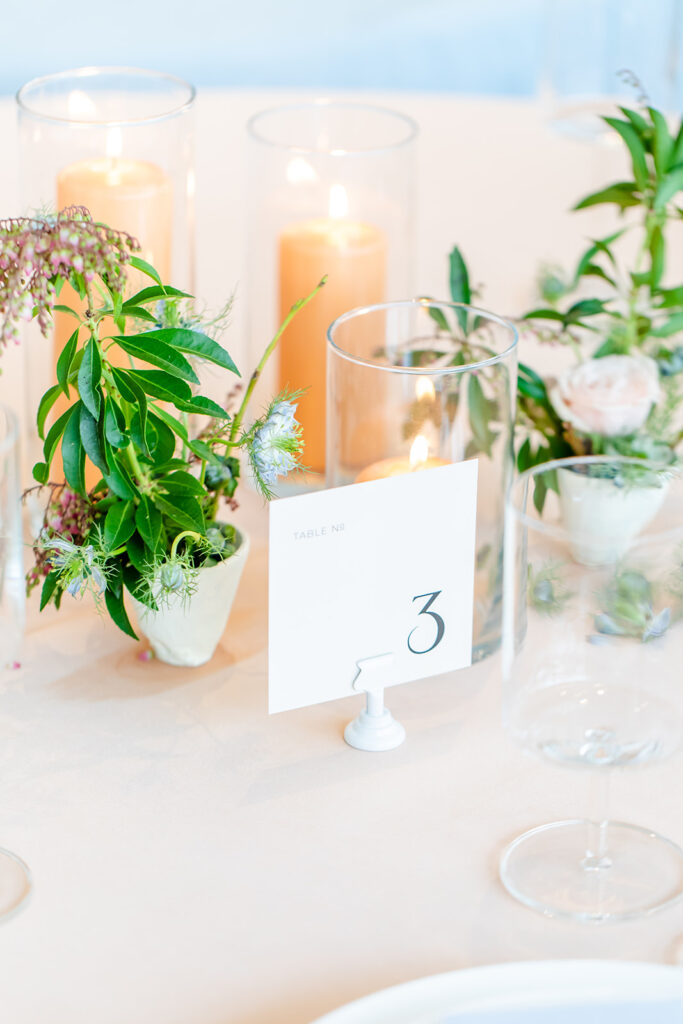 You can also easily grab a few bundles of grocery store flowers while you are picking up other items. It really doesn't matter where you buy the flowers just make sure to not get them too early or not process them once you have them. This is ecpecially true for grocery store flowers. You will want to wait until a few days before the party to purchase because you really don't know how long they have been sitting there. Once you get them home, you will want to unwrap, cut off any unwanted leaves, cut off 2 inches of stem at the bottom, and get into fresh cool water as soon as possible. Flowers like to be cool, 40 degrees, if you do need to keep them fresh for longer than a few days. If not, leave them out to fully open. If you notice them start to brown or droop quickly cut off more stem, add more water, and get into a cool place.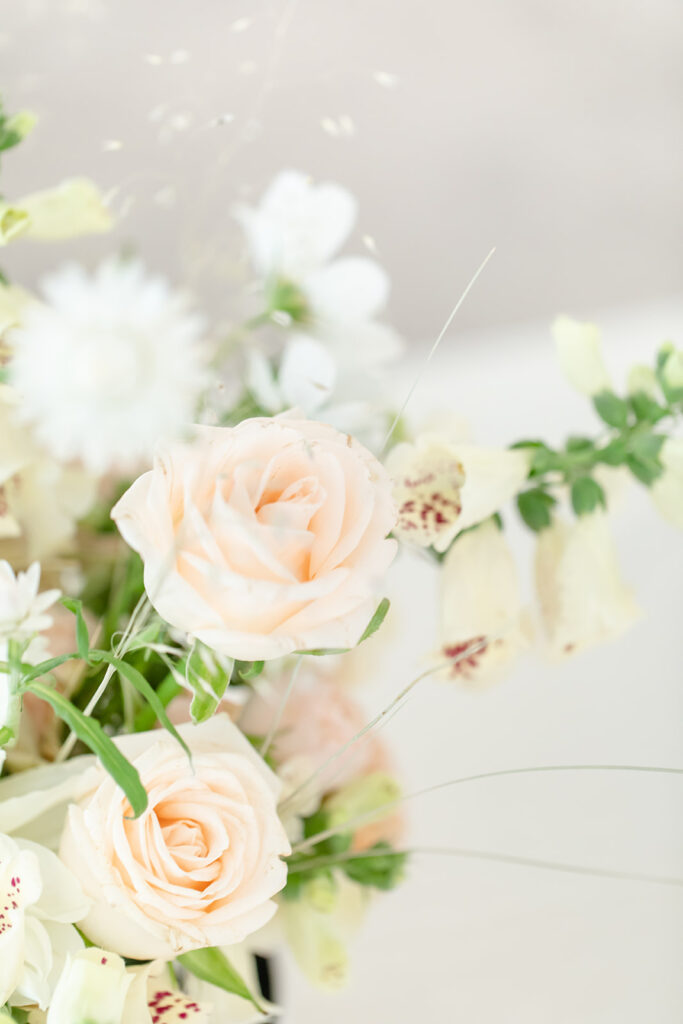 I hope you have the most fun time creating your own spring pastel, lush garden party. Please share any photos with me. I'd love to see your interpretation. Here I've included a few more resources that I've found helpful while planning out my party.
Photography: Emily Broadbent Photography
Location: Slate, St. Louis Missouri
Flower, Design, + Planning: Olive and Gene
Paper goods: Courtney Winet Design