When creating our faux flower rentals, our main focus was to design for those focal flower moments needed at a wedding. These are moments like personal flower bouquets, ceremony and reception flowers. Today we are going to be focusing on your reception table flower designs. You can view all our faux flower rental offerings, (HERE) and keep reading for our 5 budget friendly reception table upgrades.
long table / head table
While all of our faux flower arrangements can be used on long tables, as well as any type of table, we designed a special type of arrangement with your head table in mind. We decided to create these 'bubble' like faux flower arrangements after being sent so many inspiration images of similar designs. This new addition is to our "Betty" collection and would look beautiful on your head table. All white flowers have been one of our most popular, so when starting to add on items this was the color collection we went with. We plan to add on continuously, so feel free to reach out if there's something you'd like at your wedding but we currently aren't offering it.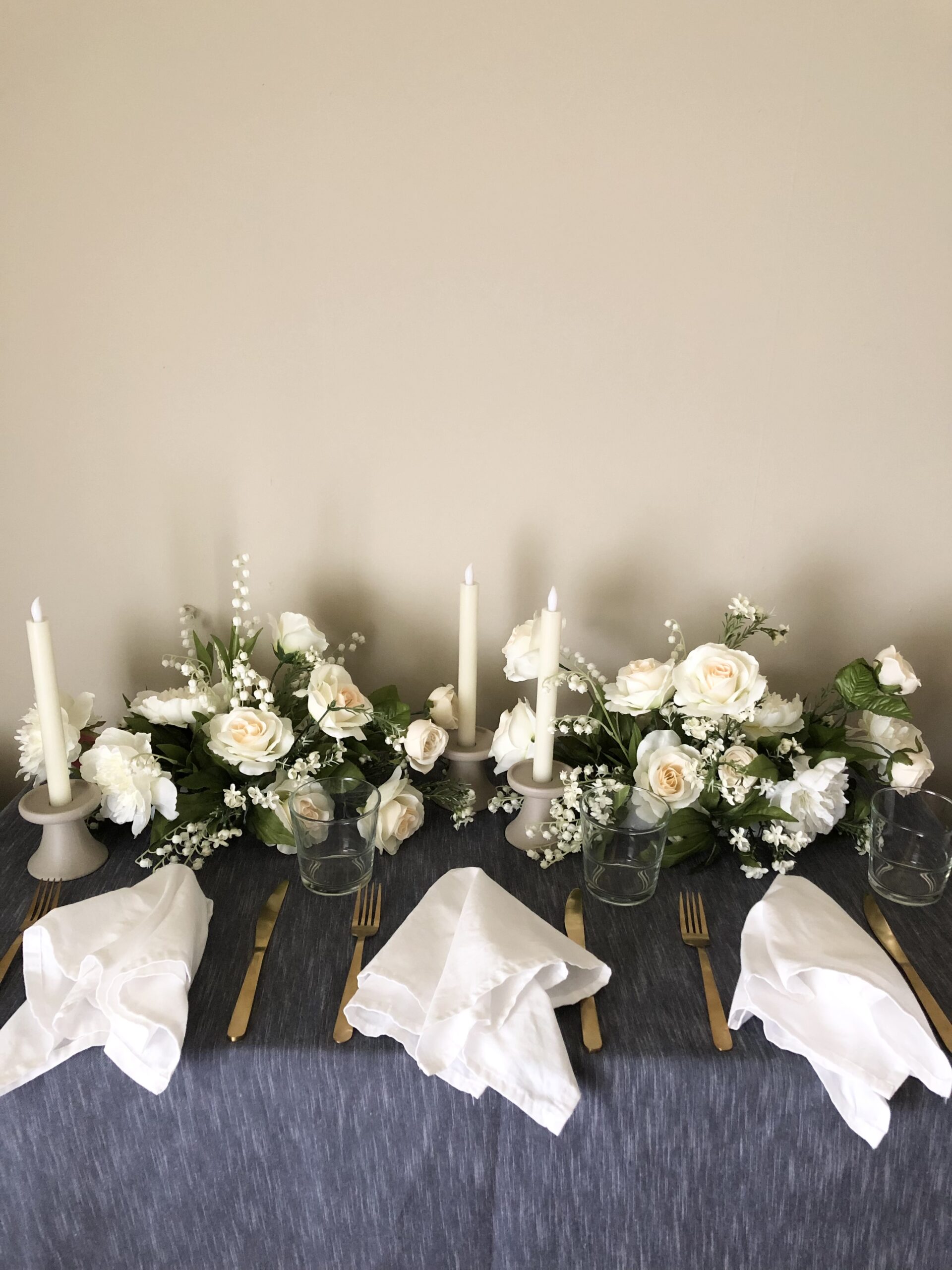 Our 'bubble' arrangements are more oblong shaped designs that do not have a vase or container – they sit nicely on your table. Again, as with all our faux flowers, we do not recommend using outside as they are very light weight and will blow over. Currently we have 4 of these ready to rent – just right for your head table design! Each 'bubble' flower arrangement is 20 inches long, 12 inches wide, 12 inches high. Our studio table is 3 1/2 feet long and we used 2 bubble flowers for reference (as shown in photo). Typical reception long tables are 8 or 6 feet, so using 4 faux flower arrangements would give a nice, full look.
more reception table design tips – 5 budget friendly upgrades
When working with design clients, we always encourage them to do slight upgrades (if the budget allows). These little upgrades can make such a big visual statement as well as make the overall reception feel more like you. Here's what we suggest: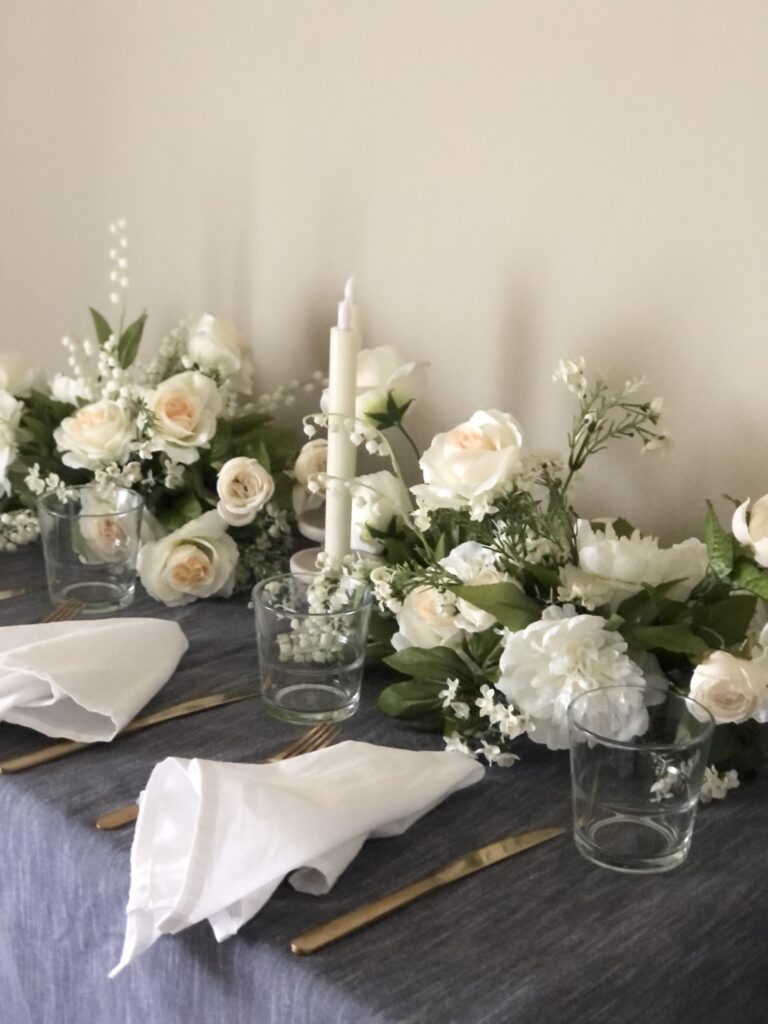 upgrade: flatware and/or glassware – adding gold flatware or a pretty glass can elevate your reception table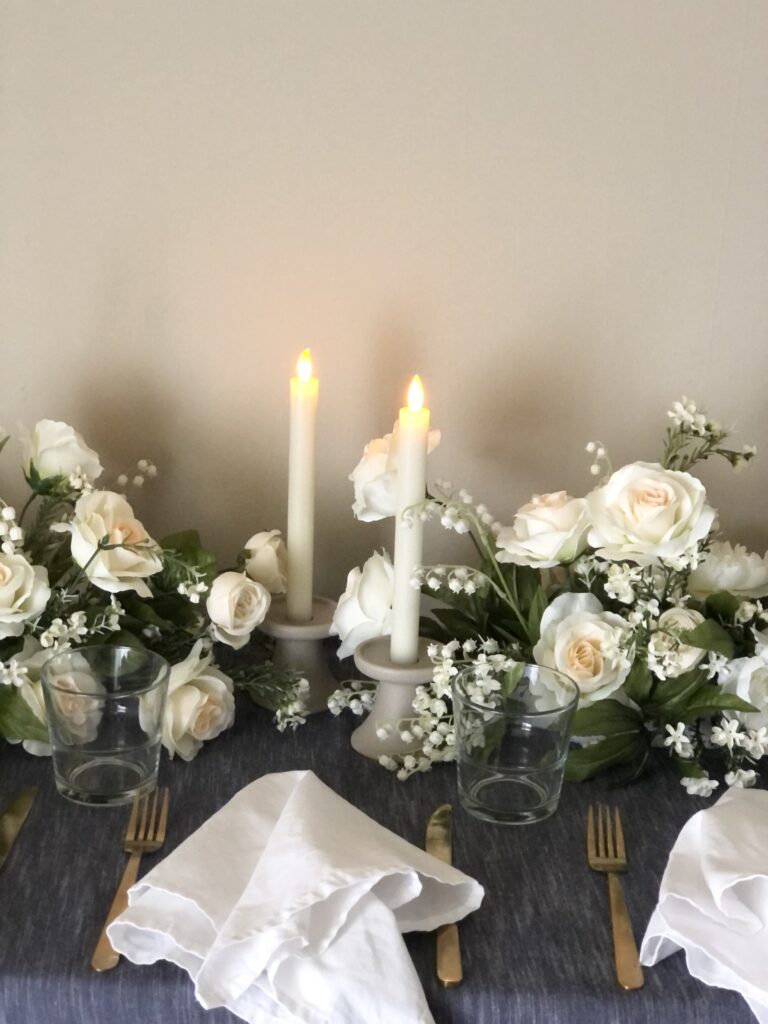 upgrade: napkin fold – there are so many beautiful folds, pick one that speaks to you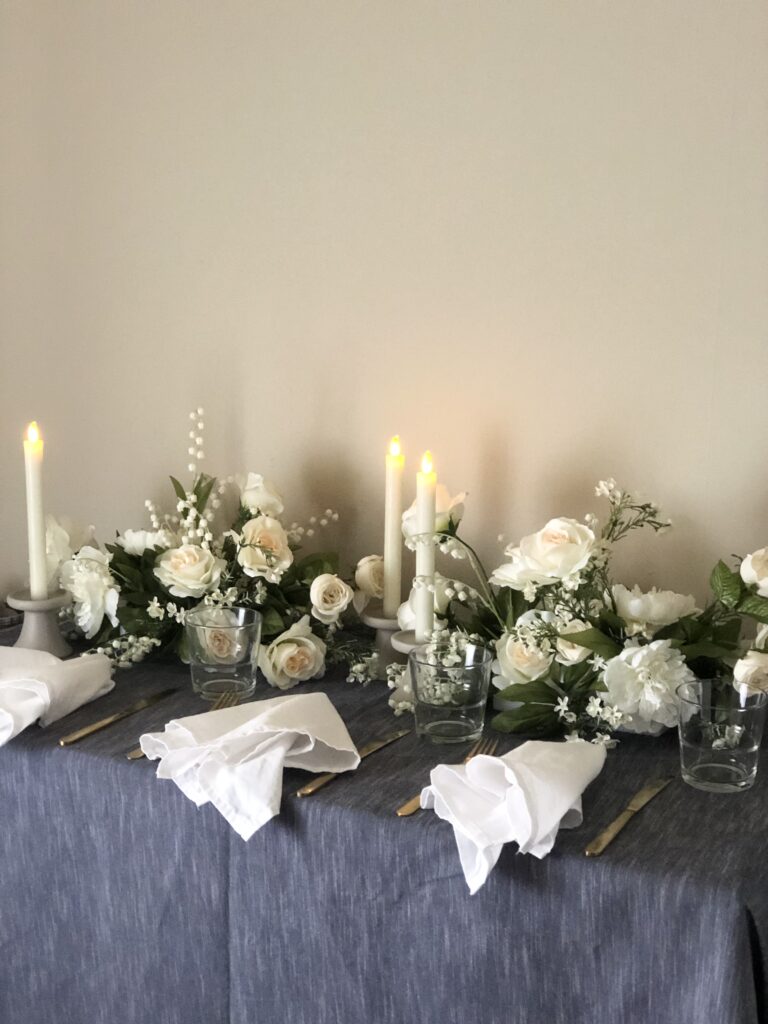 upgrade: linen color – even by adding a colorful linen to half your tables will make an impact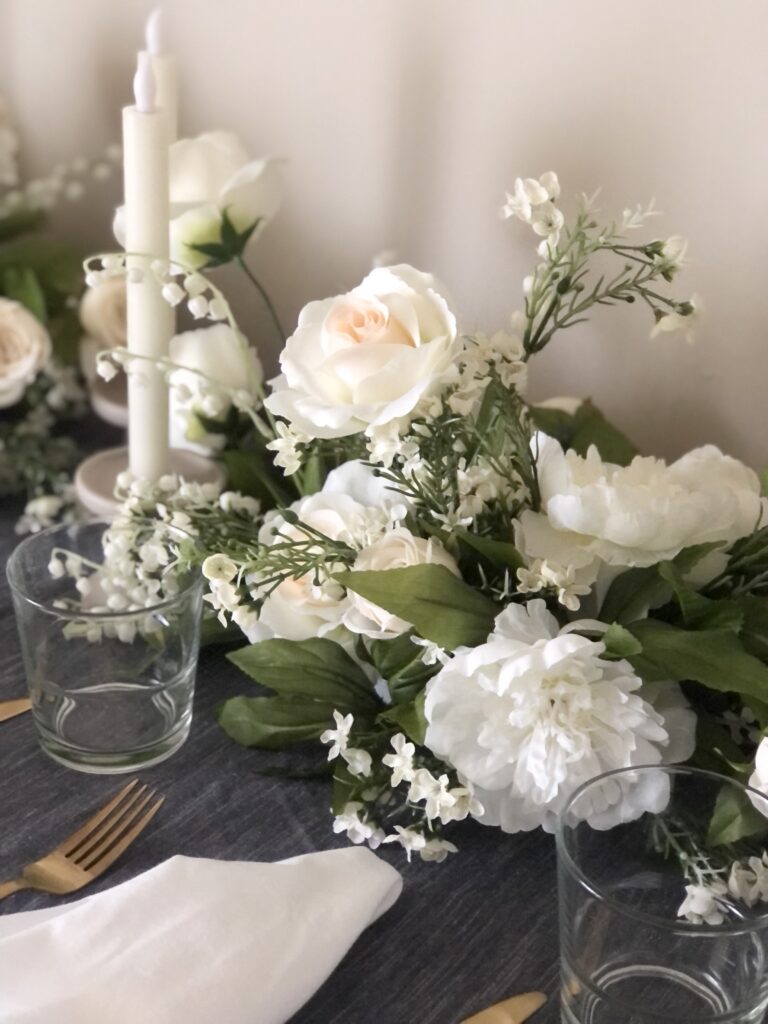 upgrade: candles – renting or purchasing various types of candles and holders makes a reception table pop
We hope our easy to do upgrades makes your wedding reception planning even more fun and special! Of course, our faux flower rentals are a must on your reception tables. Inquire today about renting!
round tables
Most wedding venues offer round tables, so we designed all our faux flower rental centerpieces to look beautiful on them (of course, they can be used on any type of table). We always tell our clients to do a mixture of 3 different table designs as to add variety to the overall. Here's what we suggest:
a faux flower centerpiece
a mixture of bud vases or
a mixture of our 'plant' centerpiece and bud vases or
candles at various heights along with our bud vases
If you are feeling a little overwhelmed by the process, please reach out! We offer 45 minute video chats for $30. You can ask us about anything wedding planning related, too – not just flowers! Email us today – [email protected]