Beauty products – what I'm using for spring (and most of the time throughout the year)
Now that spring is rolling in and there will be more time spent outside, I wanted to add in some new beauty products. Some of these are my go to's while other's are new, but I've used them all and like them all. I'm pretty picky with my beauty products because I don't use a lot on the day to day. I don't have a large collection, so I want the products to be good quality. Most of these are not drug store price points, but do work well so I think they are worth the cost.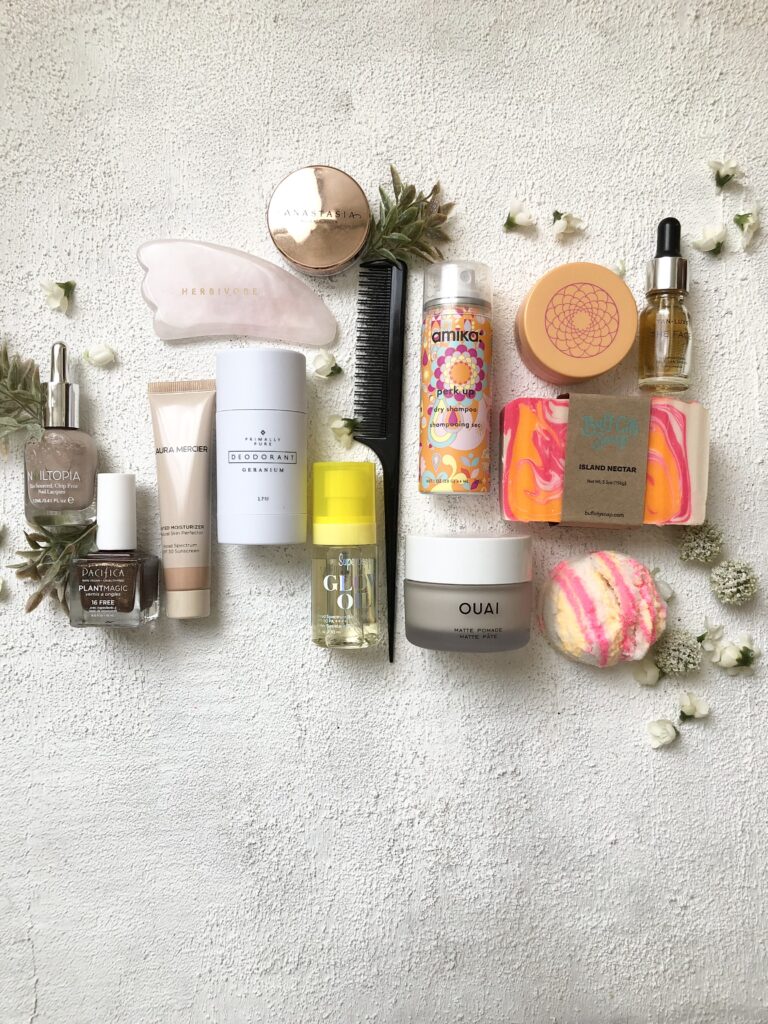 Let's take a closer look at each product!
Tan Luxe, the face, self tanner – love this product! I'll use 2-3 drops of the tanner along with 2-3 drops of my daily face oil, mix together and apply to my face
Amika, dry shampoo and hair masque. Got these in a free birthday gift for Sephora insider's so they are mini size, but I'm liking them so far!
Buff City Soap, soap and bath truffle in Island Nectar. The best smell! Smells like a tropical dream and the bath truffle will make your skin soft (it says to use the whole thing, but I wouldn't unless you have a large tub – I got 3 uses out of the 1 truffle).
Ouai, matte pomade to tame frizzy or static hair. I actually got this in the winter because my hair had so much static, but this pomade is meant to tame the frizz.
Hair comb, to help sleek down my middle part pony's. To use along with the matte pomade for that sleek hair pulled back look. This can also be used to tease the hair.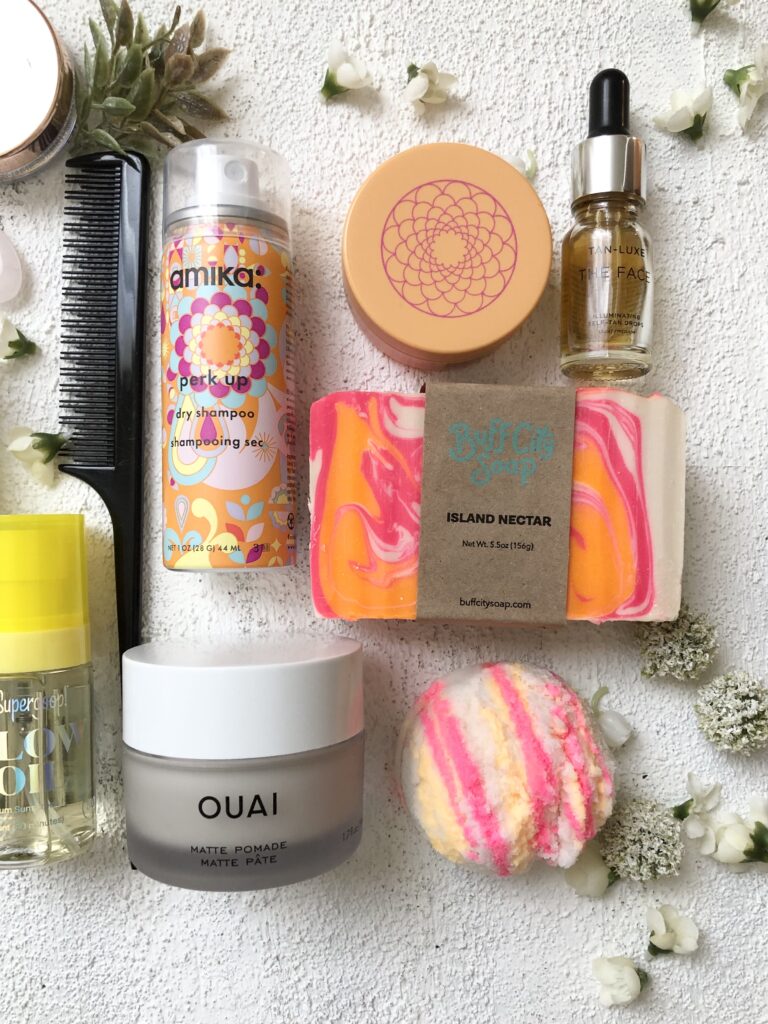 We have more!
Anastasia, brow freeze styling wax. This stuff works! Can get a little clumpy at times, but overall very good. I will use my brow pencil to fill in / darken my brows then brush over this wax. You will need a brush to apply – didn't come with one.
Super Goop, glow oil (I also got the daily dose hydra-ceramide boost + spf) which I haven't use a whole lot yet but seems to be good. I got these special for my beach trip because I'll be in the sun more, so I'll test them out then but will also use my regular spray on sunscreen just to be safe. Also always wear a hat!
Primally Pure, deodorant in geranium. I like this scent for spring / summer. Typically I use the tea tree scent which I like too.
Laura Mercier, tinted moisturizer has been my go to for years. I use this daily.
Pacifica nail polish in Bronzite
Nailtopia nail polish in Mocho Loco – love both these colors!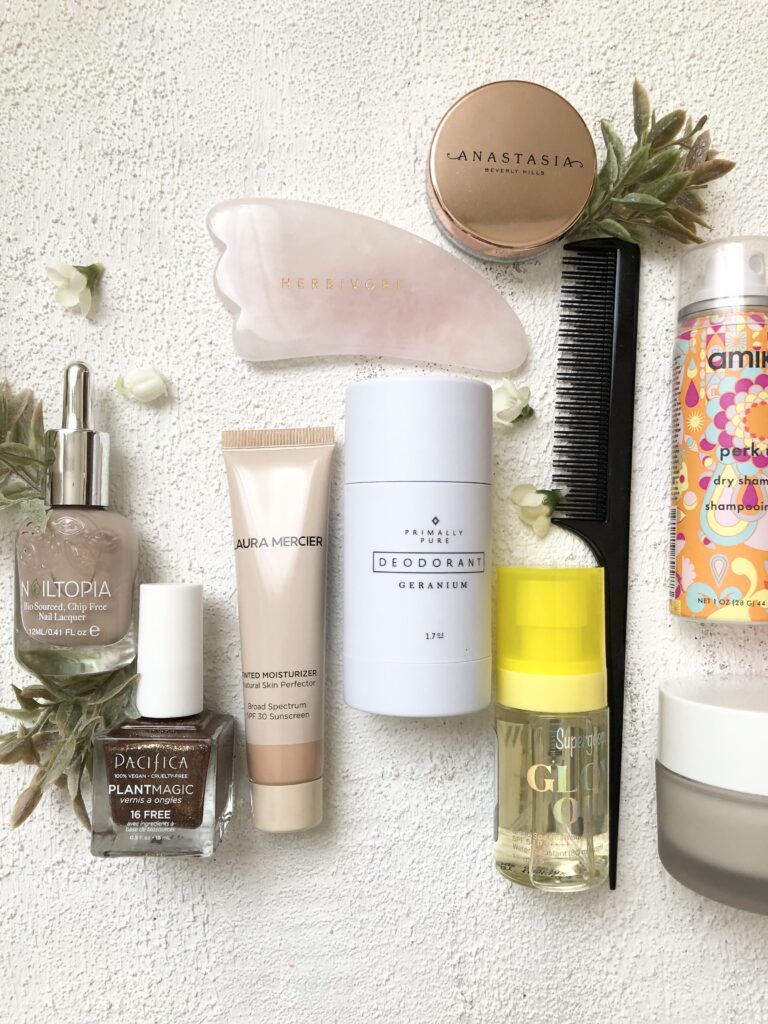 self tanning products
I've tried so many self tanning products over the years! I've found Tan Luxe to be one of my favorites. It has a more soft, natural tan which I really like. I use both the body lotion and face drops. All the products I use are linked above.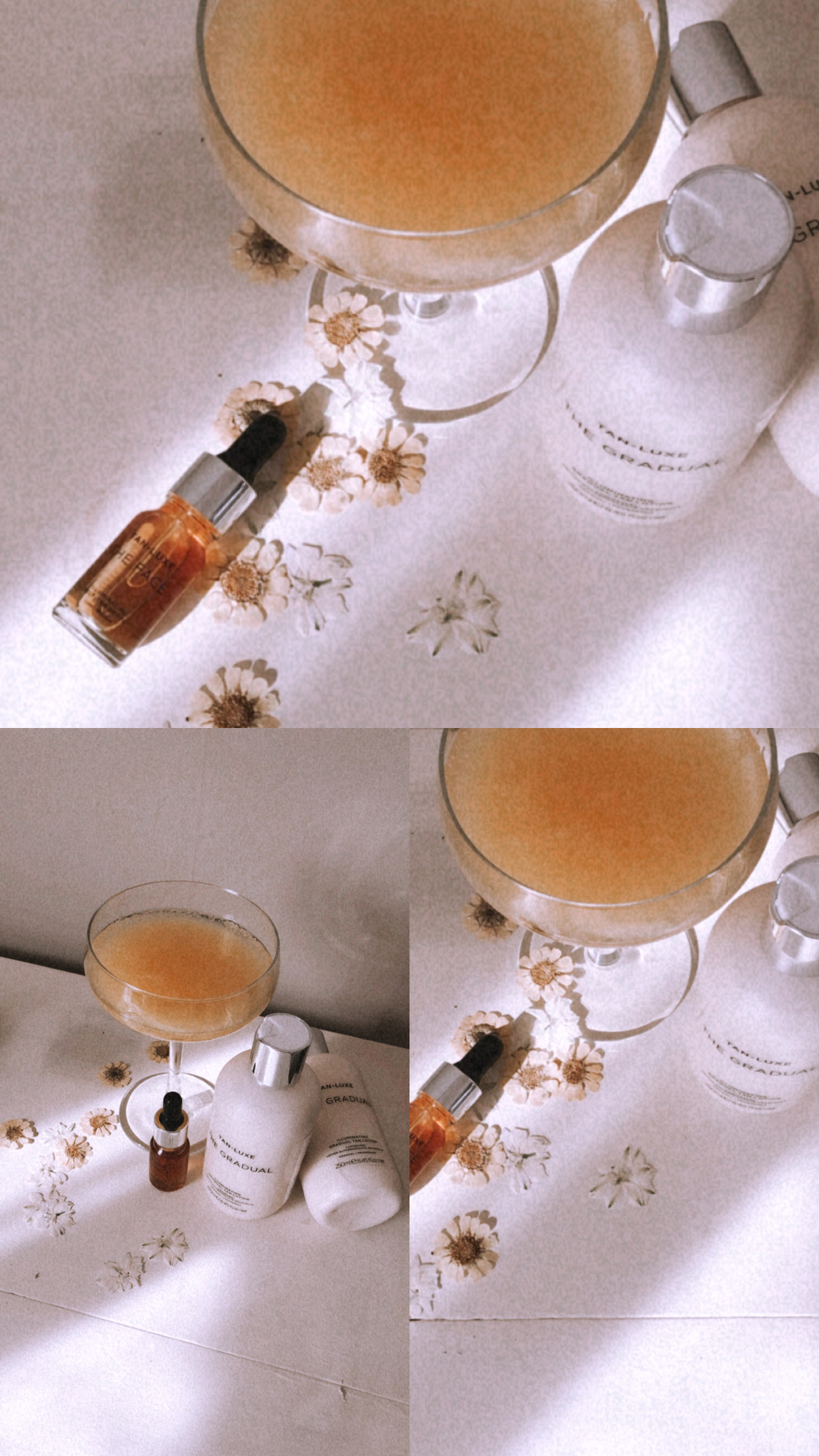 Happy Spring!
I buy most of my beauty products from Ulta or Sephora. In this post, they are linked back to Ulta because Ulta's having a good sale / free gift with purchase offer. Most of these can be found at either place.