Here's how I prep for a 60th birthday party:
Birthday parties are so much fun to plan and design for! Today I'll be sharing how I plan all my preparations one month ahead for an easy and beautiful party. Linked items are below!
One month out:
how many people will be there (16)
location (greenhouse! Yes, another greenhouse party) our first greenhouse party
what can I purchase early (balloons, plates, napkins, any other decor)
what can I order early (cake)
make list for food / drink so it's all ready to go for my week of grocery run
pick a color palette
I'm more about focusing on a color palette rather than a theme especially because this is a 60th birthday party. For a child's birthday, it can be more theme focused, if wanted. For this party, since it will be in October, I'm going with a neutral white, grey palette with touches of gold / tan / dried elements.
I always suggest finding inspiration from one thing you will be having at the party. For me, I'm pulling colors from a napkin that I purchased for the party.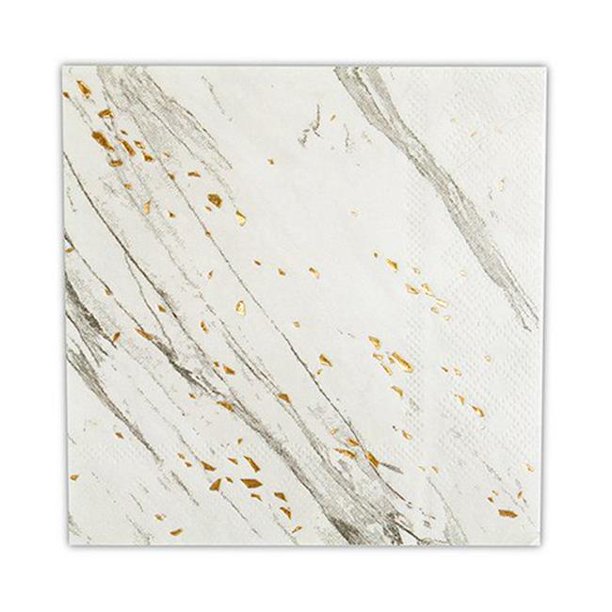 Color pull from this marble napkin (mostly grey / white tones with pops of gold)
Once you have your color palette, you can play off that when making any other decisions. It's the quickest way to get organized, make fast decisions, and create a cohesive party.
How I use my one inspiration item to help with the selection of other party elements:
decor choices:
we are doing a balloon garland so I picked mostly shades of grey with a few pops of gold as seen on the napkins
cake candles in shades of silver / gold
signature drink: apple cider mimosa – it's a pretty golden color
if using paper plates, cups do colors that match (*tip – I buy clear plastic plates in bulk because they go with everything and it's one less thing I have to worry about getting and same with cups) For this party, since it's not too many guests, I'll be using real glassware – but if you want an extra fun pop go for the colored plates/cups/silverware
we are keeping this party more simple, but favors / other fun elements can be easily picked with reference of your one inspiration item
Links to items (all from Walmart)
I'm not about spending too much for a birthday party. Keep it simple, have a couple stand out elements (balloon garland and cake display for this one), and most important – enjoy the time spent with your loved ones!
Linking some items I've already purchased from Walmart (napkins, candles, balloons) and some other really cute party finds!
Really cute napkins / cake candles

Really cute balloons / pinata (want to order this pinata bad lol)

Other cuties

Can't wait to share the photos from this birthday party with you later on!