chocolate and strawberries?! yes, please!
Once I heard about the chocolate covered strawberry frappuccino on Starbucks secret menu, I knew I wanted to make my own (slightly more healthy) version. Every year I make my own chocolate covered strawberries just as a treat for myself. They are delicious! So why not make a drink inspired by that?!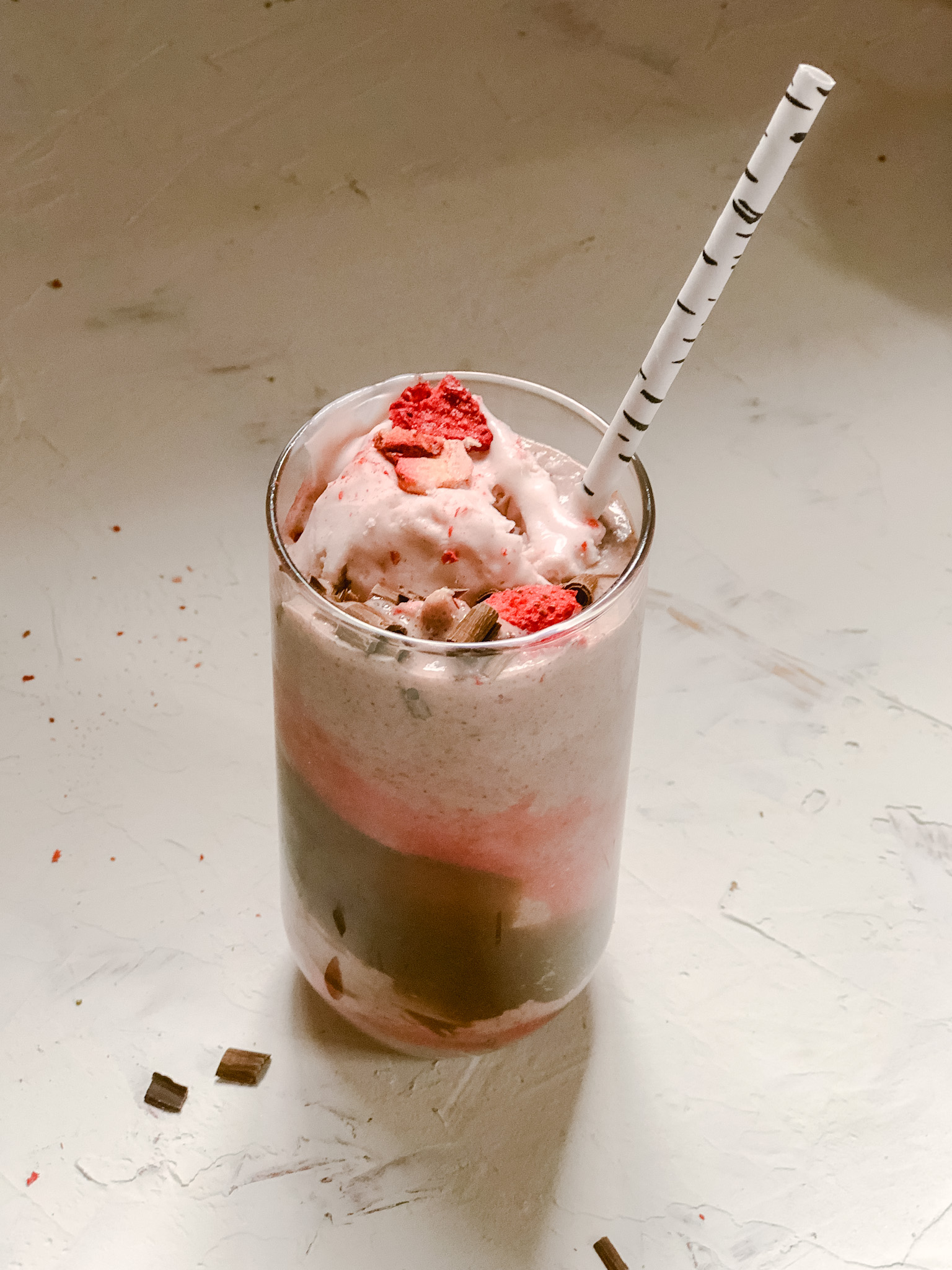 Why it's more healthy
You will see from the ingredient list coming up next that I made some substitutions with the ice cream and chocolate. You can also do an oat milk or any type of non dairy. I did use regular 2%, but this can easily be subbed. Also when selecting chocolate, try to go for a darker chocolate or one with a higher coco percentage. I will say in the winter the fresh strawberries are not the best. I bought one box and around half of those were not ripe. In this case, we know the strawberries aren't going to have a lot of natural sweetness so we can add a little more back in with the chocolate. Here I used a milk chocolate for the chocolate covered strawberries and the shavings for the top of the drink. If your strawberries are looking nice then you can do a darker chocolate.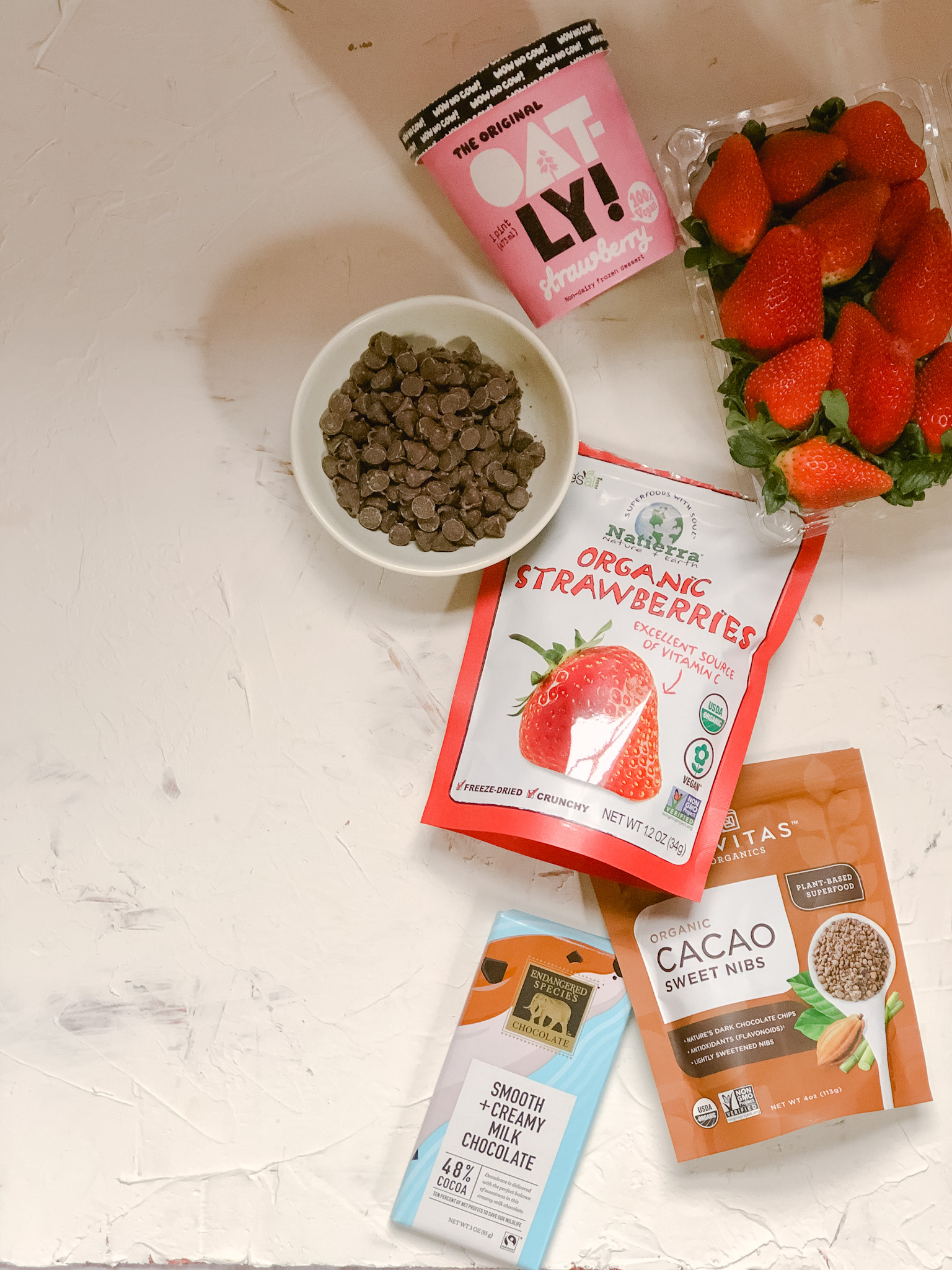 what you need:
For this drink, I'm going to break it down into 3 parts: the actual chocolate covered strawberries, the strawberry puree, and the drink.
part one:
First make your chocolate covered strawberries
5 strawberries washed and dried well
1/2 cup chocolate chips melted
Once your strawberries are very dry, you can melt your chocolate in the microwave. Make sure to heat in intervals so it doesn't burn. Start with 40 seconds- take out and stir. Then do 25 seconds- take out and stir well. I'll do another 15 seconds just to get it really smooth, but make sure you are watching it because if it burns you'll have to throw it out.
Have a piece of parchment paper on a plate all ready to go. One at a time, take a strawberry and dip into the melted chocolate. Place each one on the parchment making sure they do not touch. I'll use a small spatula to help scoop the chocolate in place. Once you have all the strawberries dipped, set aside to harden. Can place in fridge to cool until needed.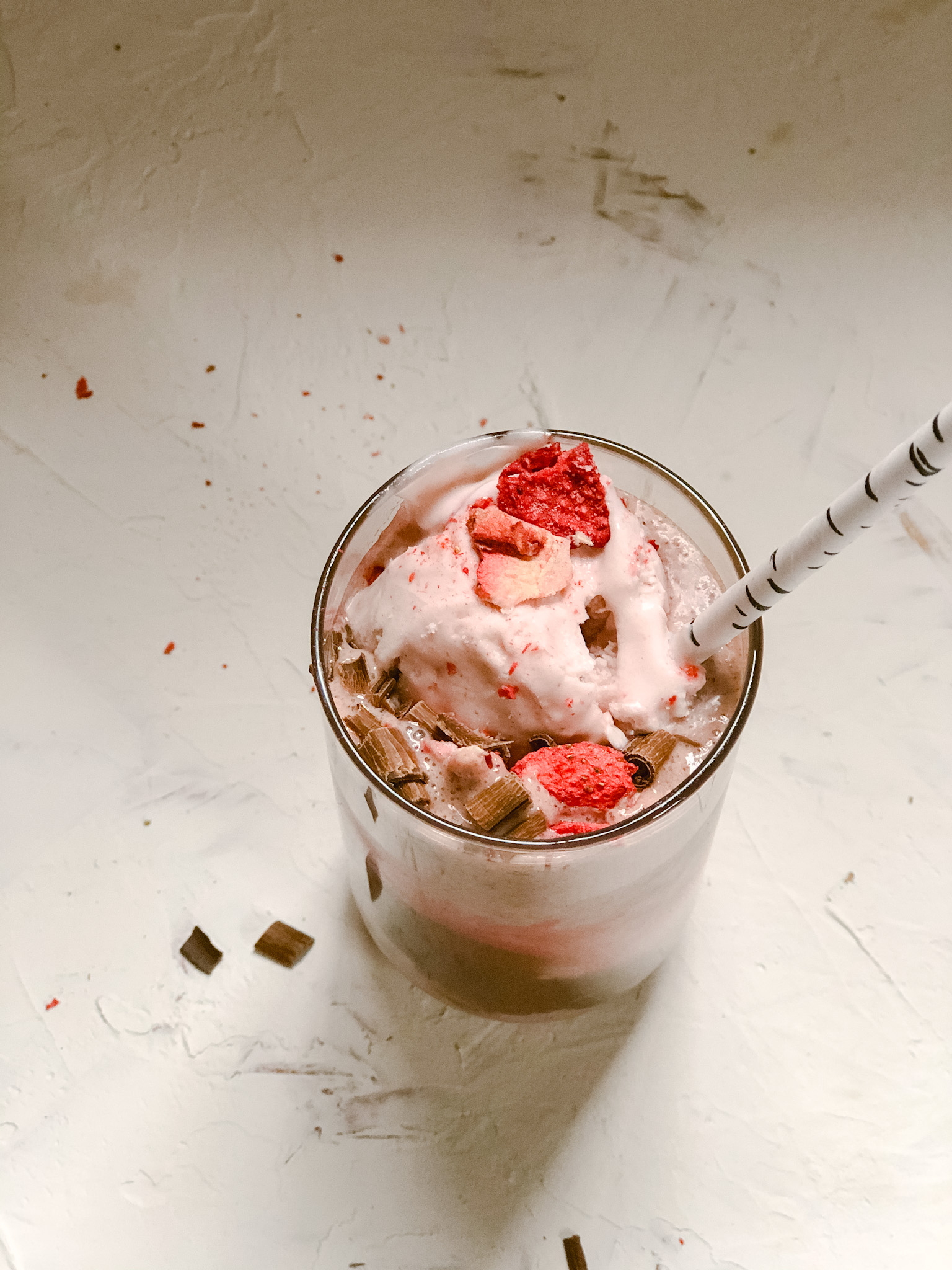 part two:
Second make your strawberry puree (this step is 100% optional). I use this for the inside of the cup / as a garnish. This is delicious, but you can pass this step if you don't have time. It is easy though!
5 strawberries (washed and cut in half- remove green top)
1 tablespoon sugar
2 tablespoon water
Combine all in a stove top pan and cook until just boiling and sugar is dissolved. This will not take long at all, so make sure to keep an eye on it. Strawberries will not be broken down too much, so don't over cook. You really are looking for the sugar to dissolve and to warm up the strawberries.
Let cool and transfer to a blender. Add 1 teaspoon lemon juice and blend until smooth. Place mixture in a fine strainer to remove seed bits. Place in fridge with chocolate covered strawberries to chill for 15 minutes or so.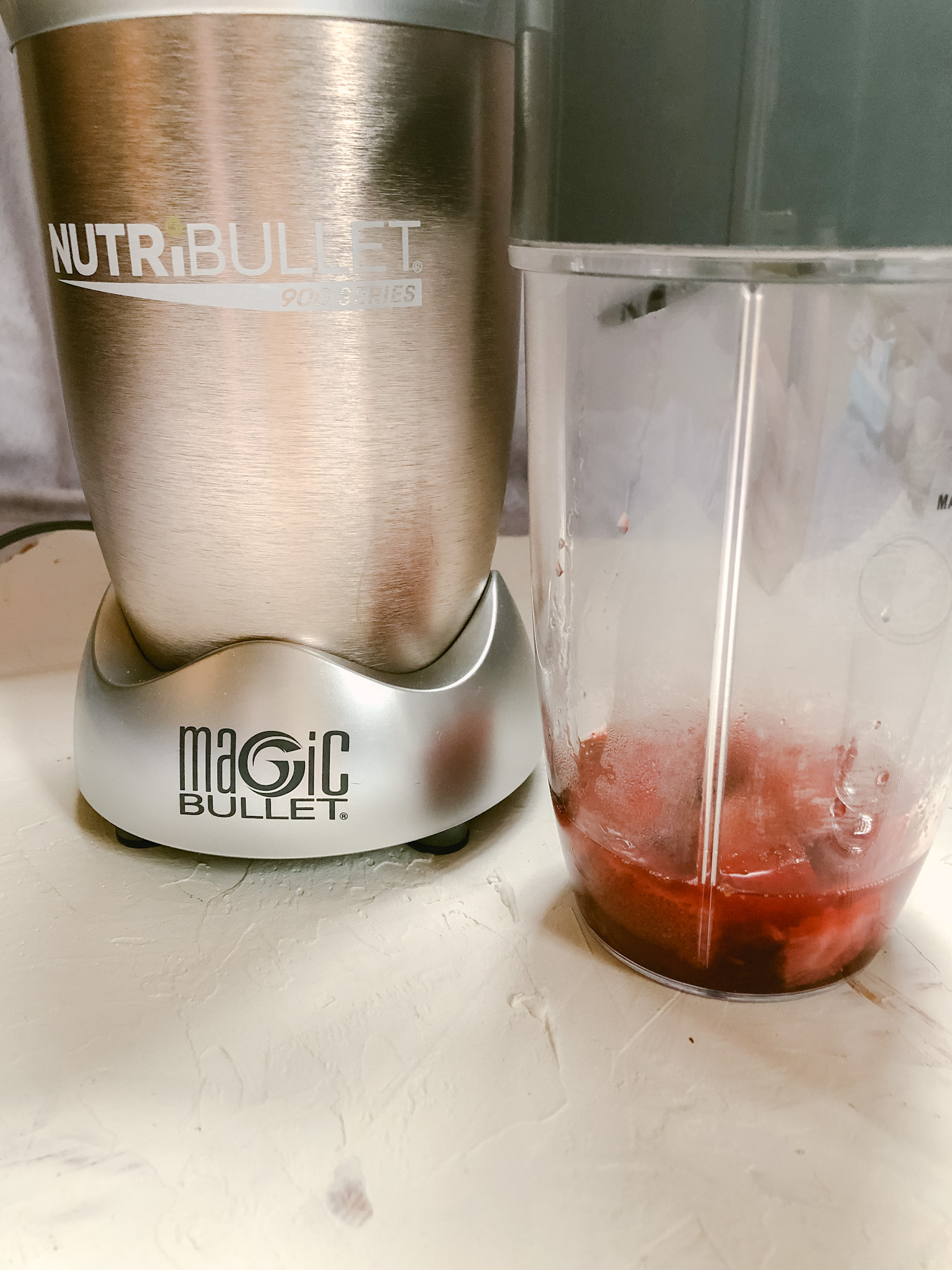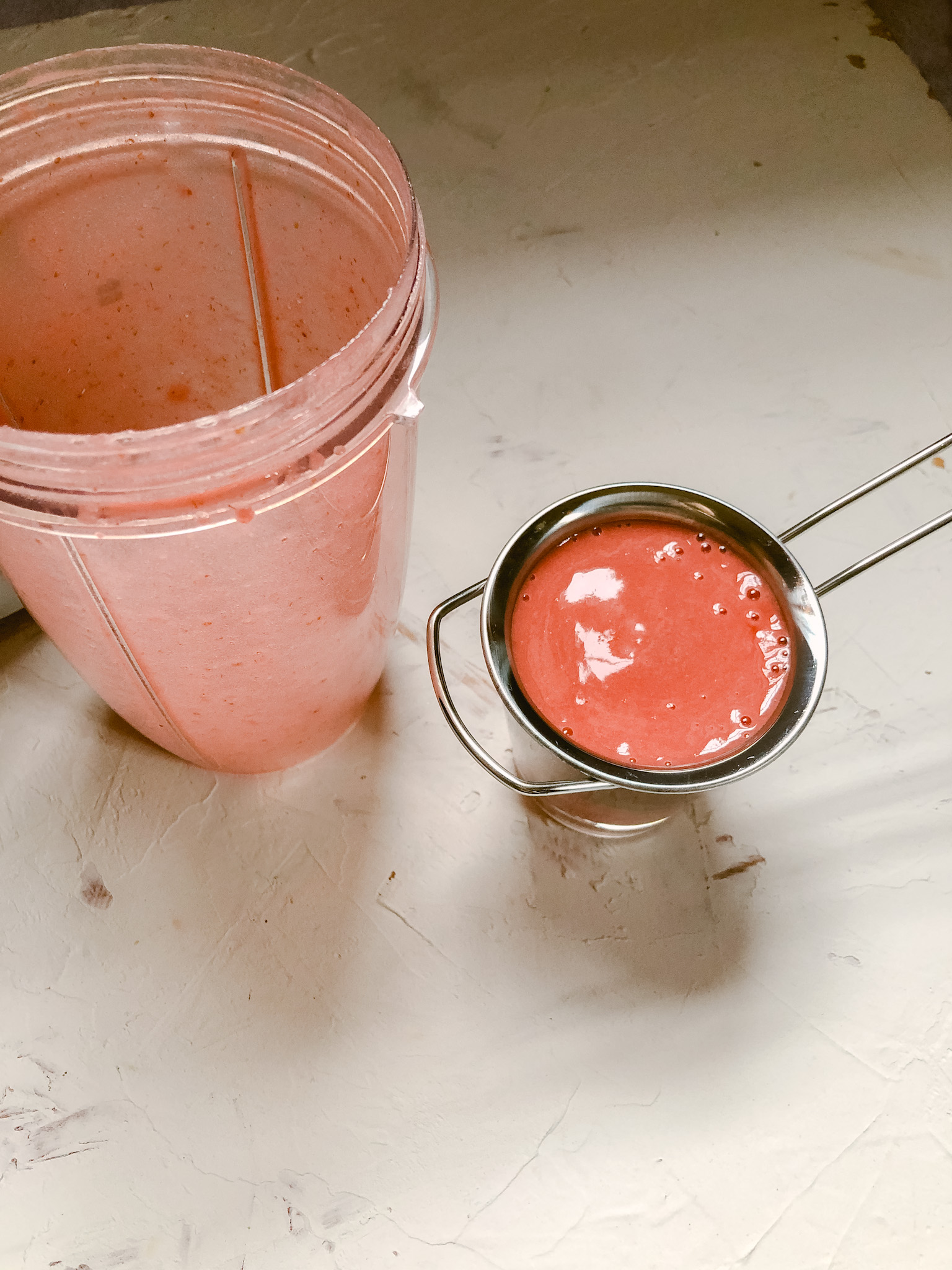 part three:
We made it to the actual drink part!! This is the easy part since we put everything in a blender.
What you need for the drink:
1 tablespoon freeze dried strawberries
1 tablespoon cacao nibs
1/2 cup milk
1/2 cup (1 scoop) strawberry ice cream
1 cup ice
2 of your chocolate covered strawberries with green tops removed
Add all to blender until smooth Frappuccino like consistency.
In your cup take the strawberry puree with a spoon and smear along the inside of your cup. It will move around some, but just do the best you can. Also do this with any left over melted chocolate from the chocolate covered strawberries because why not add more chocolate. Pour in blended mixture and top with chocolate shavings, crushed up freeze dried strawberries and extra ice cream or anything you have extra to make the drink even more extra!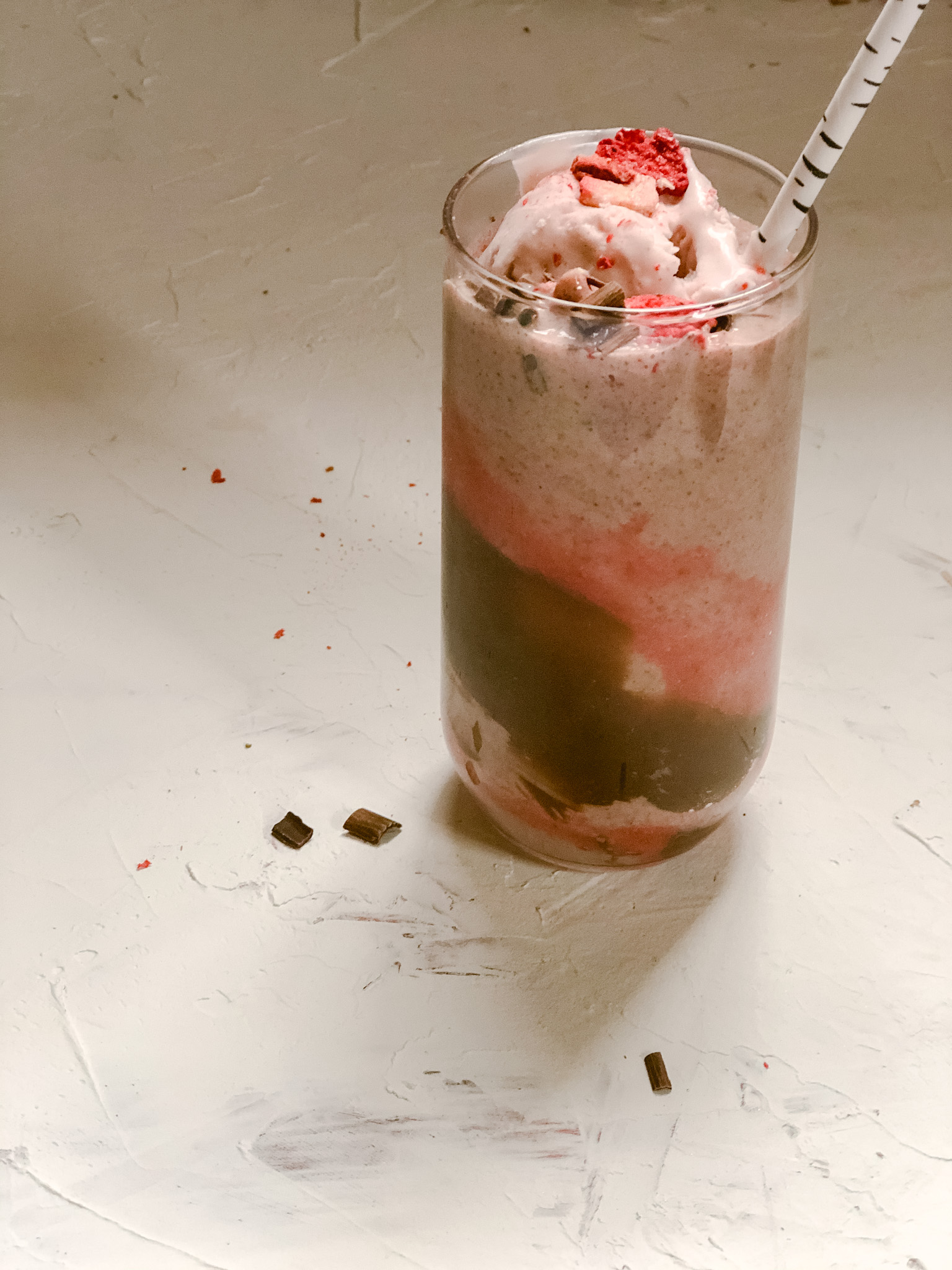 notes:
I was going for a frappucinno like consistency, so next time I might try adding a little more ice. I would suggest doing the 1 cup as listed, but feel it out and if you think it needs more add another cup. Mine ended up being a little more smoothie like, so I think adding more ice would have done the trick. It was delicious though just as is. If you are going for the Starbucks mock, then I'd a little more ice.
It truly tastes like a chocolate covered strawberry! I've not had the one from Starbucks because sugar overload, so of course it's going to taste better. I don't feel the need to ever go and buy one though. This drink is so delicious!
For me, this made one drink in the size of cup I had but if you have smaller cups you can easily make 2 from it. As you will see next, in the boozy version, I made 2.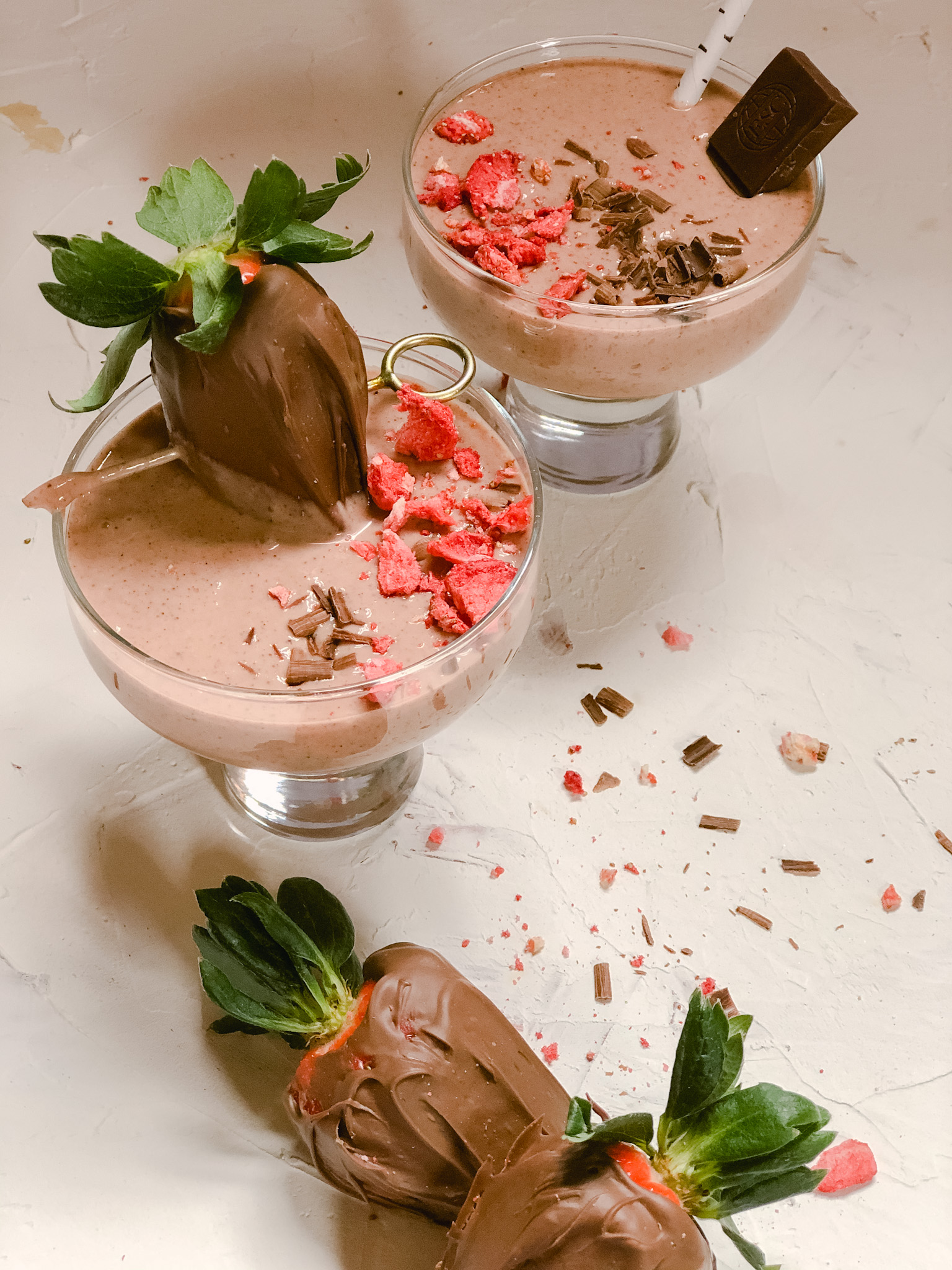 make it boozy!
Why not?! It's Valentine's Day!
Make it boozy!! Follow all the same steps, but add into your blender 1 oz chocolate liquor and 1 oz absolute juice strawberry flavor or you can do 2 shots of each, but I could slightly taste the vodka (I don't like the over powering taste of alcohol). Try it out with 1 shot of each and you can always add more. I think for next time, I'll keep the one shot of vodka, but add 2 of the chocolate liquor because I couldn't really taste too much of that.
Make it cute with your garnish! Add any leftovers and enjoy! Happy Valentine's (or Galentine's day) to you!!
To view the video of how I put it all together head over to my IG page @oliveandgeneweddings and check out the reels.