happy new year
NYE at home! Very exciting (haha). No matter where or with who we are ringing in the new year with, it can still feel special. I'm going to walk you through how you can create your own, at home, festive new year's eve table that is simple yet still beautiful.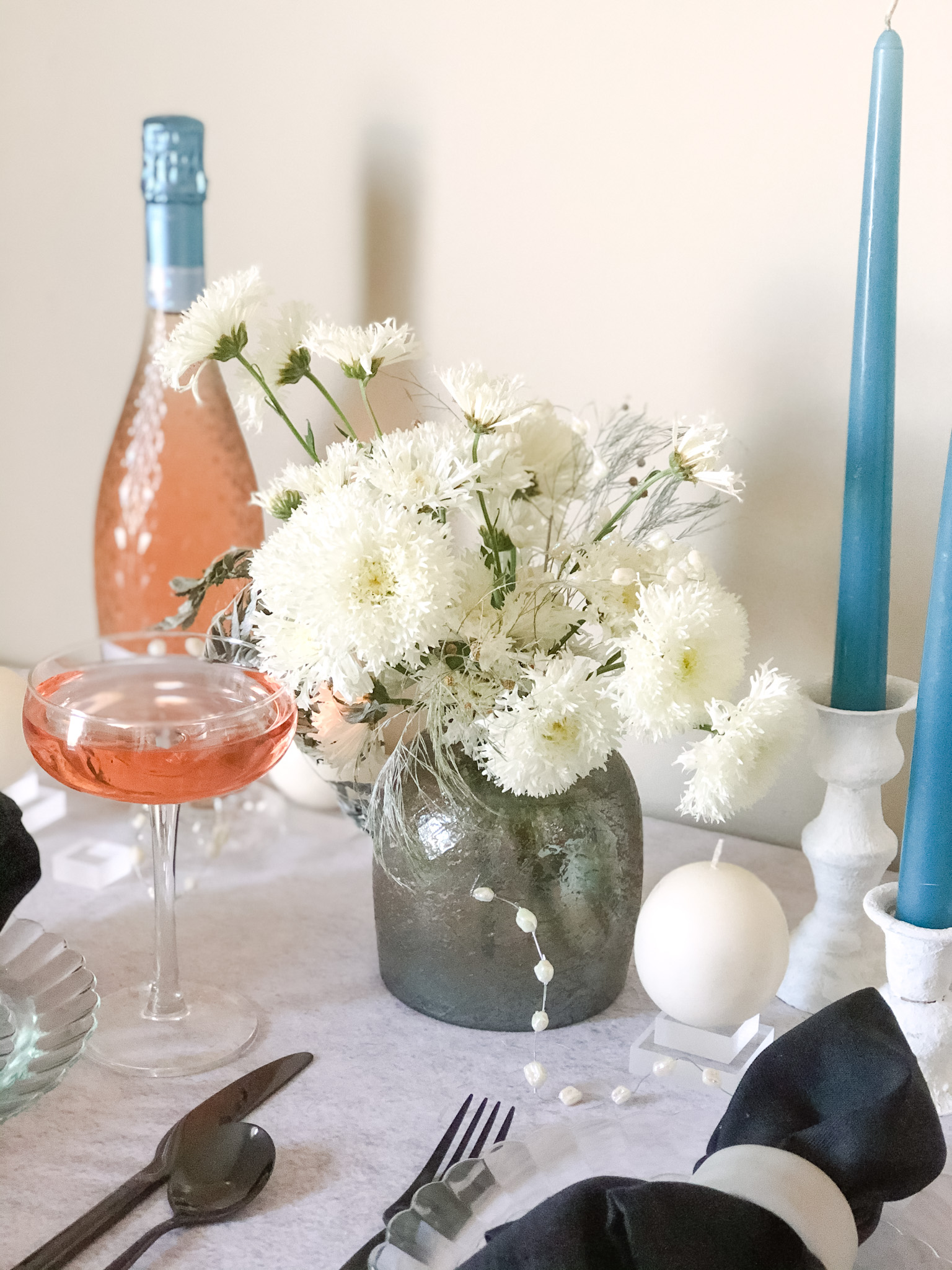 get inspired
For this whole table top design, I was first inspired by this bottle of rose. I loved the iridescent shine and blue color on the top. I know getting started can be the most challenging part because there are so many options and ways to go. I suggest gathering all your inspiration from one or two items and going from there.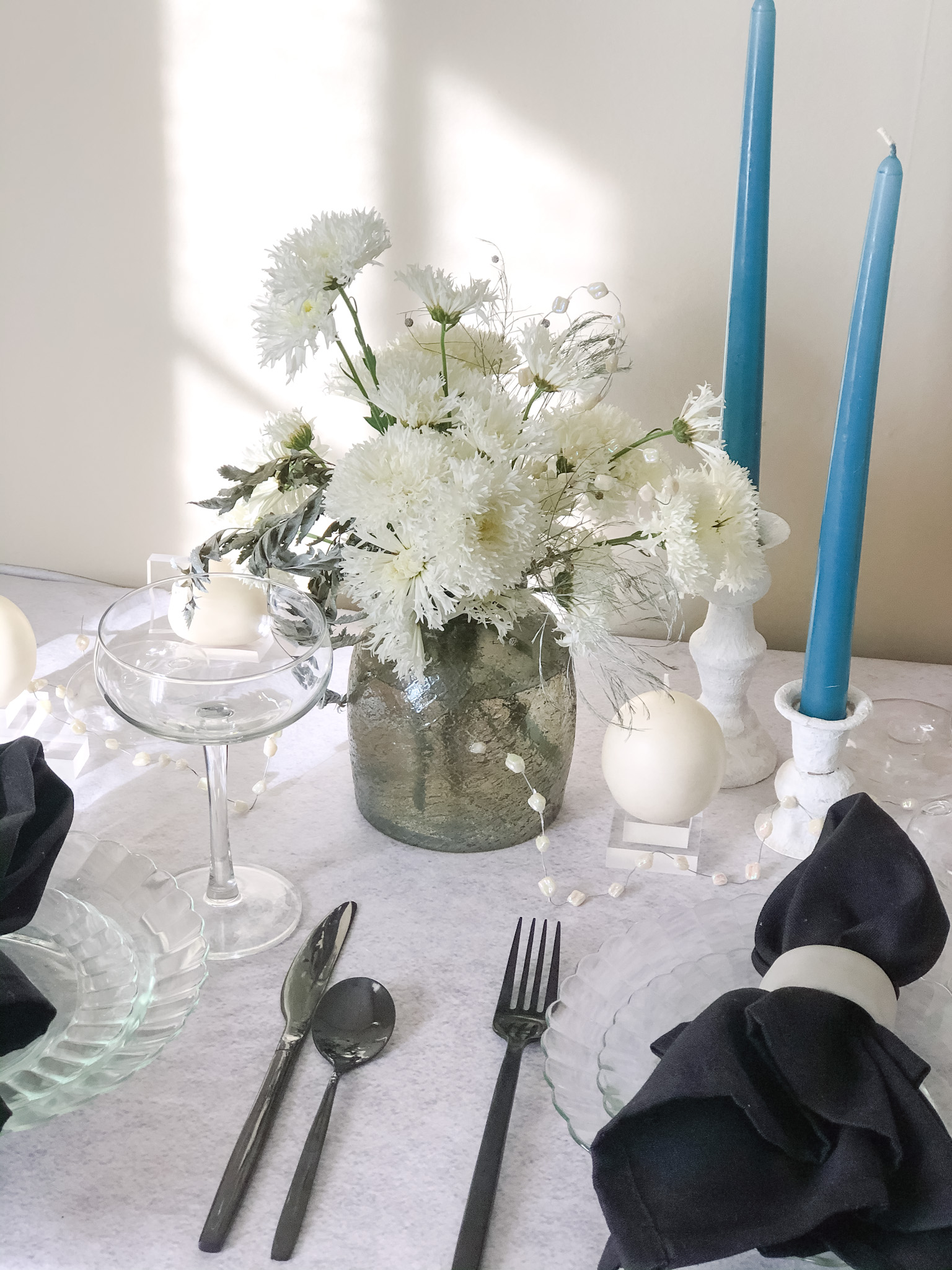 colors
I knew I wanted an overall neutral color palette because that's my go to and what I have most of. Go ahead and grab items you already have and build colors around that. I wanted a touch of shine because it is NYE. I found these iridescent beads that I cut apart to add just the slightest amount of shine. Also my flower vase has a shine to it as well. It is hard to photograph shine, but it's there! Since I wanted to add some color to go along with the blue on the rose bottle, I added in blue taper candles. Candles are always my go to when wanting to add in color. I love the blue- it adds a fun pop of color to the overall neutral table design.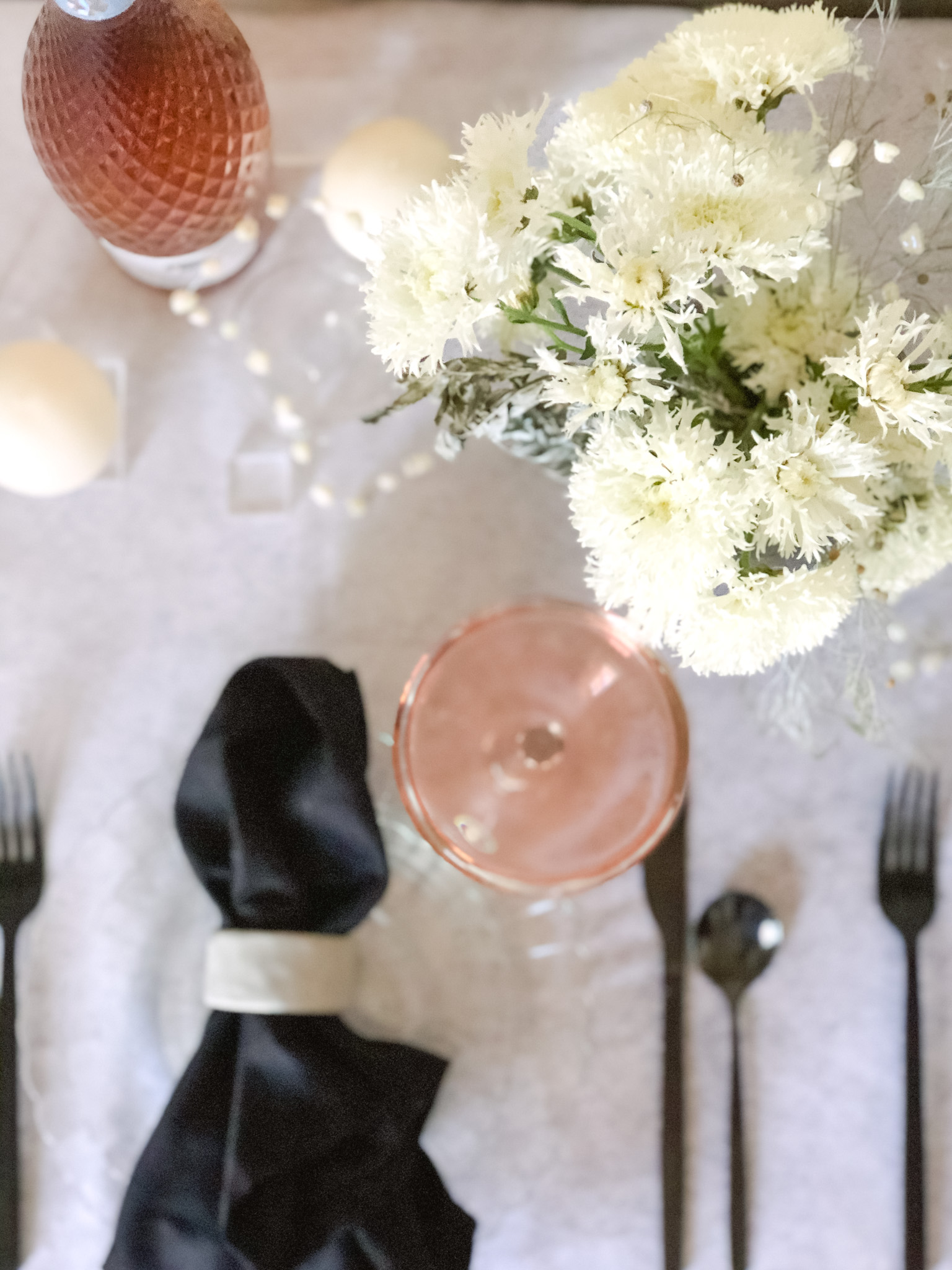 more color
The actual color of the rose is a beautiful shade and adds just the right amount of color to compliment the overall design. You can also easily add color with flowers. I kept mine neutral, white because I already had the blue candles. So lets chat about flowers now!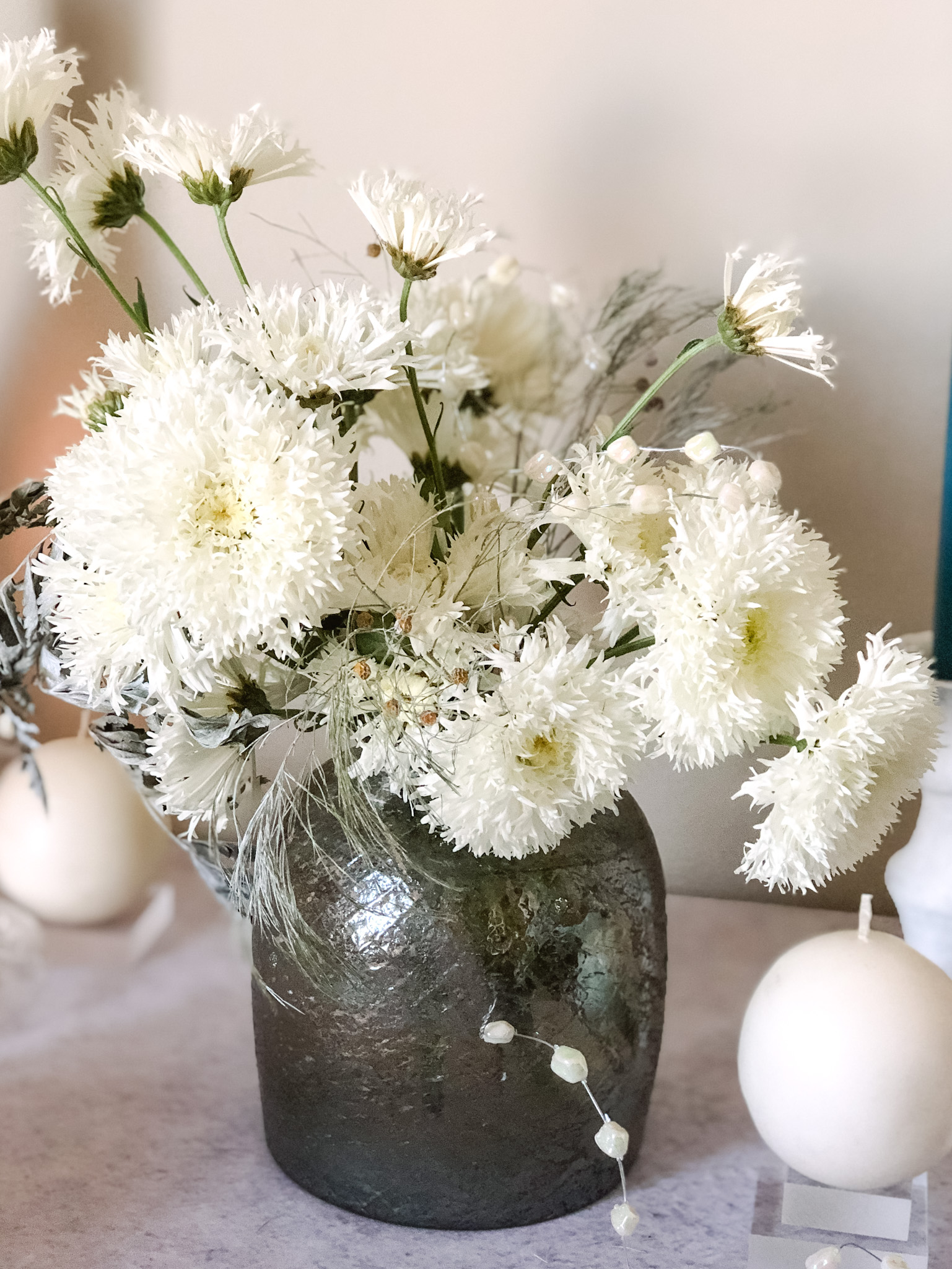 flowers
Flowers are my favorite! They don't have to be tricky or expensive or anything but fun. To keep it simple, I went with one variety of fresh flowers and added a few pieces of dried texture I had laying around. If you buy a bunch of cushion flowers (that's what these are), you can cut them all apart and get so many flowers out of one bunch. I had so many extra flowers- I could have made 2 more arrangements from that one bunch. Just have fun with it and always remember my flower rule… you don't want all the flowers on the same field- push some blooms in deeper then pull others out farther. You want dimension not a flat field. Don't worry about perfect placement either- have fun!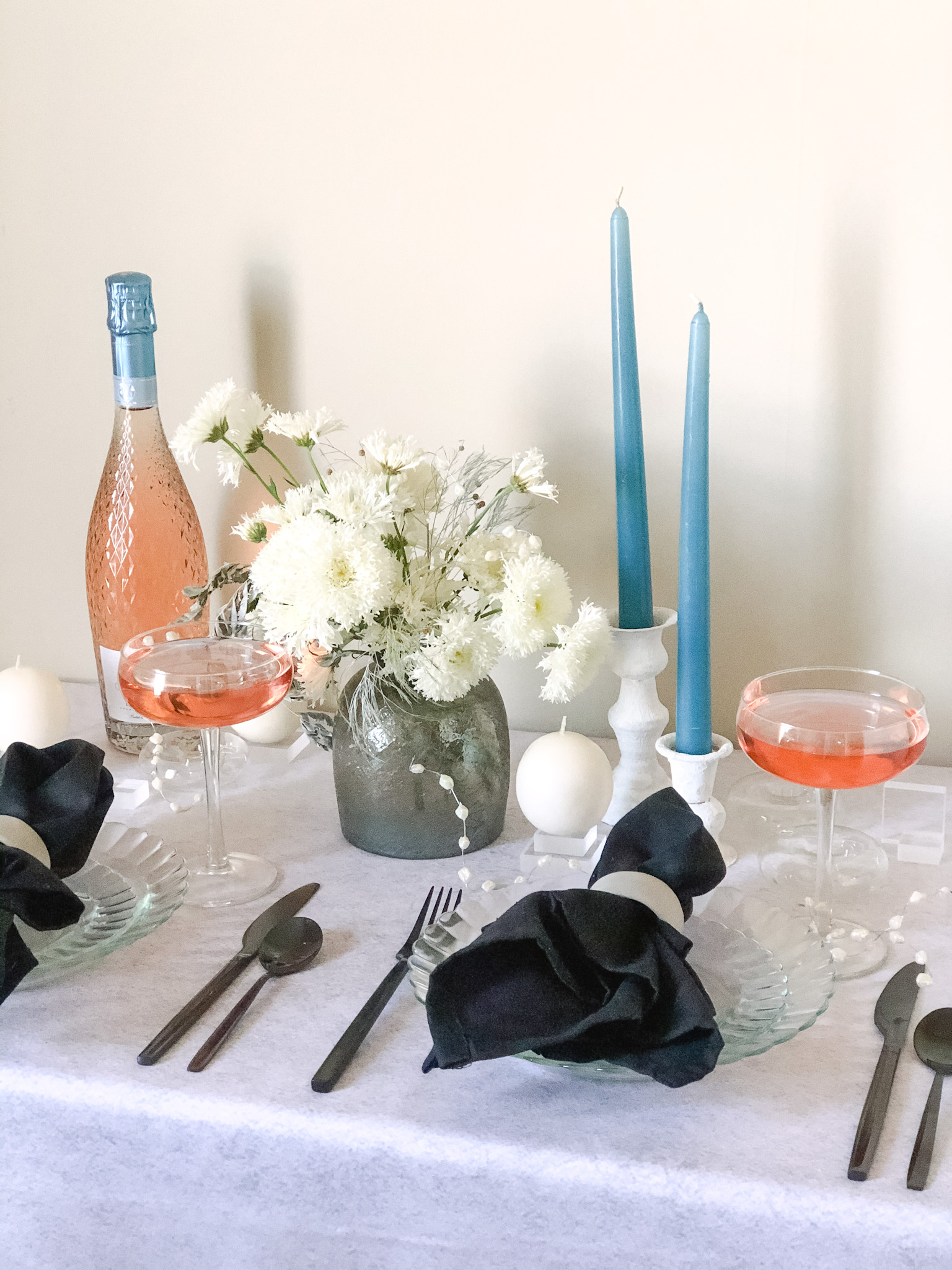 mixing texture
Go for it! Mix it up! Here I've used shine, matte, and acrylic. I think it's more about being intentional, so you don't have a cluttered table design rather than trying to match things up. I'm a 'less is more' type of designer and always go back and edit- removing pieces that don't serve the overall design well (even if I love it). Sometimes I love one thing so much and am trying too hard to make it work, but it just doesn't. That's ok. Edit it out and use it for something else later on.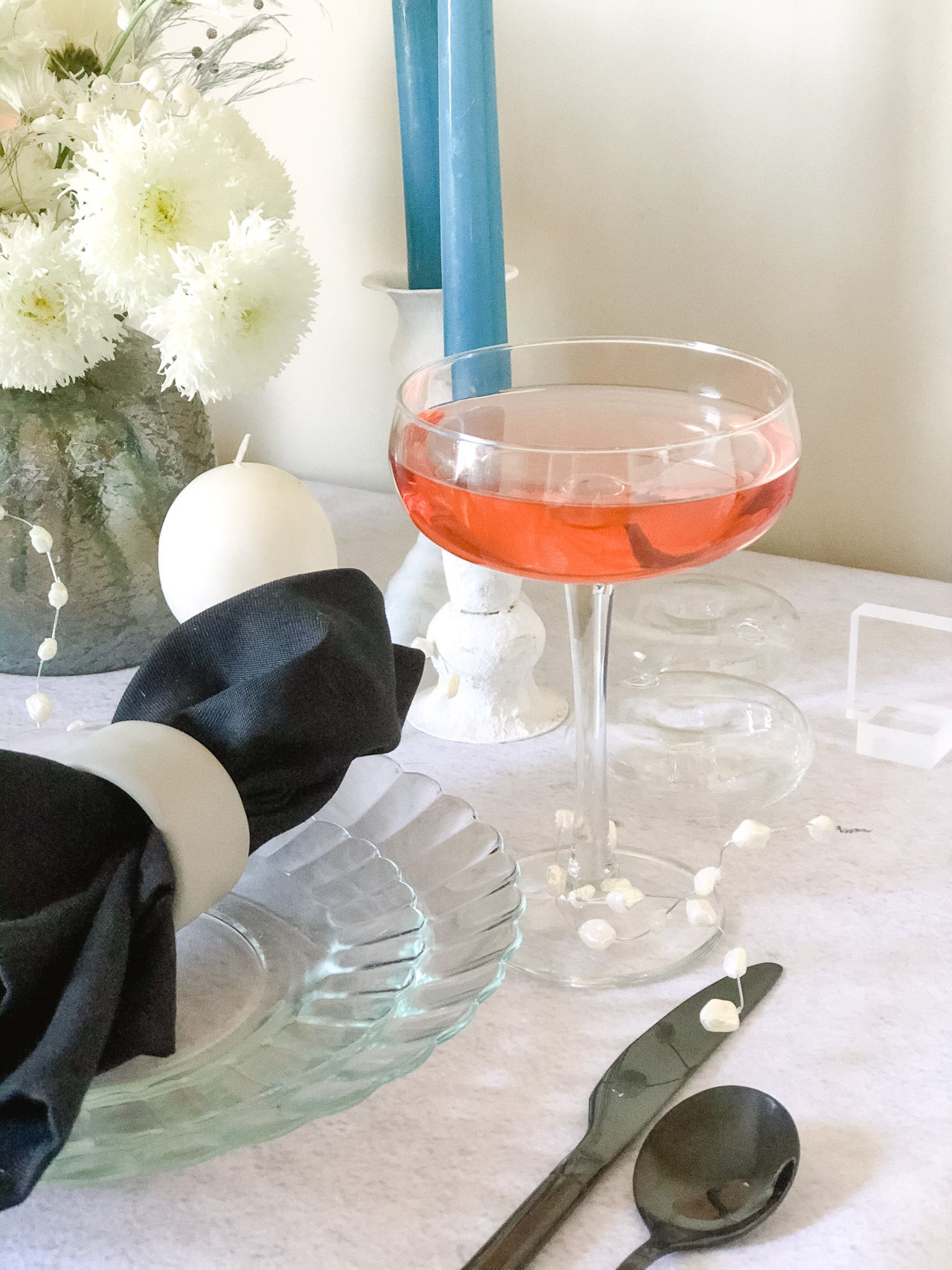 I originally had these little iridescent stars (like confetti) that I placed on the table, but had to edit them out because overall I wasn't loving what they brought to the table design. Once you think you are finished, take a step back and look at the table as a whole then edit if needed.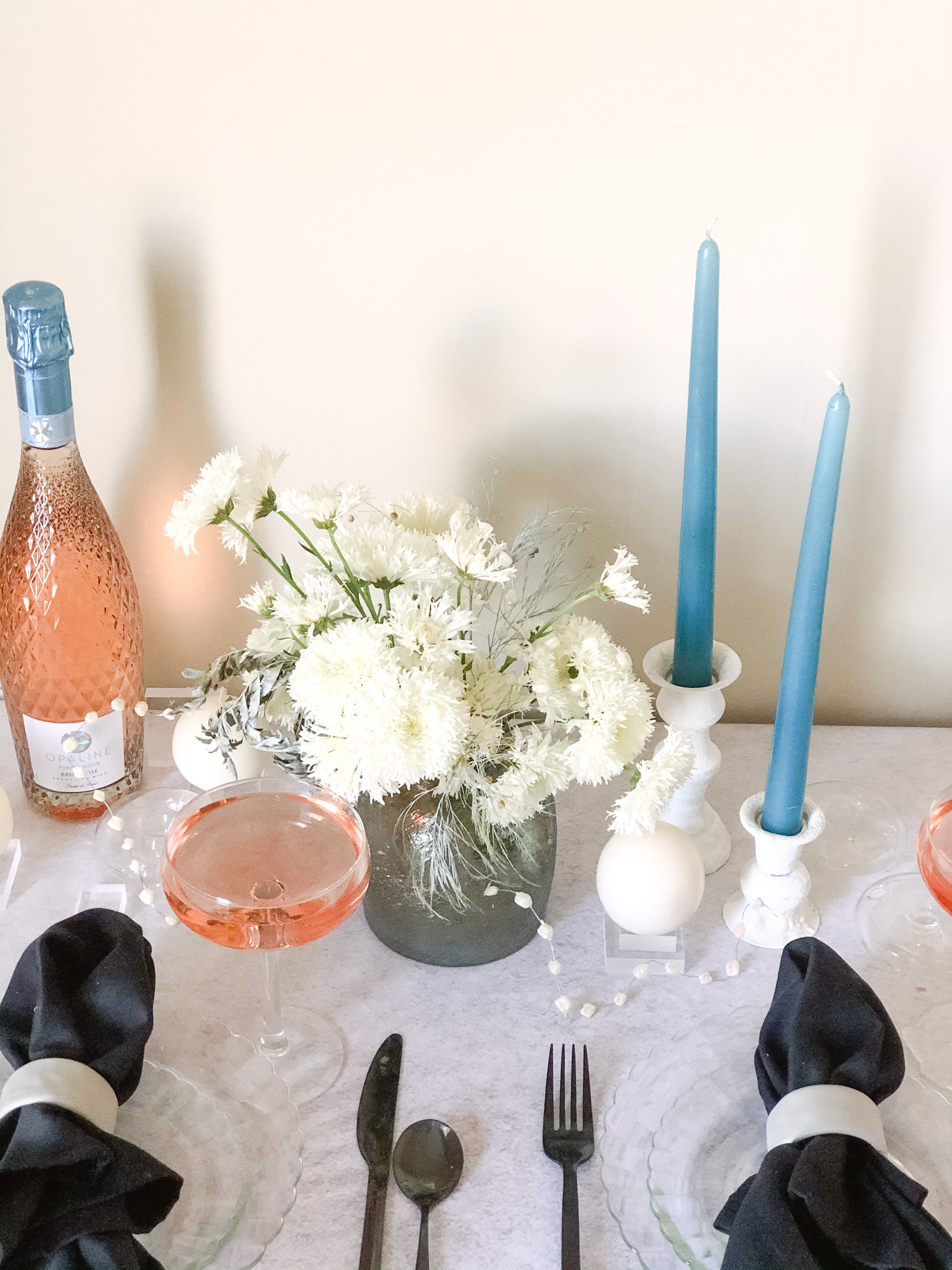 I hope you all have a very happy new year! Please share with me your NYE table top decor by email at [email protected] or IG at oliveandgene