It's the holiday season…
2022 edition: This edition focuses on gift giving (plus a cocktail recipe, of course). From simple DIY gifts to ordering from my 'moody holiday' guide. There's sure to be something listed to make your holiday season more easy and joyful!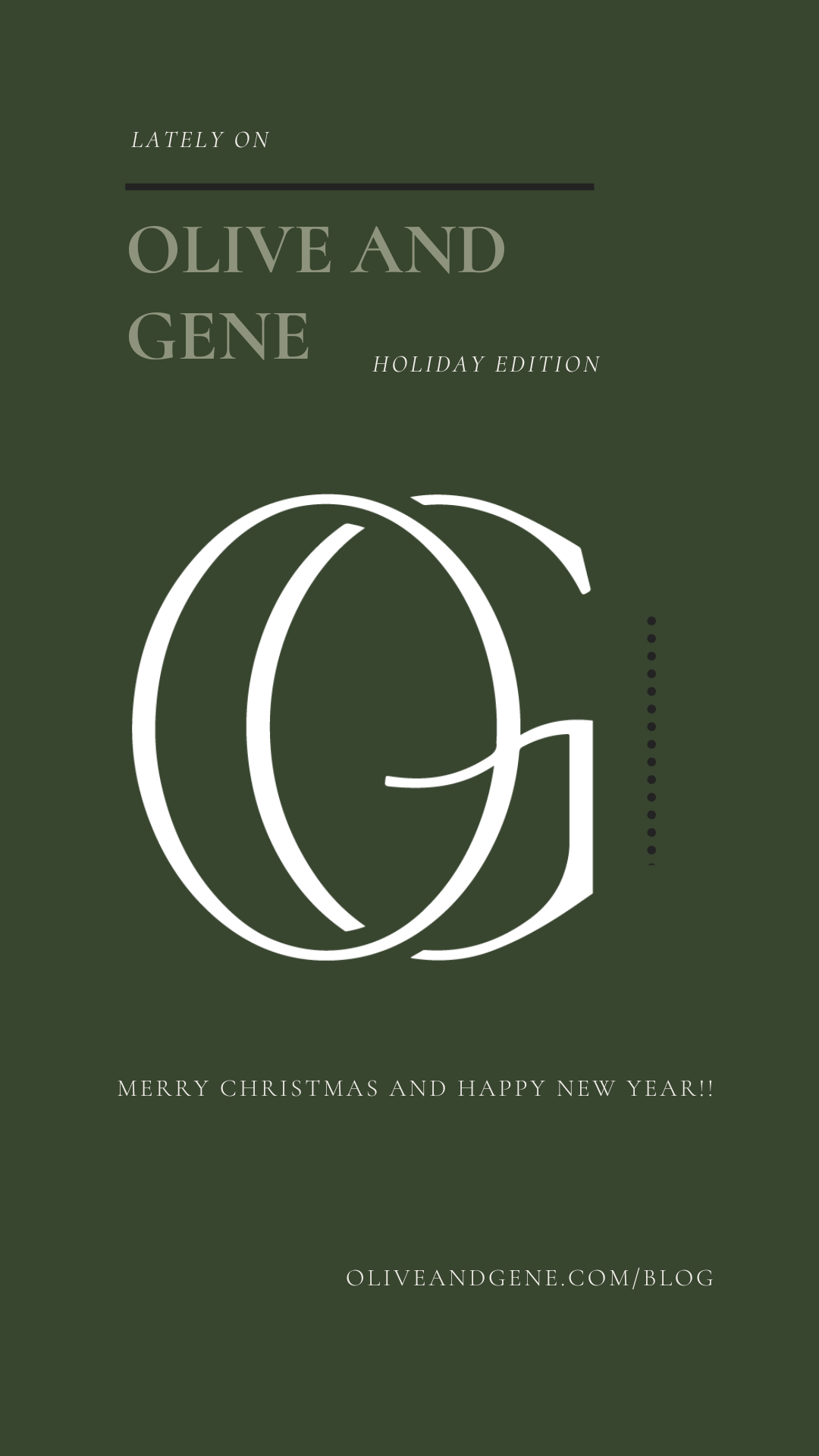 gifting / growing paperwhite flowers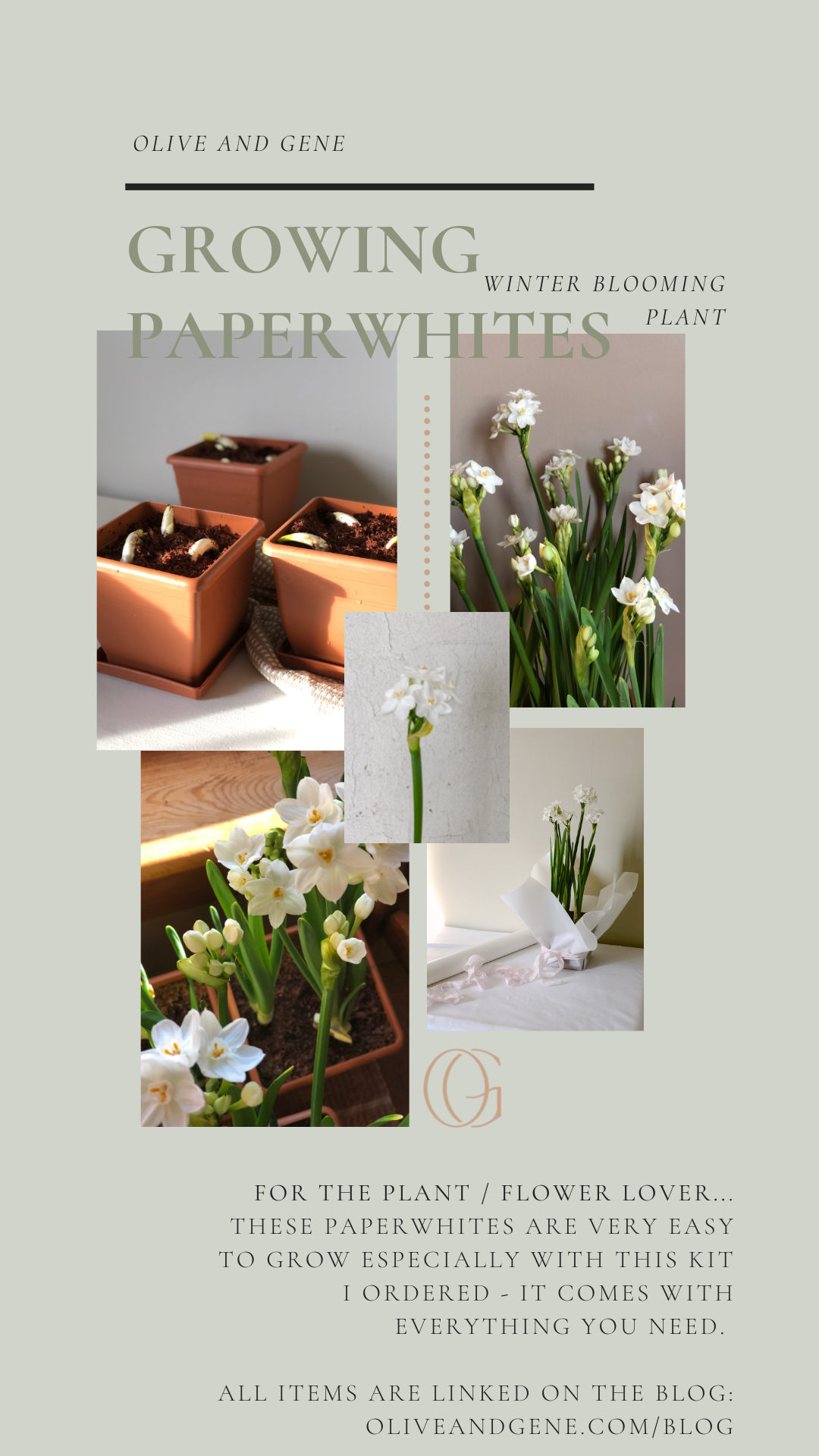 I ordered the paperwhites in the box (second image link)

bottle bush mini tree candle diy
You need 3 things: mini trees, candle with lid, hot glue (and wire snips if you want to clip the base off the trees – not necessary though)
If you want to remove the little wooden tree base then snip the wire and hot glue the tree bottom directly on top of your candle. If you don't want to remove the tree base then glue the wooden piece right on the candle.
Done and done! SO CUTE! See the video reel over on IG. The exact trees and candle are the first 2 images / links.
Shop my exact items…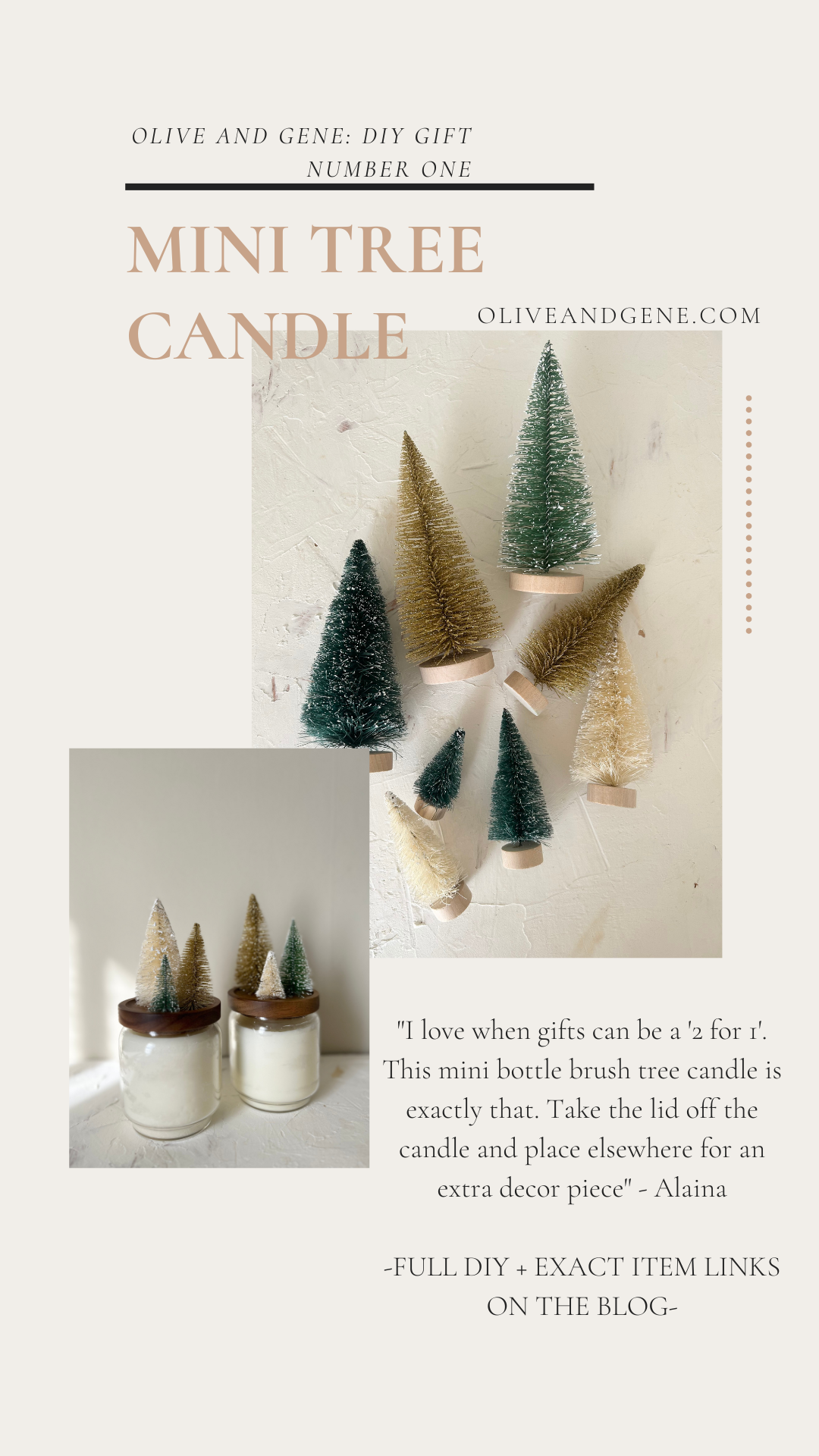 bath salt diy
Basically this is all cute packaging. Grab your hymalyan pink salt and (optional) dried rose petals then spoon into the glass tubes and place in a cute box / package. Top off with a ribbon and tag. Seriously a 4 minute gift diy!
Here's what I ordered for this diy…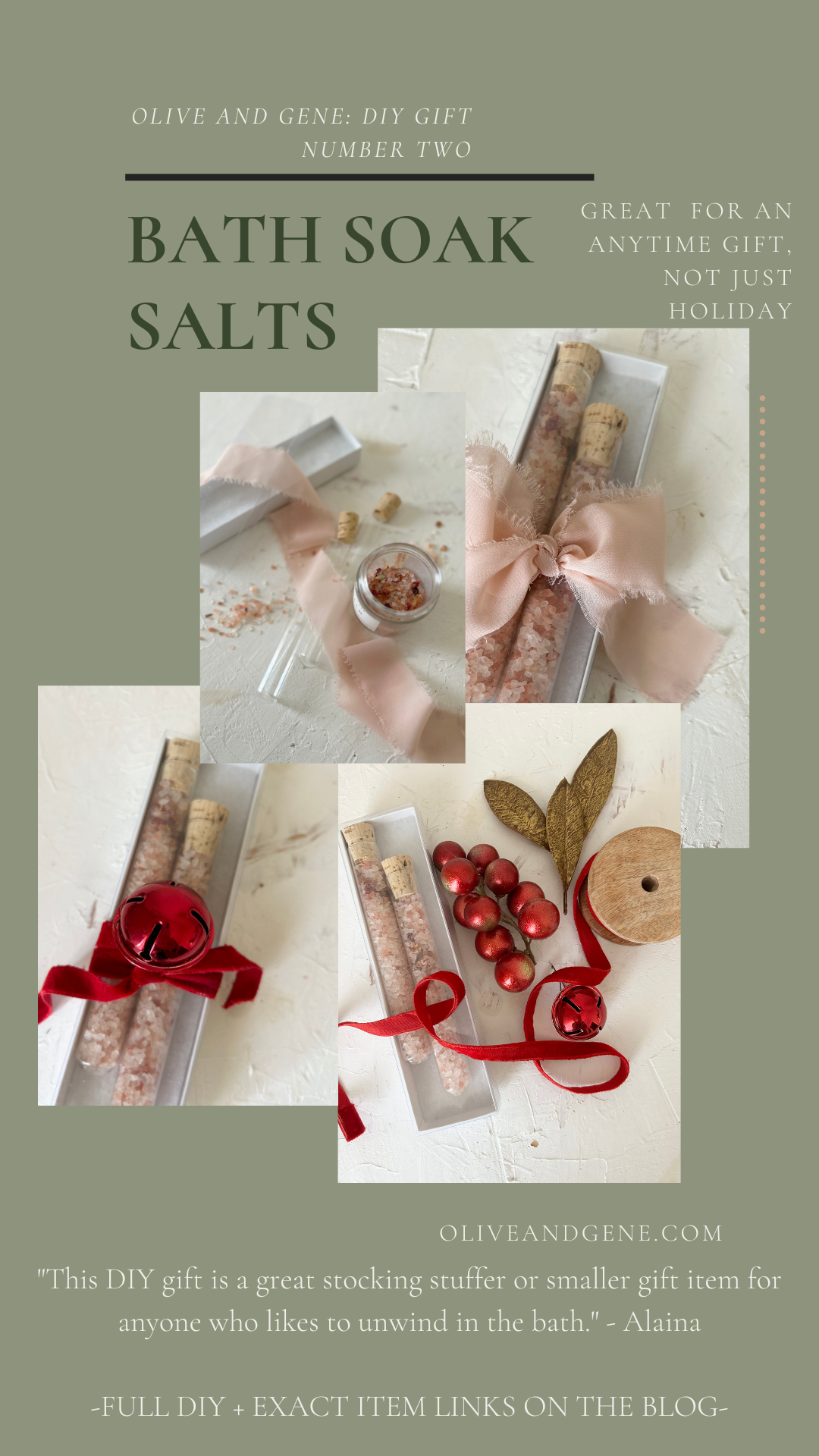 caramel espresso martini recipe
My favorite holiday drink at Starbuck's is the caramel brulee latte, so I wanted to play with mixing that into a classic espresso martini. Here's what I did…
brew espresso (optional: with 1 tablespoon caramel sauce in bottom of mug – hot coffee will melt caramel) and set aside to cool – will use 1 ounce
in my cocktail shaker I added 2 ounce caramel vodka, 1 ounce bailey's, 1 ounce espresso, splash of simple syrup to your sweetness liking (this is for 1 drink)
then in a separate cup (we are making a sweet cream topper – totally optional) add 1/3 cup milk, 1/2 cup heavy whipping cream, 1 tablespoon simple syrup and whip up with any kind of blender you have until the liquid is creamy
add shaken mixture to glass and top with sweet cream mixture
if you'd like to add a decorative, festive topper use a coffee stencil with coco or cinnamon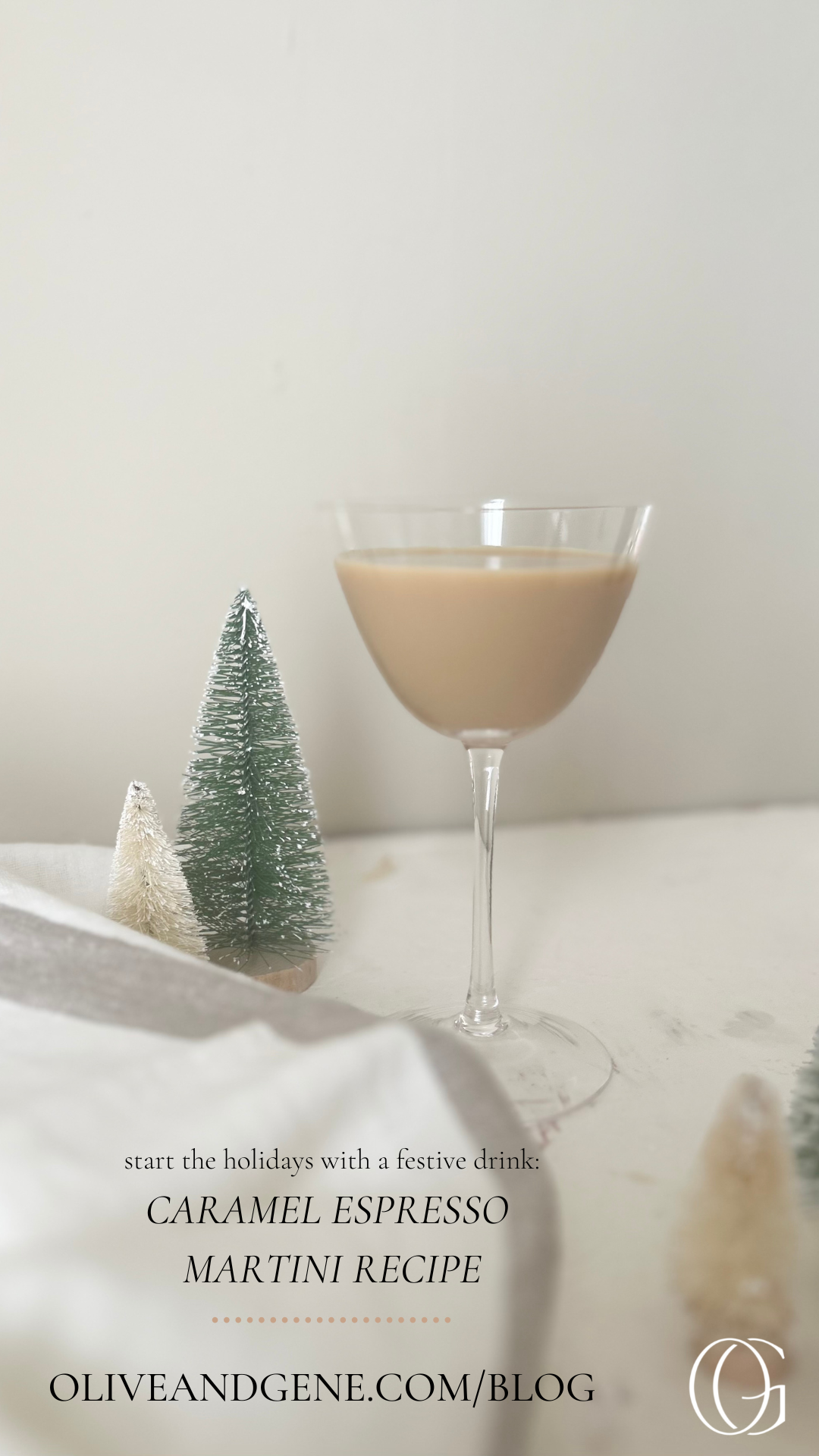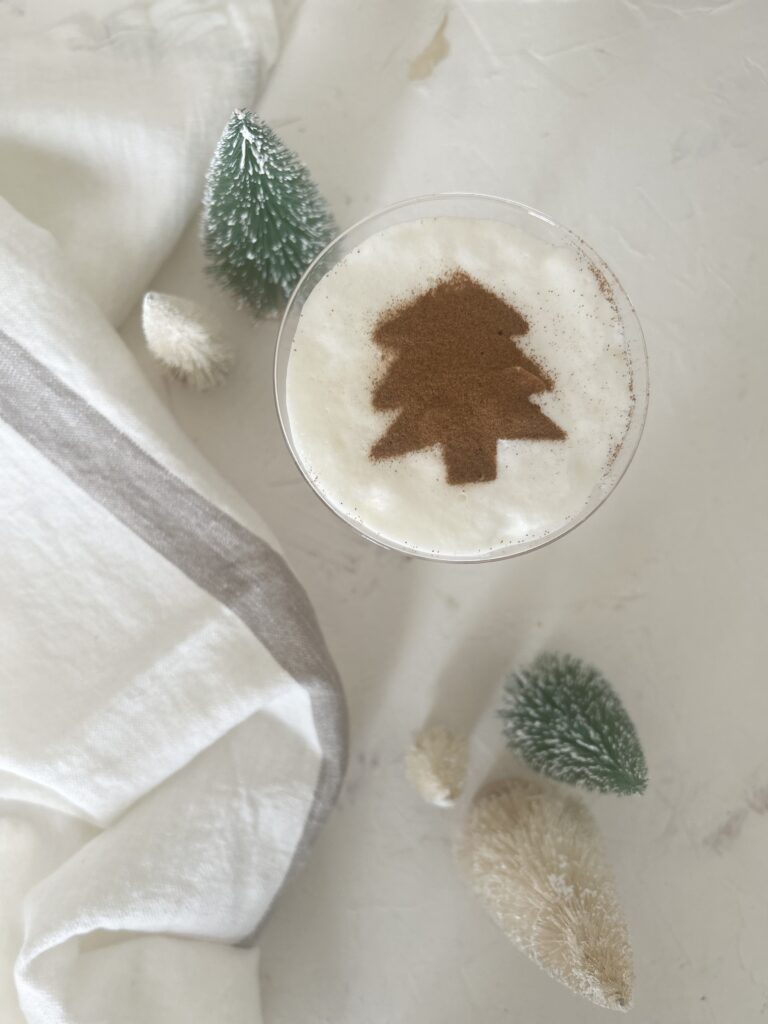 moody holiday gift guide
Each item is one of my favorite things and would be a great gift! Check them out…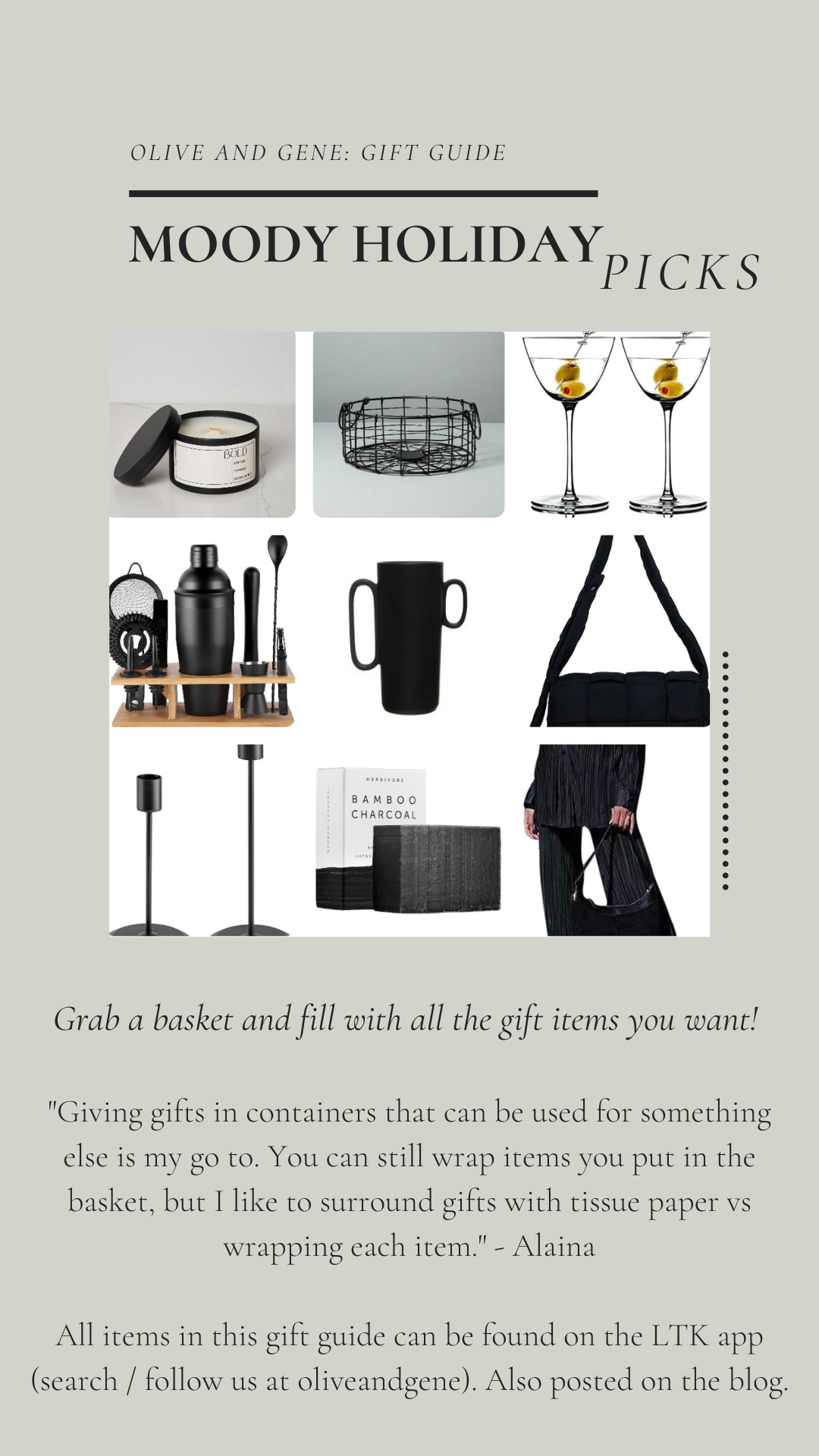 Wishing you a very merry Christmas and happy new year!
2020 edition: Whatever this holiday season looks like for you, I hope it's filled with all the good things that bring you joy! For me, I love crafting and drinking hot coco with those I love. This year I'm trying my hardest to use items I already have and give them a little update. For example my diy ceramic inspired painting and my diy flocked Christmas tree. I've had both these items for a long time and rather than toss or keep in a box, I'm giving them a fresh look for the holiday.
I know this season can be tough for so many, especially this year, so know I'll be keeping you in my prayers. Merry Christmas from me to you!
For this edition of Lately On Olive and Gene: it's the holidays, of course!
the flocked tree diy
You can read how I created this look and why this diy surprised me: DIY flocked Christmas tree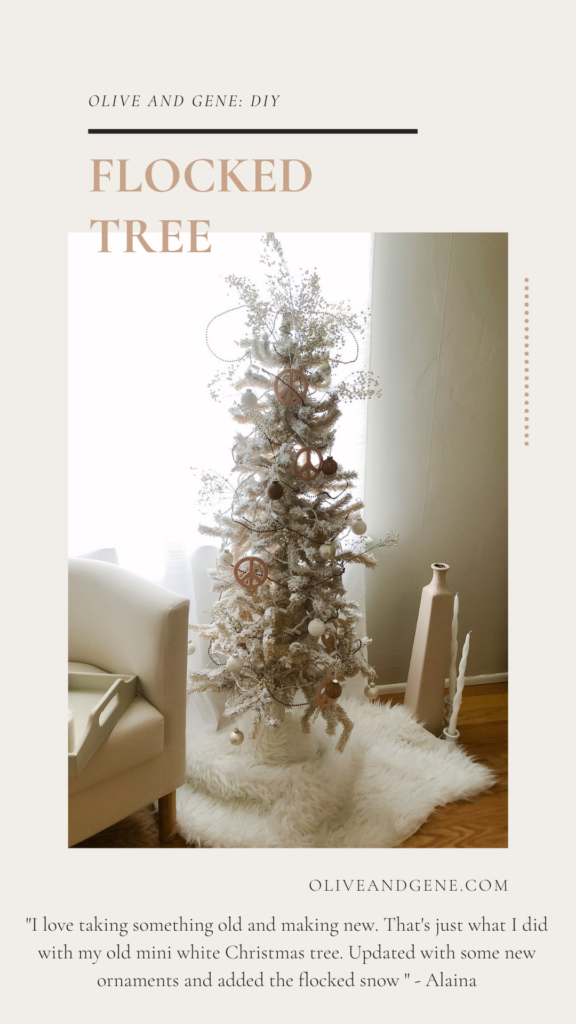 holiday fresh flowers
For the first time ever, we are offering fresh flowers for the holiday for delivery to the local Saint Louis area in partnership with some incredible local businesses. What I love about this special offer, is 100% of the profits will go directly to support Operation Food Search. If you are in the place financially to help this cause, please check out our holiday fresh flower arrangement with 20% off! (you need to purchase the card with the link below to get the special discount code for the 20% off)
Here's the link to purchase the $30 card which allows you access to all the discounts. Keep it local card!! We are doing 20% off one of our holiday flower arrangements and there are so many other businesses participating!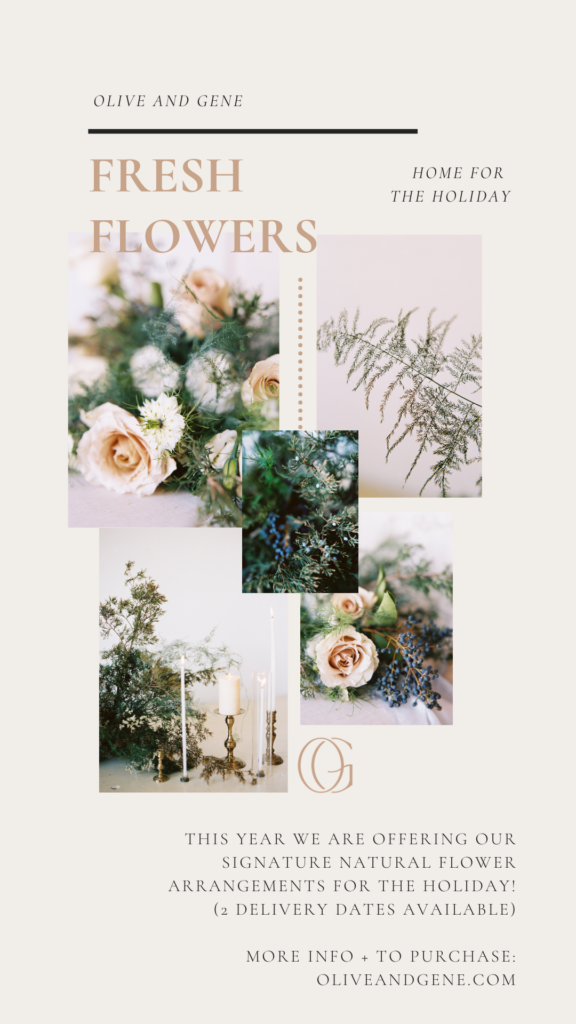 apple margarita (2 ways)
YUM! That is all! A must try recipe for the holiday season or really at any time: Apple Margarita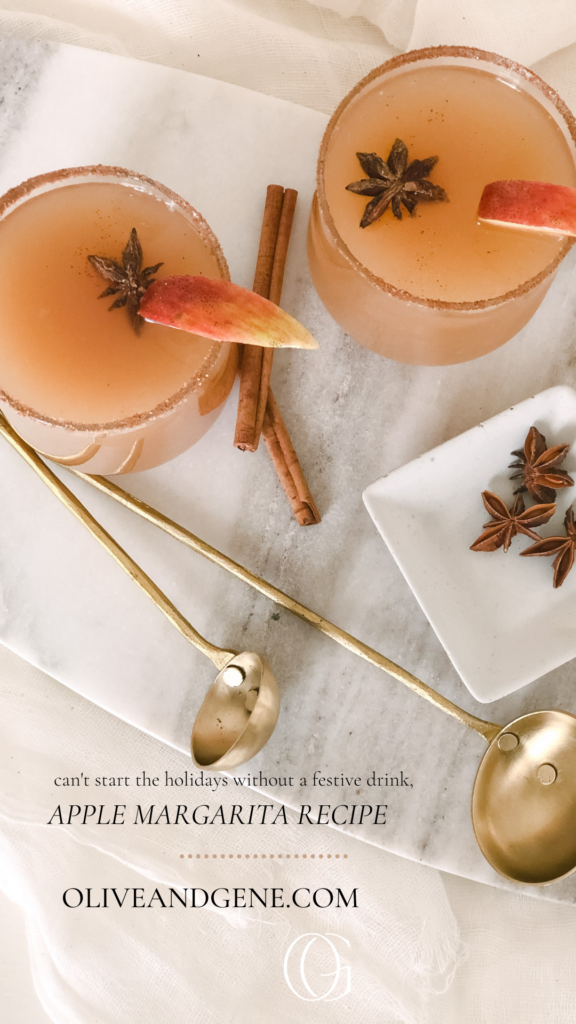 my modern holiday
While I do love a good sparkle here and there, for this year, I'm going with a more toned down holiday color palette. I typically will cover my grapevine wreath with winter greenery, but I'm really liking the natural look of the exposed vines. Add a beautiful velvet ribbon and you've got the look! I use these matte black vases (yes I used my ceramic inspired painting diy on them) in my everyday decor so just added a cute little winter tree and you've got a festive minimalist, modern look!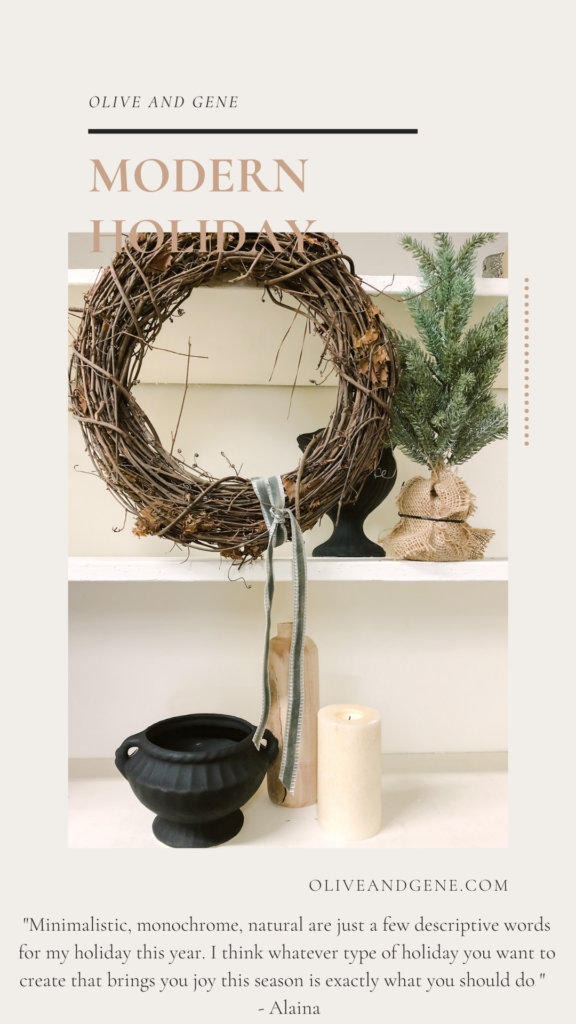 Just a little note with love: As a small business owner, I always try to shop local first because I know the endless hard work it takes to run a small business. If you've read any of my flower posts in the past, you know I always say go see your local florist to purchase your flowers to support them. I highly recommend checking out the Keep it Local card I mentioned above!
With that said, I do live in reality and know sometimes online shopping is what we have to do which is why I do participate in LTK and share my links on this blog. You will see below a couple links to some holiday items I've been loving, but if you can I do encourage purchasing local, especially this year.

MERRY CHRISTMAS!!